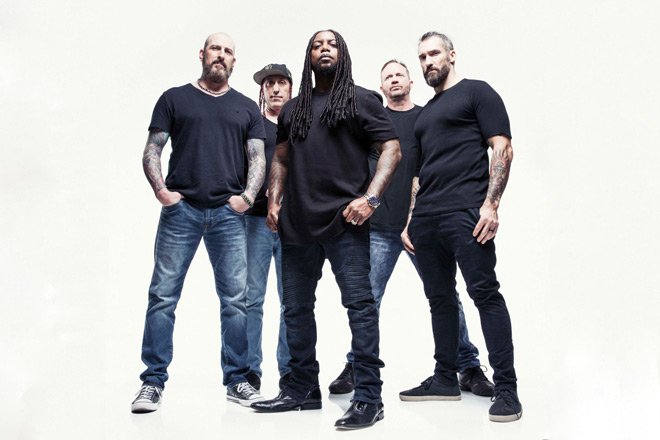 "This last tour we really just felt very comfortable and we found a niche, there's a really good thing going on right now and we want to keep going with it."
From Release: Sevendust first forged a familial tie amongst each other in 1994 that translated into one of the most die-hard audiences in the game. To this day, the connection between fans and the GRAMMY®Award-nominated gold-certified hard rock outfit only grows stronger. For their twelfth full-length and first release for Rise Records All I See Is War, the quintet did the best thing they could possibly do to combat all of the division in the streets and on social media; they went and made a Sevendust record—just bigger, ballsier, and bolder than before – and they couldn't be more excited to bring it to Australia and New Zealand.
In St Louis while at home we gave Clint Lowery a call to talk about Sevendust's upcoming return to Australia, their love show, their latest album 'All I See Is War', their twenty fifth anniversary, and much more…
We're here because you're heading back to Australia next month, as the catalogue grows are you finding it harder to put a set list together without kicking out some favourites?
Yeah it's definitely a challenge you never can make everyone happy , there's always someone upset about a song you don't play but we try to play songs that we like to play and we also like to take the input from the crowd and play songs off each record, maybe a song off each record and again it's hard and impossible to make everyone happy but we do take a lot of input from what we see online, songs that we know people download and things like that, different databases that we pull from. At the end of the day we want to enjoy playing the songs, so if we pick songs that we don't enjoy that much you can kind of see it from the crowd and they can see we're bored with the material *laughs* so we try to do songs that we love, that we know we can be excited about, but at the same time we get excited when the crowd is excited. Even if it's a song that we're not super into but the crowd responds well to then that becomes obviously one we have to keep around.
So should I listen to 'Enemy' a million more times before the shows?
Well 'Enemy' is one of those classics that is usually in there regardless, so I'll make sure it's in there for Australia.
Your live show is so damn good that it needs to be seen to be believed, but for someone that hasn't seen you before how would you describe a Sevendust live show in three words?
Three words? Let me see… energetic, personal, and relatable. I think we're like the people's band, we're the audience but we're just on stage you know?
You always smash it out of the park in Australia, what is your favourite memory of a past tour here?
The last tour we did was just great, everywhere we went, you know one of the things I really appreciate about Australia outside of the obvious beauty of the country I just love the humour, I think there's a lot of really witty and dry humour amongst people that we've had the chance to meet, so ultimately there's a really good connection, I feel very easy flow with the people there. So the shows reflect that, and plus some of my favourite bands come from there so there's just something about being there and the shows are always just really, I don't know, it took us a long time to start coming so now there's a really good payoff to every time we play a show there.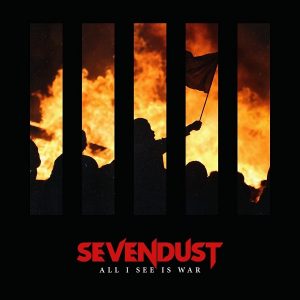 'All I See Is War' has been out now for almost a year, how has the cycle been so far on this record?
It's been good, we just came off one of the best tours we've done in our career, I mean some of the best crowds, just a really good energy overall, something different is kind of happening, I think when you become a band that's been around more than twenty plus years there's a connection and a lot of these people that see at these shows we've seen for ten or fifteen years and now their kids are coming so it's just one of the things that baffles us every day that we play. This last tour we really just felt very comfortable and we found a niche, there's a really good thing going on right now and we want to keep going with it.
To me this is your best album in a while and really kicks that Sevendust sound into gear again, was this a shift and can we expect more like this in the future?
Yeah I mean I think a lot of it has to do with the fact that we took a long time to write it and we picked a really talented producer in 'Elvis' Baskette, I think he did a great job sonically, I think that we needed a jump start in terms of that, we produced three records ourselves and I think they're good records but at the same time we needed that outside entity to push us a little further. So yeah we're gonna do that next record with him too and it'll have I think even better flow.
I'd love you to do another record with Butch Walker…
Yeah Butch is great, I don't think he messes around too much with heavy bands now.
So, Sevendust turns twenty five this year, even with your little break in the middle for you what has been the biggest and most memorable thing to happen in the last twenty five years as a band?
I don't know, there's a lot of things that have different values, if you're talking about crowds, I mean Woodstock, if you're talking about achievements, going to The Grammy's and being nominated was kinda cool, if you're talking about things with honour, playing for military in Afghanistan and Iraq, those were moments, they were important and I just think now every time we release a record it's like the new milestone in our career because we've been around so long and we get a good response. There's different events that have happened that have different measurable value to me, there's no one moment that nailed it.
So it can be easy to say what's changed over the years but what is the one thing that's stayed the same over your time making music?
The thing that's stayed the same with us I think it's our formula or writing, I think it's changed a little bit but at the end of the day we do our best work when we just get in a room and we all just kind of collectively generate music and talk ideas and get excited about it. Those are ultimately the things that never change, the way that we play shows, the way that we care about shows never changes and maybe that's been a part of the success of staying around as long as we have. There's times when you get fatigued mentally and physically but at the end of the day just like any job you would have you have ups and downs, things you love about it and things you hate about it but at the end of the day we truly believe this is the best job, this is a dream job for us and we don't take it for granted. So the things that don't change is that we appreciate what this is.
Let's look back to the beginnings, was there one piece of advice you were given when you started performing and making music that you still look back on and refer to to this day?
I mean there's been a bunch of huge things, profound things that people have said, you know my Dad always said "if you don't believe it no one else is going to believe it" and that was everything, if you don't believe it's the best you can do, if you don't believe what you're writing about, what your lyrics say, I write a lot of lyrics in Sevendust and my solo stuff and he said that and if we don't believe in our band, if we don't believe in our music then no one else will and I really believe that I think it's true.
Outside of Sevendust, have you got anything going on you can share with us?
Yeah I'm releasing a solo record probably at the end of the year, the beginning of the next and I'm just really excited about it. It's gonna be on Rise Records and it's gonna be a lot different than Sevendust I mean there will be some elements in there that are similar because I write a lot of stuff with Sevendust, but I'm, really anxious to get in and do it and I'm gonna do the record with 'Elvis' who produced the last Sevendust record so I'm excited at how it's gonna come out.
What I've always loved about you and your playing is that while Sevendust were Sevendust when you were out of the band, when you brought back your tone, your guitar tone is phenomenal and just brought it back to sounding right…
Thankyou man *laughs* I like to hear that, I wanted them to do great when I was gone but I do appreciate when people say oh man it's good to have you back you bring something special to the dynamic so of course that always feels good to hear.
Lastly let's look ahead to the future, finish this sentence for me, in 2019 Sevendust will…
Dominate Australia *laughs* I don't know, man… 2019 build the future for Sevendust.
Great! I can't wait for the next twenty five years of Sevendust!
Oh man, we'll try, it'll be pretty dicey but we're gonna make it man, we're gonna go as long as we can *laughs*.
Catch Sevendust in Australia at the following dates:
Thursday 25 April 2019 – Tivoli, Brisbane
Friday 26 April 2019 – Metro, Sydney
Saturday 27 April 2019 – Forum, Melbourne
Monday 29 April 2019 – The Gov, Adelaide
Tuesday 30 April 2019 – Capitol, Perth
TICKETS AND MEET AND GREET PACKAGES AT MJRPRESENTS.COM
Essential Information
From: Atlanta, GA, USA
Band Members: Lajon Witherspoon (lead vocals), Clint Lowery (guitar, vocals), Morgan Rose (drums, vocals), John Connolly (guitar, vocals), Vince Hornsby (bass)
Website: http://www.sevendust.com
Latest Release: All I See Is War (Out Now – Rise Records)