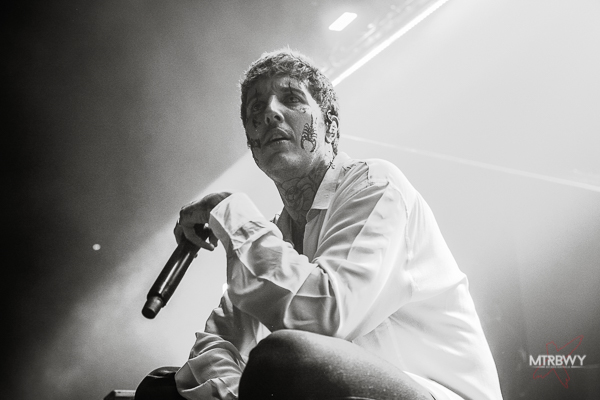 Australia loves Bring Me The Horizon, and tonight off the back of their new album 'amo' they're back in Sydney and they've brought some friends along for the ride. It's a bit of a UK invasion tonight and it's gonna be a damn good time!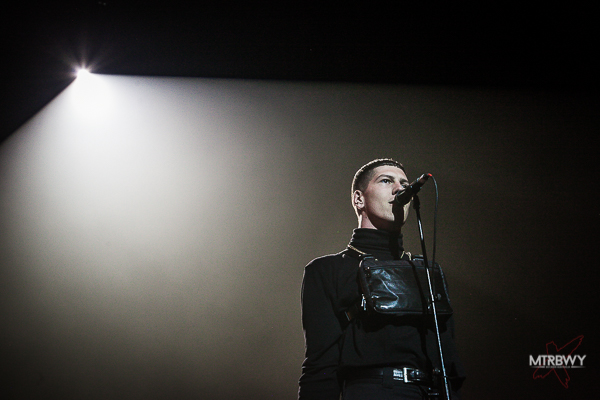 Trophy Eyes are bang on time and with a bevy of huge vocal backing tracks to make this opener an epic 'You Can Count On Me' has the small crowd this early getting into this catchy tune and it continues with an almost anthemic 'Lavender Bay' and then sticking with their newest album 'The American Dream' with 'More Like You' and this one got arms waving which looked awesome from where I was. In what felt very Joy Division in terms of a vocal delivery they throw this hook in the water and it catches many here with a groove. 'Chlorine' and a request to punch your friends in the face those here that know it are loving every second of it. Closing out the set with 'Friday Forever' these guys are pretty damn good, this stuff is big, laden with hooks and even if the big sound is padded out they're kicking ass up there this early and I'm loving it. You win a trophy, Trophy Eyes. Best opening band so far tonight.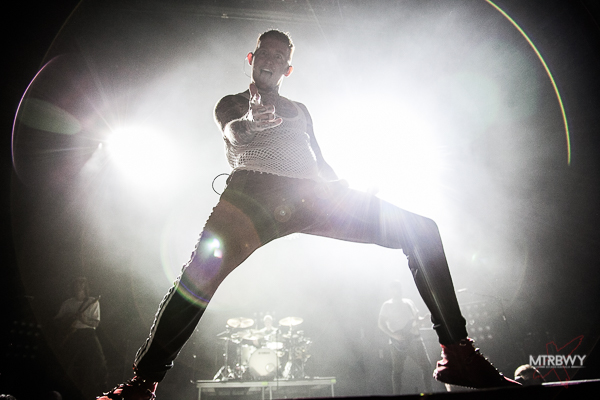 Up next is Frank Carter and The Rattlesnakes. Frank is no stranger to Australia and tonight he and the band are back and as soon as the band hits the stage and opens with 'Vulture' just watching the way Frank moves and uses the stage is great and you can truly tell this is not his first rodeo. Making his way into the crowd to "go for a walk" he's standing up in the crowd and even busted out a headstand and that was fucking awesome. Back up onto the stage to blast out the end of the song they are on fire. The rock keeps coming with 'Lullaby' and following that a new one from his forthcoming album and a song with a damn strong message called 'Anxiety' which was awesome but then the best thing I've seen in a long time just happened. A super punk rock song called 'Jackals' frank asked for a circle pit but not just a pit, one that went around the sound desk as he jumped in the crowd and led the crowd that followed abound the floor of the arena. That was absolutely amazing. This is how you support band. Well done Frank Carter and The Rattlesnakes. Holy shit. He's now got the floor down on the ground only to have them jump up with a simple "go". Closing out with a "love song" and 'I Hate You' and fuck me that was a set to remember. That was impressive. Congrats Frank you just made it onto my never miss when you're in town, list.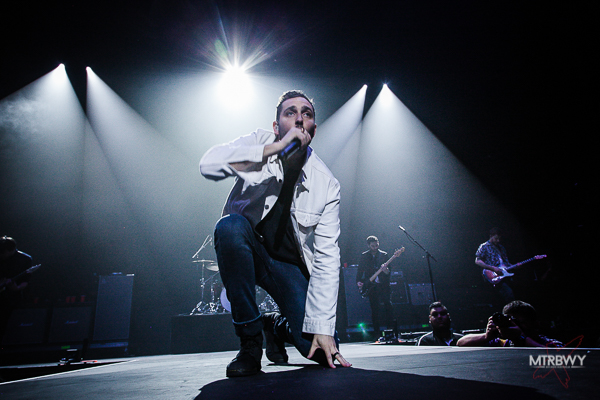 Making their way to the stage are one of my favourite bands, You Me At Six and they are always a treat to watch live. Annoyingly tonight with only a thirty minute set but will be interesting to see what they give us. Straight out and they're on as always, opening with 'Fast Forward' they're on fire. Getting them down early and the crowd oblige and it's always awesome to see. Hearing new material is always cool but when you hear it live and it's just so much better how can you not be happy. '3AM'was the lead single from the band's newest album and this is kickin' ass in this environment. Josh out front truly is a showman as they follow it with 'Straight To My Head' and the big chorus is one that grabs you nicely. Opening a couple of circle pits for 'Bite My Tongue' and holy shit Oli from BMTH just came out to do his part from the record. I didn't expect that at all. That was intense. 'Underdog' keeps things rockin as it always does in their set and they're doing a hell of a job keeping everyone warmed up. 'Give' is one of YMAS's awesome middle of the road rockers but live it's just huge and there are arms waving and as the arena is truly starting to fill up to those seats sold everyone here is well and ready. Things get a little funky as the bass riff slams in for 'I O U' and that different sound from their new album shines through. Closing their set with the massive 'Room To Breathe' they got everyone to stand as they delivered that belter. How YMAS aren't bigger than they are truly amazes me.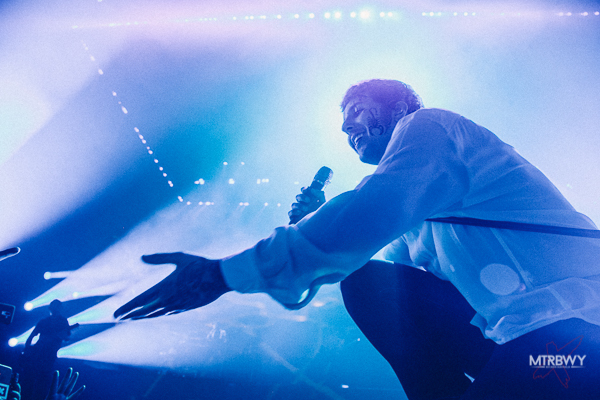 OK it's time for Bring Me The Horizon.
As the intro plays and we're welcomed the band take the stage and as 'Mantra' begins there's streamers, smoke guns, and more importantly a damn good band killing it from the first second. The minimal stage is perfect for this show, and allows the band to roam and that they do. With a stage show already topping many I've seen this year they explode into 'Avalanche' and BMTH have grown to not only write but to deliver these epic songs on stage flawlessly. Two circle pits open as the goddamn heavy 'The House Of Wolves' kicks things into high gear. It's awesome to hear Oli growling again too. Damn that breakdown. Holy shit. Heavy!!!!
It's time to sing along, a little fuckin' louder as 'Happy Song' takes the roof off the place. Massive circle pits and a heavy heavy riff powers this one through. It's a true stand out now from the BMTH catalogue. Taking us back to 'amo' with 'Mother Tongue' and hearing this softer one live is great and shows where it belongs. This almost ballad you could say is new and hearing the way the crowd are singing along is testament to how much they grabbed onto the new album. Let's see if the same can be said for 'Wonderful Life' and yeah it can as this place goes nuts for it. Dani Filth on the screen was a treat and now there's pyro raining from the rig and that makes me happy. This really is an impressive set up tonight.
The band take a break as some kinda creepy music plays before coming back for 'Shadow Moses' and it gets heavy again. It never gets old hearing the entire place scream "THIS IS SEMPITERNAL" in this song and man they love this one. Slowing it down again with 'Follow You' but what a great fit into the set. No growls, no drop tuning, just a great song that has arms waving. Calling it the worst song they've ever written it's time to rave for 'Nihilist Blues' and as different as it is they still have everyone clapping and jumping along. While it's not really a favourite of mine and so removed from anything else they've done they absolutely killed it but let's hope the big guitars come back next! 'Can You Feel My Heart' brings the noise and that passion that hasn't wavered from the opening second.
Some creepy eyeballs fill the video screens as we raise our middle fingers and don't give a fuck as 'Antivist' begins and that brutality that BMTH bring occasionally makes its way out for this one. Yes! That was nuts!! Almost as nuts as the shoeys they just did. It was humorous though. After the "Everlast incident of 2019" we get an acoustic rendition of 'Drown' as the lights come out and props to the guy a few rows in front of me holding an actual lighter up. This song takes on a different feeling played this way and that feeling is greatness. Oli and Lee leave the stage as the crowd starts to chant before the video screen starts…
The band make their way back on to the stage for 'Doomed' as nobody's parade is getting rained on tonight as this monster had many very, very happy it was in the set! Time for 'Medicine' and I loved this one the first time I heard it and tonight hearing it live for the first time is great. It's a song truly made for the stage. Closing the set with 'Throne' and everyone is up it until for the third time tonight the entire crowd sits until commanded to jump and this time actually the place goes crazy. Confetti explodes and with that Bring Me The Horizon have delivered a truly massive, heavy, entertaining show.
I can't wait to see what this band does next.
Essential Information
Venue: Qudos Bank Arena
Date: April 12, 2019
Presented by: Live Nation Australia
Supported By: You Me At Six, Frank Carter & The Rattlesnakes, Trophy Eyes
Photo By: Annette Geneva – Check out our full gallery HERE
Website: http://www.bmthofficial.com
Set List:
I Apologize If You Feel Something
MANTRA
Avalanche
The House Of Wolves
Happy Song
Mother Tongue
Wonderful Life
Shadow Moses
Follow You
Nihilist Blues
Can You Feel My Heart
Antivist
Drown
Doomed
Medicine
Throne