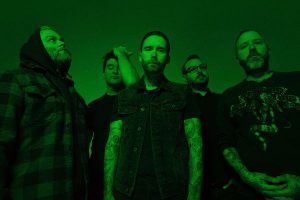 The band once again teamed up with Michael Maxxis who directed their personal favourite AOF video for "The Northern" and City and Colour's "Fragile Bird", "Thirst", and "Lover Come Back".
"Everything came together really fast," says Wade MacNeil. "Maxxis flew into Toronto with a crew of 4 people, found the plainest room he could and shot us on VHS tape and cellphones in a day. We were all really drawn to the vibe of old punk documentaries and videos from the 70's and 80's. We asked for a lo fi, no bullshit performance video and that's what he delivered."
Says Michael Maxxis, about the video "I thought it would be cool to put a very normal woman in this tight space with Alexisonfire performing. She represents the withdrawn and disinterested sales force that is out there moving product to make a buck – regardless of what it is. She doesn't give a shit about this band or their music – maybe she even thinks it's stupid. There's no passion there, so she stands miserably in the background. A nice metaphor for life I think."
"'Familiar Drugs' is about recognizing you need to make a change in your life, being presented with the opportunity to make that change, and then choosing to do the same thing you always do." Says George Pettit about the track, "It's about something very specific to me but it can be taken literally or interpreted in any number of ways. Most people have something in their lives they can't quit: substances, unhealthy relationships, lethargy, self righteousness, a job they hate. 'Familiar Drugs' is about choosing comfort over self betterment."
The band have also just announced support acts for their upcoming June headline shows. Personally selected by the band, supports include Chastity and Child's Posein London (UK), Angel Du$t and Drug Church in New York City, Drug Church and The Dirty Nil in Los Angeles. In Toronto, Glassjaw and The Dirty Nil will perform the first night at Budweiser Stage, with Quicksand and Moneen filling in as support for the 2nd night.
"…it wasn't until Alexisonfire proved themselves to be masters of the form a decade or so ago that the trail was blazed for countless bands…" – Kerrang
"With songs that balance singing, screaming, frenetic pacing, and monster dynamics, Alexisonfire have earned their place among screamo's elite." – Revolver
"…utterly and undeniably compelling…" – Metal Hammer
"The band's on-stage chemistry was undeniable, making their single hour stay seem all too short." – Exclaim!
"The step up to end all step ups." – Rocksound
"Alexisonfire are still one of the best live hardcore bands anywhere in the world." – Beat Magazine