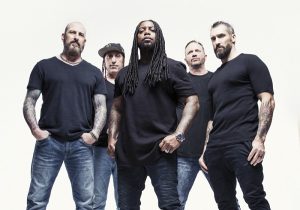 Sevendust's return to Australia just got even better with the announcement of national support – the red-hot REDHOOK! On top of that, they are today announcing Meet-and-Greet packages are now available at mjrpresents.com. New Zealand's support act will be announced very soon.
The Meet and Greet packages are limited to 100 per show (but does NOT include a ticket) and include a Sevendust T-Shirt, a VIP laminate and a picture & chat with band pre-doors open!
Presented by MJR Presents and 24/7 Metal and Rock station/app The Faction! Sevendust are coming to celebrate their 2018 Rise Records release All I See Is War – a record that has energised fans all over the world.
Joining Sevendust for the Australian leg of the tour are the red-hot-right-now Redhook. Recently chosen as the triple j unearthed opening slot artist in Sydney for both Good Things Festival and now Download Festival Australia, as well as opening national tours for The Faim, as well as Hands Like Houses and Ocean Grove, they are also heading off to Download Festival in the UK to play the legendary Donington Festival as well. All of that on the back of 3 singles, Turn Up The Stereotype, Paralysed (just added to rotation on triple j this week!) and Minute on Fire – and signing to management to Rob Nassif's The Hen House and bookings to Edwin Tehrani at New World Artists.
Sevendust kick off the tour in Auckland at Powerstation Tuesday 23rd April, then head on to Australia. Redhook join the iconic five-piece hard rock/metal outfit touch down when they kick off the AU leg Thursday 25th April at The Tivoli, Brisbane, then on to The Metro in Sydney on Friday 26 April, The Forum in Melbourne on the 27th, The Gov in Adelaide on the 29th and then finish the tour in Perth at Capitol on the 30th April.
A trifecta of now-classic gold albums—Sevendust [1997], Home [1999], and Animosity [2001]— ignited their journey. Known as an equally intense and unforgettable live force, they've consistently packed houses around the world and decimated stages everywhere from Rock on the Range and Woodstock to OZZfest and Shiprocked! 2015's Kill The Flaw represented a high watermark. Bowing at #13 on the Billboard Top 200, it scored their highest debut on the respective chart since 2010 and marked their fifth consecutive Top 10 on the Top Rock Albums Chart and third straight Top 3 on the Hard Rock Albums Chart. Most impressively, the lead single "Thank You" garnered a nomination in the category of "Best Metal Performance" at the 2016 GRAMMY® Awards, a career first. All I See Is War represents yet another new beginning and new point of connection for fans.
Tickets for the Sevendust AU/NZ tour, as well as the Meet and Greet Packages are on sale at mjrpresents.com.
AUSTRALIA & NZ TOUR 2019
AUSTRALIAN DATES – SUPPORTED BY REDHOOK
Tuesday 23 April 2019 – Powerstation, Auckland *
Thursday 25 April 2019 – Tivoli, Brisbane
Friday 26 April 2019 – Metro, Sydney
Saturday 27 April 2019 – Forum, Melbourne
Monday 29 April 2019 – The Gov, Adelaide
Tuesday 30 April 2019 – Capitol, Perth
* Redhook not appearing