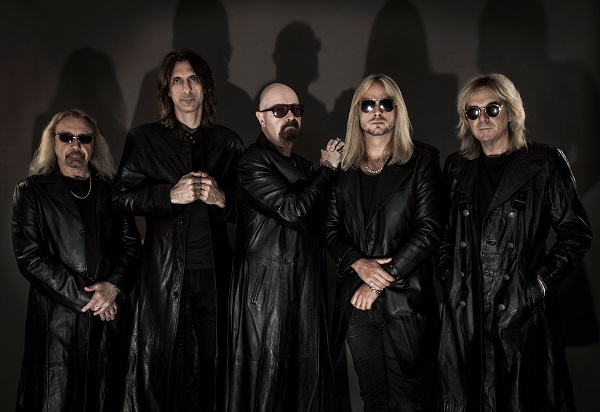 "I call ourselves a working metal band, and what I mean by that is it's all relevant to making yourself relevant, and for as long as this band has been together we've always gone out on these big worldwide treks supporting our latest music. So this is like doing again what we've done since Rocka Rolla in nineteen seventy blah blah… you know? It's remarkable isn't it, it's a blessing, it really is a blessing."
From Release: There are few heavy metal bands that have managed to scale the heights that Judas Priest have during their 40-year career. Formed in the early '70s in Birmingham, England, Priest were one of the first metal bands to exclusively wear leather and studs – a look that began during this era and would eventually be embraced by metal heads throughout the world. Judas Priest went on to change the face of heavy metal. A 2010 Grammy Award win for 'Best Metal Performance, a 2017 Rock and Roll Hall of Fame nomination, the current album 'Firepower' released in March 2018 has become the highest ­charting album of their career plus scorching their way around the world in sell out shows on the Firepower tour has cemented the presence and influence of Judas Priest at an all-time high!
While in Sydney ahead of their Download Festival appearance, we sat down with the Metal God himself, Rob Halford to talk about the band's return to Australia, touring, their latest album 'Firepower', the future, and more.
Check out the interview HERE or below
Catch Judas Priest as part of the Download Festival:
Sydney Saturday March 9 || Parramatta Park
Melbourne Monday March 11 || Flemington Racecourse
SLAYER (Final World Tour) | JUDAS PRIEST (Only Aus Shows) | ALICE IN CHAINS | GHOST
RISE AGAINST  (Only Aus Shows) | THE AMITY AFFLICTION (Only Aus Shows) | SUM 41(Only Aus Shows) | ANTHRAX | PENNYWISE (Only Aus Shows) |HALESTORM (Only Aus Shows)
BEHEMOTH | ME FIRST AND THE GIMME GIMMES | AIRBOURNE 
I PREVAIL (Only Aus Shows) | THY ART IS MURDER | POLARIS | TWELVE FOOT NINJA 
CONVERGE | FRENZAL RHOMB | LUCA BRASI | CODE ORANGE 
 FEVER 333 | WAR ON WOMEN | SLAVES | ALIEN WEAPONRY
NEW YEARS DAY(Only Aus Shows)| HIGH TENSION | JUSTICE FOR THE DAMNED 
AVERSIONS CROWN | OUTRIGHT | RUINS | DEVILSKIN | EAT YOUR HEART OUT 
 VOYAGER | THE BEAUTIFUL MONUMENT 
Tickets on sale now from www.downloadfestival.com.au  Download is an 18+ fully licensed event
Essential Information
From: Birmingham, England
Band members:  Rob Halford – vocals, Glenn Tipton – Guitar, Richie Faulkner – Guitar, Ian Hill – Bass, Scott Travis – Drums
Website: http://www.judaspriest.com
Latest release: Firepower (Sony Music Australia)