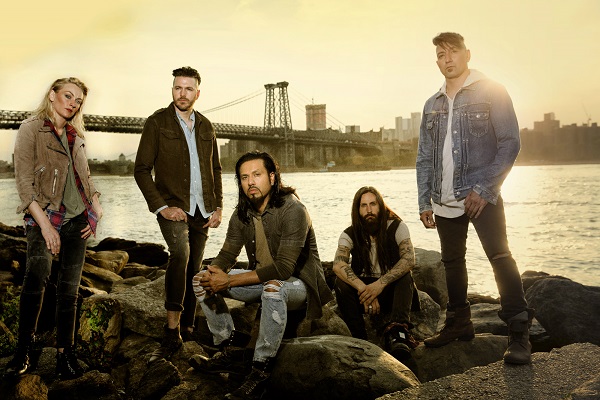 "It really felt like it was a rebirth for us so we really spent a lot of time both in and out of the studio making sure that we wanted to lay some solid groundwork for Pop Evil moving forward in the future…"
From Release: Simply put, POP EVIL is a larger-than-life true rock n' roll band blending the earnestness of Pearl Jam and Soundgarden with the celebratory showmanship of Motley Crue and KISS, capable of empathizing with the daily struggles of their fans while simultaneously offering the escapism a truly bombastic concert provides. The band's latest record is a surging, contemporary sounding release that incorporates metal, alternative, hard rock and even electronic music. In the wake of the band's peppy, upbeat 2015 album 'Up', it's a wake-up call and a musical rebirth that inspired the band to self-title the release. There is a reason Billboard named POP EVIL the #4 Mainstream Rock Artist of 2014. Having three consecutive #1 Rock Radio Singles from the 'War Of Angels'album (and a fourth that cracked the Top 10), A Top 10 Independent debut and Top 40 Billboard 200 debut of 'Onyx'.
At home in Michigan refueling before heading to Australia for their first ever tour, we talked about their shows, their latest album, new music, passion, and much more… Be Legendary!
Good to talk to you again, Leigh, we last spoke around three and a half years ago when 'Up' was released, so let's catch up, how have the last three and a half years been for you?
Oh man it's been busy no doubt about it, but it's been good I mean no crazy huge steps is always the Pop Evil way one step at a time it's been a gradual incline so that's good news, just keep it moving up.
Of course we're here because you're finally heading to Australia! When you're coming to a territory for the first time how do you go about structuring the set list?
Well you know it's interesting whenever we head out of the country we always focus on things that are on YouTube and things that are on the social media outlets because people aren't listening to radio the same way that American fans are listening to radio so we really try that anything we've released on line, we really try to start there and obviously try to put in as many new things that we can you know, but we try to get a good blend of all the albums with keeping in mind what's on YouTube and the videos we've released.
So for anyone that hasn't seen you before, can you give us three words that you feel sum up a Pop Evil live show?
Just high energy. That's how we've kind of made our name and lasted as long as we have, we're known for our raw show. A lot of energy, high octane, very crowd involved, again our songs are very anthem like that require a lot of crowd participation, a lot of hands up, get involved it's just always about the experience for us and again the live show is what we're always thinking about whether it's the set list like we were just talked about and when we get in to write new albums we're always thinking about fans so I'd say that's probably our biggest asset.
Talking about anthems, last year you released your latest self-titled album and I've pretty much had 'Waking Lions' stuck in my head since then, but for you how has the cycle been so far on this record?
It's been great, it's crazy to think we're on the third single 'Be Legendary' so we're coming down towards the end of this album cycle but it was a year in the making so it was a long haul this time we really stayed off the road and tried to do everything we could to make sure this was one of the albums we were most proud of and really feel like it's who we are hence why we called it a self-titled album. It really felt like it was a rebirth for us so we really spent a lot of time both in and out of the studio making sure that we wanted to lay some solid groundwork for Pop Evil moving forward in the future, so a lot of work kind of when I think back to the early stages of this album but the way the album's been received again we just came back from Canada and Europe and it's just incredible, we're the biggest we've ever been outside of the US so we're really excited about finally getting a chance to be here in Australia I mean it's been a long time coming and again we're just willing to put the time in and just start from scratch, I mean there's certainly so many people that have not heard of us in Australia so we can't wait to you know, get to play and for those that have heard and help us spread the word and hopefully grow the band sooner than later so we can get back many more times in the future and not go so long without coming obviously.
Five albums in, how if in any way does the creative process differ now compared to your earlier releases?
The fans, I mean we're constantly thinking again about our set list we try to challenge ourselves without the same song over and over again but as we get in to this record we're starting to work on our sound in different ways, so who knows, maybe this record will take some pointers from some of the songs we've had success with in the past. I know a lot of people love 'Trenches', they love 'Waking Lions' like you said, you know maybe we tap into some different elements of those songs that have worked well for us but I mean ideally we're always looking to be experimental, try new things and give ourselves the opportunity to bring that live show and entertain our fans in different ways. We're really strongly believing in the fact that we don't want to just regurgitate the same song fifteen times and call that a show, you know we've very much made a name for ourselves by giving you all the senses, we take you on a journey from the first song of the set until the end and that's something that we'll definitely keep in mind as we get to writing the next album and then certainly as we look forward to albums in the future, it's something that's always been important to us.
Are you now already thinking about the next album or still focusing on and going through 'Pop Evil'?
Yeah I mean we're starting to think about it, it's starting to become that time. I personally don't write until I'm kind of done with touring, but I might start as early as the end of spring here or early summer and just see what's happening. Normally we go four singles in but I'm kind of excited to just do something fresh and do some new stuff and I think we're talking about splitting this record up in different times, I'm not a fan of writing an album in a month or two and then you go tour for it for two years by the time you're in the second year the songs are old for you so it would be nice to kind of break up the recording process and keep it fresh for the band and certainly for the fans it keeps it a little more mysterious and exciting as you're waiting for new music to drop. It's just interesting, the business is changing and the model is changing so we're always trying to stay a little bit a head of that curve and try different things as far as recording and releasing new songs, so it will be interesting if we go the old school method or if we implement some of these new things that I know the band and myself personally want to try. It will be interesting, we're definitely talking about it but we haven't made that first step to take the initiative yet we're still focusing on 'Be Legendary' right now.
You've now been in this band for eighteen years, and over time it's easy to say what's changed but what would you say is the one thing that's stayed the same about Pop Evil?
That's crazy to think that, man, eighteen years… inane. I mean I think our passion. All of us band members are different but together we've got somethings special and all our drive, our tenacity for our fans to be better, to challenge each other that's always stayed consistent and I think that as we look to the future obviously we're very passionate about getting into other countries, Australia has been a big one, hopefully next time down we can do Australia and New Zealand and maybe get into the Asia's as well. There's only one state we haven't played in The US that's Hawaii so that's on the way too. So hopefully we can get into some of these markets and just keep introducing our world domination plan, right *laughs*, just get your music out there to the masses, that's always been the plan and the drive to do that so I think that's where everyone's excitement and passion is still just to keep getting out there and playing in front of as many people as possible.
Looking back was there one piece of advice you were given when you started making music that you still go back to to this day?
There's lots, I mean don't count other people's money is number one, best advice, if someone else is helping you they deserve what they're working for because it's a lot of work for a lot of people in many different ways so that's the best advice. Then the other best advice sounds so trivial and so simple you've gotta write good songs, man, you've gotta write songs that someone in New York would like, someone in Sydney Australia would like that's a challenge because different strokes for different folks, different cultures and a lot of people like different things so it doesn't change no matter what genre of music you're in to just write that good song and the thing is when you're in rock and roll and someone called it, rock and roll is dead and I don't know how our genre had a saying quite like that so it's like we have to fight these uphill battles a little different and a little harder than other genres, so it's important to really come after it, be open minded into blending rock and metal and not just with your influences and your writing styles, being open to other bands opening for you, making sure that you're not opposed to opening for them, it's all about us opening different people's eyes and letting them become open to your music and you've gotta create different avenues for them to hear and see your band nowadays. So again, just being open minded to just don't always give a hard no, always think there's a way, there's always someone out there that hasn't heard your band or seen your band live so it's important to think out of the box.
That's probably the reason you've been doing it for eighteen years, man…
Hey, it's definitely worked for us and hopefully we've got eighteen more we'll just keep it rollin'
Lastly let's look ahead to the future, finish this sentence for me, in 2019 Pop Evil will…
Play Australia
Well we know that!
*laughs* Well I don't know, how else am I supposed to know what I'm doing *laughs* I love it, I love it.
Thanks, Leigh, can't wait to see you guys in Sydney!
I can't wait, it's been a long time coming, I've just gotta get through this flight first I've got seventeen hours until I can finally be excited to be in Australia, so we're counting down the days and the hours and we can't wait to finally meet everybody and start building those friendships with all of you and bring our music your way, so fun times coming. Let's do it.
Be excited and Be Legendary!
I love it, we're definitely excited!
POP EVIL AUSTRALIAN TOUR 2019

Thursday 4th April: Enigma Bar; Adelaide (new venue)
Friday 5th April: The Prince Band Room; Melbourne
Saturday 6th April: The Lair, Metro Theatre; Sydney
Sunday 7th April: The Zoo; Brisbane
Tickets: http://silverbacktouring.com.au/pop-evil-2019/
Presented by: Silverback Touring
Essential Information
From: Grand Rapids, MI, USA
Band members: Leigh Kakaty – Vocals, Davey Grahs – Guitar, Nick Fuelling – Guitar, Hayley Cramer  – Drums, Matt DiRito – Bass
Website:  http://www.popevil.com
Latest release: Pop Evil – (out now-  eOne Music)