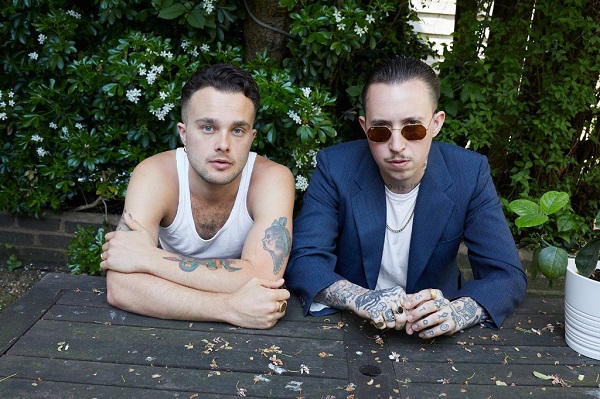 "We've kind of spent a lot of our career trying to make our record as good as our live show because we've been known as a live band."
From Release: Slaves Since first bursting out of the UK pub scene in 2012, Slaves have gone onto become of the UK's most ferocious live bands, and their brand of high-energy punk rock has won them fans worldwide everywhere from Melbourne to Moscow. Fresh from the release of their critically acclaimed third album, Acts of Fear and Love, Isaac Holman (drums, vocals) and Laurie Vincent (guitar, vocals) are bringing their anthemic new songs to people, smashing up festival stages and venues alike in a joyous, celebration of big riffs, big beats and even bigger choruses. You owe it to yourself to see this band.
While in Sydney for the amazing Download Festival, we sat down with Laurie and Isaac from the UK band Slaves to talk to us about Download and this being their first time to Australia, their live show, new music, punk, almost sort of playing drums in Nirvana… and much more. These guys are awesome! Check them out.
Catch Slaves as part of the Download Festival:
Sydney Saturday March 9 || Parramatta Park
Melbourne Monday March 11 || Flemington Racecourse
SLAYER (Final World Tour) | JUDAS PRIEST (Only Aus Shows) | ALICE IN CHAINS | GHOST
RISE AGAINST  (Only Aus Shows) | THE AMITY AFFLICTION (Only Aus Shows) | SUM 41(Only Aus Shows) | ANTHRAX | PENNYWISE (Only Aus Shows) |HALESTORM (Only Aus Shows)
BEHEMOTH | ME FIRST AND THE GIMME GIMMES | AIRBOURNE 
I PREVAIL (Only Aus Shows) | THY ART IS MURDER | POLARIS | TWELVE FOOT NINJA 
CONVERGE | FRENZAL RHOMB | LUCA BRASI | CODE ORANGE 
 FEVER 333 | WAR ON WOMEN | SLAVES | ALIEN WEAPONRY
NEW YEARS DAY(Only Aus Shows)| HIGH TENSION | JUSTICE FOR THE DAMNED 
AVERSIONS CROWN | OUTRIGHT | RUINS | DEVILSKIN | EAT YOUR HEART OUT 
 VOYAGER | THE BEAUTIFUL MONUMENT 
Tickets on sale now from www.downloadfestival.com.au  Download is an 18+ fully licensed event
Essential Information
From: Royal Tunbridge Wells, Kent, England
Band members: Laurie Vincent – guitar / bass / vocals, Isaac Holman – drums / trumpet / vocals
Website: http://www.youareallslaves.com
Latest Release: 'Acts of Fear and Love' (Out Now)