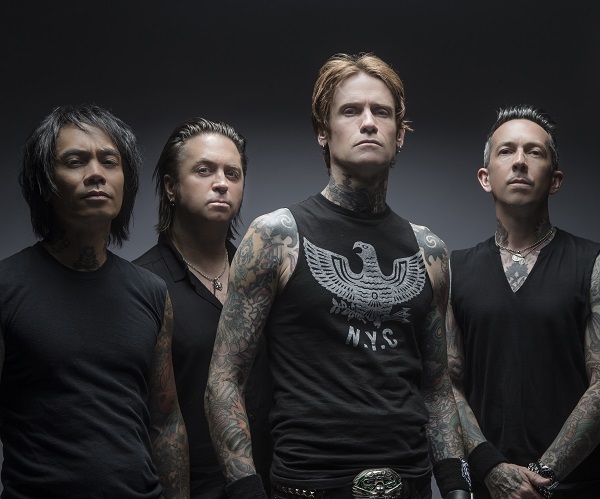 "…change is really good for Buckcherry as painful as it is sometimes but you know the old line-up it just wasn't a united front for like three years before it actually happened, so it was a long time coming, people are much happier, the people who left and the people who are here now and Buckcherry is thriving again…"
From Release: Buckcherry will release their new studio album, Warpaint, on March 8, 2019. The 12 song album, featuring 11 new Buckcherry songs along with their cover of the Nine Inch Nails track Head like a Hole, was produced by Mike Plotnikoff, whose last collaboration with the band was the platinum certified album, 15.The band plans extensive worldwide touring throughout 2019 commencing with four Southern California shows in January followed by a month long UK/Europe tour in February. The first leg of the North American tour will begin in March.
At home in Los Angeles and getting ready to kick off the Warpaint tour Josh gave us a call to talk about the band's new album 'Warpaint', its creation, change, touring, and more…
It's been three years since we last chatted, so let's catch up. How have the last three years been for you?
It's been good, I did a lot of stuff, I put out a record on my own, Josh Todd and The Conflict, 'Year of the Tiger' and had a really good time making that it was a more aggressive rock record I did with Stevie and I wrote that whole thing and had a blast.
Even though this is your eighth album, do you still get a buzz around release time and what are the feeling like when you're about to release something new to the world?
Yeah I'm anxious, I'm nervous because I put a lot into it, we started writing on this record cycle back in November of 2017, so we put in a lot of time we wrote about thirty songs for an eleven song record to whittle it down to that and man it really paid off, I feel like this is one of the best.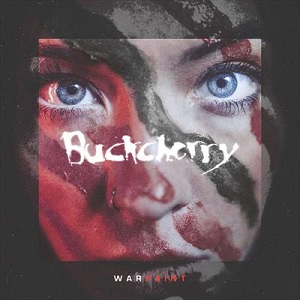 What does 'Warpaint' represent to you as a title?
I just think you can do so much with it, at first it was a song 'Warpaint' is the title track on the record and we just wanted a record title and I love one word record titles and Stevie does as well and we just think it has a little more power just having one name that's very bold and big and so we threw around a bunch of ideas but warpaint kept showing up because we wanted a name we could do a lot artistically as well with the artwork and I was always fascinated with the Native Americans growing up and I love the warpaint that they would put on their bodies in battle and also to get through big milestones in their lives. Cut to I'm pretty heavily tattooed as well and I love heavily tattooed people, I think it looks really cool and I've always been a fan.
Obviously this is the band's first album without Keith, besides that how if in any way did making this album differ from any of your previous works?
Yeah aside from that I mean it's not, it's not different I wrote all the lyrics and melodies and at this time Stevie who has been a long-time friend of mine way before he was in Buckcherry and because of the politics of the band when he got in the band he didn't get a lot of opportunities to write and boy I didn't know how talented he was until we made 'The Conflict' record and then it really set the stage for Buckcherry song writing after that. It was a labour of love we really connect on a lot of levels musically and as friends, so we had a lot of fun doing it.
Do you feel like this has given the band a kick in the ass and lit a fire under you again?
Yeah you know change is really good for Buckcherry as painful as it is sometimes but you know the old line-up it just wasn't a united front for like three years before it actually happened, so it was a long time coming, people are much happier, the people who left and the people who are here now and Buckcherry is thriving again, and we're having fun again and it's very reminiscent of the situation that happened right before the '15' record, we had been out for three years, hadn't put a record out for three years, we had line-up changes then and we made a really great record at that point. So I hope that's not the theme of making a great record *laughs* but we worked really hard on it and I think people will appreciate it.
Speaking of '15' you reconnected with Mike Plotnikoff for this album, what was the idea of going back to him and what did he bring back to the band that you feel may have been missing before?
I mean I feel like we should've gone back to him a long time ago and for a number of different reasons we didn't and he's been making really great records since '15', he's done a lot in the active rock records, 'Halestorm' and a gang of other bands and we just wanted to have that sonic quality and as a person Mike is just a great guy and just pleasant to around and we just wanted to have a great experience making a record again and when we sent him the demos he was instantly amped, he loved everything we were doing and he loved the songs and it was a real easy transition.
Of course with a new record comes touring, so are there any plans to return to Australia on the cards?
Yeah there's talk of us coming in the fall or at the end of the year, we're trying to tie in Japan as well because that's a big market for us, my manager is working on it right now, he's working on it as we speak.
I'd love to see you guys do a headline tour, you've come on support runs, but a headline tour would be awesome!
Yeah I would like that too, that would be good.
Over time it's very easy to say what's changed but what would you say is the one thing that's stayed the same in your time together?
The work ethic has stayed the same, I can only speak for myself but I've been working from record to record, if I'm not making a Buckcherry record I'm writing other songs, I'm making another record or collaborating on songs, I'm just a student of the game and since I embarked on a music career when I was fifteen I really haven't looked back and I think you know the thing about my career is I always wanted to be in one band for a long time and make a catalogue of music and its definitely coming true, this marks twenty years in the game for us, eight records and I'm so proud of it, and my goal with Buckcherry is to make ten records, that would be really great that's a good number for me. I'm just taking it one day at a time and just focusing on what's in front of me with 'Warpaint'.
Looking back was there one piece of advice you were given when you started making music that you still go back to and use to this day?
Yeah the piece of advice I always give other people is you better be passionate , passion wins over everything and you've gotta be relentless in your pursuit, you can't hold on to setbacks or just things that happen that get in the way, there's always peaks and valleys and as long as you just maintain moving towards whatever desired goal that is for you, whether it's music  or sports or anything, business, that's it really, it's passion.
Over the twenty years obviously you've done a lot but are there still things you want to do that you haven't yet had the chance to do?
Absolutely, there's always places in the world that I haven't played and it's fun for us to go to really remote places and put on a Buckcherry show and see what happens to people. We've done military shows and our own shows and there's places that I really want to get to or want to get back to, like we want to get back to Australia we haven't been there in a while, want to get back to South America and Mexico, I have other musician friends that have been to Russia a few times and say once you get on stage it's really great so I'd like to go there, Dubai, a lot of stuff. We've already done a lot of stuff in our career and I'm very proud of it all but there's always room to grow and places to get to so that would be fun.
Lastly let's look ahead to the future, finish this sentence for me, in 2019 Buckcherry will…
In 2019 Buckcherry will venture off into new territories for sure, be on stages and people that we haven't been in front of and cultures, and I really think in 2019 I hope that 'Warpaint' is the rock record of the year.
Essential Information
From: Los Angeles, CA, USA
Band Members: Josh Todd – Vocals, Stevie D. – Guitars, Kelly Lemieux – Bass, Kevin Roentgen – Guitars, Francis Rulz – Drums
Website: http://www.buckcherry.com
Latest Release: Warpaint (Out Now)