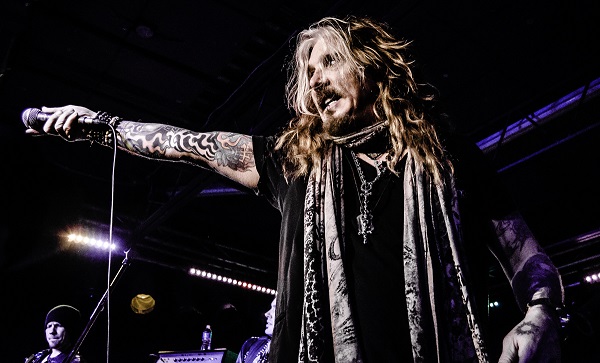 "…you know I have this weird knack of doing records that like The Scream even the Union stuff when it was out people paid attention to it but not much, same with the Motley record but then literally twenty or twenty five years later everybody's like 'oh god it's like a cult classic' *laughs* where were you guys twenty years ago? *laughs*."
From Release: Rock 'n' roll journeyman, JOHN CORABI, is no stranger to hard rock fans as vocalist of THE SCREAM, ESP (the Eric Singer project), UNION (with ex-Kiss guitarist, Bruce Kulick), RATT and his current role as the front man of the DEAD DAISIES. Widely acclaimed as one of the great rock voices ever, Corabi's hypnotic and charismatic live swagger also make him the consummate frontman. For many though, he really came to prominence when he landed the high-profile gig of replacing MOTLEY CRUE front man, Vince Neil, in 1992. It was during his short tenure with MOTLEY CRUE that the band released their self- titled album, MOTLEY CRUE, in 1994 as the follow up to the hugely successful, Dr Feelgood album. Now, on the 25th anniversary of the album's release, JOHN CORABI embarks on his first ever solo tour of Australia, with his band, performing the album in its entirety, a real treat for both MOTLEY CRUE fans and rock fans in general.
While he was in Pittsburgh Pennsylvania on a day off we gave John Corabi a call to talk about his upcoming tour of Australia celebrating the twenty fifth anniversary of the Motley Crue '94 album, memories of making it, what he's up to now, where he's at with The Dead Daisies, if he'll watch 'The Dirt', and much more…
Good to talk to you again, John, it's been just over three and a half years since we last chatted, so let's catch up how have the last three and a half years been for you?
I have been busier than, just ridiculously busy. Obviously I've been playing with The Daisies and those guys are maniacal with their touring and then when I do have a little time here and there I'm usually doing acoustic shows and now I'm getting ready and doing acoustic shows and we're gonna come down there and I come back and have a about eight or ten more shows then it's time to get back to work with my solo band, my full band. It's gonna be a busy year.
Of course you're headed back to Australia to play the MC94 album for us in full starting next week, outside of this event can we expect a few other tracks from your catalogue thrown in the set for good measure?
No you know, it's just the Motley material, so I'll probably do the album in its entirety and then maybe a song or two afterwards of still more Motley material. Honestly because I kind of tell stories as I go, I talk about joining the band and all that good stuff but it's kind of about an hour and half and it's a full tilt show. If you go back and listen to that record I was kind of kicking myself in the ass when I started doing the shows because now it's twenty five years ago and I'm just screaming at the top of my lungs for the entire show, there's not one song that isn't full tilt on that record.
As you said the album just turned 25, and is still so loved by many people, what do you think it is about MC94 that people attached to and love so much?
You know honestly it's still very hot and cold, I see comments and different things in social media and there's still holdouts that are like 'Nope if it isn't Vince it isn't Motley' but I think a lot of people that had that mentality in the beginning have kind of gone well ok let me just check this record out that they did with the other guy, and I've gotten some nice compliments from people that kind of held out in the beginning you know what I mean. I don't know, you know I have this weird knack of doing records that like The Scream even the Union stuff when it was out people paid attention to it but not much, same with the Motley record but then literally twenty or twenty five years later everybody's like 'oh god it's like a cult classic' *laughs* where were you guys twenty years ago? *laughs*.
It is still one of my favourite albums in terms of the sheer force that it holds, sonically it was so heavy for The Crue, what do you remember about putting together an album that heavy and a step away from the Motley of old?
You know to be honest with you there was really no rhyme or reason to anything, literally it was like a garage band, we were literally just sitting in a room and we were jamming on riffs and we were putting ideas together through jamming and there was no real 'hey the record needs to sound like this or needs to sound like that' we were just jamming and playing at letting everything go where it was gonna go. So, it is weird though, to me that's one of the things that I do love about that record is it's still sonically relevant now you know what I mean? I think if it had a different name and it was on the radio now it would actually still be relevant.
A lot of people have said that and I've always thought it, do you think if it wasn't called Motley Crue and was something else it would've done better?
I think it would but it's funny we when we first started working on the record and we started listening to the playbacks we were the ones, we wanted to change the name of the band and we actually started putting ideas in a hat and you know the problem with it was if you go back and read the history Motley just signed a thirty or forty million dollar record deal, they just came off of 'Dr Feelgood' and 'Decade of Decadence'  so they re-upped on their deal and were making astronomical sums of money. I think they were making close to a million dollars a show and you sit there and go ok I want to change the name of the band and everybody that had their hand out and everybody that was also making money off of Motley Crue like the agents, the record labels, the managers, like all these people they were just sitting there going hold on a minute, if you change the name of this band you signed a deal as Motley Crue and right now you're making this amount of money but if you change the name of the band you're probably only going to make one tenth of that until you prove yourselves. I think everyone was worried about their income being altered so they talked us out of it, then in hindsight when the record didn't sell well they were all the same people that came to us and said well you probably should've changed the name of the band *laughs* you can't win.
Do you have a favourite to play from it?
I mean I love the whole record but I think the one song to me that's probably the most musical I think would be 'Misunderstood', there were so many different facets to that song, there was acoustic, there was an orchestra in it, the vocals with Glenn Hughes, the backing vocals, Tommy's drumming was out of control, Mick's guitar solo was brilliant, so I just think that song really encapsulated the whole vibe of the band at that point.
So it's about to come out, but do you have any interest in watching 'The Dirt'?
Nope! *laughs* No you know what, I read the book and no, I'm being comedic. Yeah I have full intentions, I want to check it out, the book was so good and I've read in the past I've read other books that were eventually turned into movies ala The Godfather, Jaws, I mean even Jaws the book was so much more descriptive and you had to use your imagination a little bit. I mean The Dirt was such a great read so I'm just hoping that they captured what was in the book.
Outside of this Australian tour, what else is happening musically in the world of John Corabi?
Well I'm on tour right now, I'm doing acoustic shows with Mike Tramp here in The States, I just got back from doing twenty six shows in thirty days in Europe, I came home and did the Monsters of Rock cruise, and now I'm on an acoustic run in The States. I'm gonna go home and rehearse, my band's already been rehearsing so I'm gonna go home and run through everything with them and then we're gonna head down there and do the four shows then I come home and finish my acoustic tour April 15th. Then at that point I'm taking a bit of a vacation, I'm celebrating my sixtieth birthday in April so I'm gonna go do that with my wife and my two dogs and chill out. Then my goal, I've been talking about it for a while but my goal is to finish a brand new full band solo record, then I want to go back out on the road with my band probably mid-July beginning of August.
So not busy at all then? *laughs*
Well I'm off from The Dead Daisies this year but I'm not off, so it's weird my solo band, my son is the drummer and we've been both looking forward to doing a record together for a long, long time so I'm looking forward to it right now.
So you're taking a break from The Daisies but you're not out?
No, you know what honestly, in 2018 was the last tour was in Fall / Winter of 2018 and in that timeframe from 15-18 so in three years we've done four albums and probably a half a dozen tours around the world and honestly my main concern and I can't tell you what management is thinking but my main concern was we were probably playing too much, hitting a lot of these places like we were just in Europe and The UK three times last year, and I know there's places like Australia we've only been to maybe once or twice but you know I'm all for OK *laughs* let's take some time off man my brain hurts. It's like I don't know, it was a lot. I think everybody's off now doing their other projects like Dean and Marco are out with Neal Schon doing Journey through time, Doug is back doing The Rock Vault, Burning Rain, he's got a couple of things going on, so I'm just out doing my thing and just working hard but at a much slower pace than what The Daisies work.
Lastly as always let's look ahead to the future, finish this sentence for me, in 2019 John Corabi will…
2019 John Corabi will finally get off his ass and do a new solo record, and hopefully, hopefully start back up and start working on the autobiography book thing I was working on. I started working on it and then I shut it down because it just seemed like everybody was doing books, and at first it was like Motley Crue and then Aerosmith and then Steven Tyler and then Joe Perry, and then KISS now Paul Stanley and now it's gotten to the point where KISS's road crew guys from the seventies have done a book on the KISS guys. Everybody's done a book and I was kind of disappointed because I've kinda been wanting to do this like ten years but now everybody's doing then and I didn't want to come across as like I was following a trend or jumping on a bandwagon so I just kind of shut it down. It's funny this last couple of tours I've done on my own a lot of the fans have come up to me and said 'Dude, seriously when are you gonna finish that book?' But John Corabi is definitely going to do a new solo full electric band record and obviously I've been doing all the stuff I've been doing with The Dead Daisies but I just want to get out and have some fun with my kid and establish myself as again as a solo artist, I haven't done any shows since joining The Daisies so…
John Corbai March 2019 Australian Tour Dates
Thu 28 March – Sydney – Crow Bar
Fri 29 March – Melbourne – The Prince
Sat 30 March – Brisbane – Crow Bar Black
Sun 31 March – Adelaide – Enigma Bar
Tickets On sale – NOW
From: silverbacktouring.com
Essential Information
From: USA
Album Website:  http://www.johncorabi.com/
Classic Release:  Motley Crue aka MC94