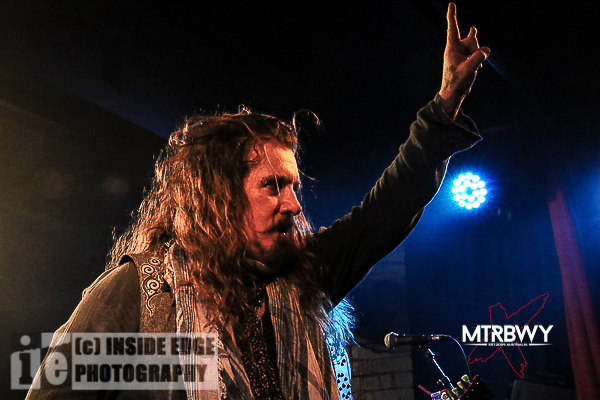 I was 18 when MC94 was released and it's an album that instantly resonated with me. The sheer force, the magnitude and the fact that it was just so heavy that it made me truly take note of a band I liked but didn't love. This album made me LOVE Motley Crue. So tonight, 25 years on here we are as the singer of this incarnation of Motley Crue, John Corabi prepares to take the stage and play this album in full for us and I and the many, many people here are ready to relive this 'cult' classic in full. One of my favourite albums ever. Be prepared for a review that will be well… you'll see.
Opening the night were Ablaze and Sisters Doll. I only managed to catch the last few of Ablaze's set but what I saw rocked the place, great band with a few extra hooks thrown into the tackle box. Hoping they can make it back up to Sydney again soon! Sister's Doll, if you've not heard much of the 80's rock bands I loved while growing up in that era then they are amazing, if you have then you'll recognise a lot of what you hear but what you hear is awesome. Both bands have a presence, a vibe and most definitely worth seeing live. They definitely got people warmed up for what is to come.
The room starts to fill and continues to fill as Corabi and band walk on stage and while the house lights were up they tear straight into 'Power To The Music' which opens the night as it does the album and we're off. Oh man I never thought I'd get the chance to hear this live and here we are. I'm good. There aren't many that can emulate Tommy Lee's drumming but Ian Corabi behind the kit is smashing it and I'm happy, then with a "Sydney are you ready for this shit?!" Corabi exclaims as they belt out and finish the opener. Wow. Straight into 'Uncle Jack' and again I'm the eighteen year old hearing this for the first time. This is beyond what I expected and I'm loving it. Oh man this hasn't missed a beat.
It's in order, wasn't sure if we were getting it start to finish but here we go with our first taste of MC 94 and 'Hooligan's Holiday' and as the crowd yell this one back at the stage this is the best. Nailed it. Just waiting so long to hear this delivered the way it's being done tonight is something else. The outro was outstanding. Corabi is on fire and has just strapped on a double neck and raised a toast to us all and tells us a story about writing 'Misunderstood' and as the 12 string rings it in the crowd once again join in on a song they know and love. Was it a hit? No. But is it loved? Fuck yes it is. They pause before the song explodes into the monster and now with the three guitar assault the song fills out beyond belief. Crab closes it out as the album dictates and with some great harmonies from the band it explodes once again into a big heavy rocker.
The acoustic comes out for 'Loveshine' and this short and subdued tune takes its place and his voice is just so perfectly matched to the record it's ridiculous. I always loved 'Poison Apples' but tonight it was just taken to another level in hearing it live and as I have said, his voice is just second level live. Telling a story about how Sixx loved The Scream and then how he came to be in Motley Crue then continuing the album with 'Hammered' and the riff! Wow. This is heavier than I expected. Up next is my favourite and the one I've been waiting to hear live for 25 years and the song the album was almost named for. It's 'Til death to us part' and this song is just beyond amazing. It sounds better than it does on the record and with the duelling guitars trading solos this was everything I've wanted to hear in 25 years. By far the best tonight.
Continuing the album with 'Welcome To The Numb' and explaining how he never thought he'd be able to play it live they do it and smash it out of the park. This is so full, so heavy and I'm just stoked. I finally got to yell these lyrics back at the stage and holy shit, they got it down. The solo was spot on and didn't miss a note. Jeremy you nailed it. 'Smoke The Sky' hits another amazing riff for the anthem for the people that smoke weed. Oh man that was so heavy and the scream he hits is perfect. The undeniable power of this album is just, well, undeniable.
Band introductions and very worthy applause go to these guys absolutely smashing these classic songs out of the park, not an easy feat and John Corabi's band did it so well. That takes them into 'Dropping Like Flies' and again with Corabi on guitar it just fills it out that little bit more. The amazing jam as the song comes to a close is all up rock and makes you really think how good this is 25 years on. Corabi tunes up the 12 string so he can give us 'Driftaway' to not only close out the album but also the night. That show was 1hr and 35 minutes of the best thing I thought I'd never see, and thankfully I did tonight as these Australian shows will be the last time John Corabi does the MC94 album in full.
Seriously… how good is that album!!
Essential Information
Venue: Crowbar – Sydney
Date: March 28, 2019
Presented by: Silverback Touring
Supports: Ablaze & Sister's Doll
Photo By: Peter Coates – Inside Edge Photography – Full gallery HERE
Website: http://www.johncorabimusic.com
Set List:
Power To The Music
Uncle Jack
Hooligan's Holiday
Misunderstood
Loveshine
Poison Apples
Hammered
'Til Death Do Us Part
Welcome To The Numb
Smoke The Sky
Droppin' Like Flies
Driftaway