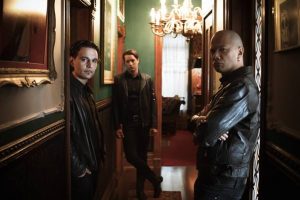 Rock 'n' roll ain't no luxury item. It's essential. It's the blood in our veins and the fire in our hearts. And nobody does it better than DANKO JONES. Danko Jones is headed back to Australia for the first time since 2013's Soundwave Festival thanks to Silverback Touring. Danko totally blew the crowds away at the festival and at sideshows earning rave reviews form fans and critics from every show.
''Danko Jones was in charge of the entire room. Charisma just explodes out of this guy and he had everyone in the palm of his hand straight up.'' – HEAVY MAG
Danko Jones have grown in strength with every new album and breathless round-the-world trek. While touring with everyone from Volbeat to Guns N' Roses, Danko and his comrades have earned a formidable reputation as one of the few modern hard rock bands that truly unite the tribes, bringing punk rockers and metal purists together through sheer force of personality and amp-wrecking oomph.
''His vocal delivery would make even James Hetfield piss his pants then recoil in terror at the indiscretion. He's not all grunt though, delivering some soulful lines'' – THE AU REVIEW
''Soundwave 2013's best kept secret and arguably the standout set of the afternoon by far: a three piece that sounds like there's five of them and is as tight as a duck's backside.'' –  100% ROCK
Watch ''Full of Regret'' Featuring: Lemmy, Elijah Wood, Selma Blair, and Mike Watt below
Armed with a new album 'A Rock Supreme', another non-stop blitzkrieg of irresistible, energy-packed anthems. Sharper than ever after yet more years on the road. So you can expect to hear tracks from it and fan favourites such ''Had Enough'', ''We're Crazy'', ''Code of the Road'', ''First Date'' and the blistering ''Full Of Regret''
A Danko Jones show is more than that, it is a live masterclass, a pure rock experience and one filled with anthemic tracks and a stage show that will remain etched in your memory for a long time to come.
''Danko Jones has made a name for themselves over the years as a must-see band'' – BLABBERMOUTH
DANKO JONES Tour Dates:
Thursday 30th May MELBOURNE, Stay Gold
Friday 31st May BRISBANE, Crowbar
Saturday 1st June SYDNEY, Crowbar
Sunday 2nd June ADELAIDE, Enigma Bar
Tickets:
On Sale: Friday 29th March;10am (AEDT)
From: http://silverbacktouring.com.au/danko-jones-2019