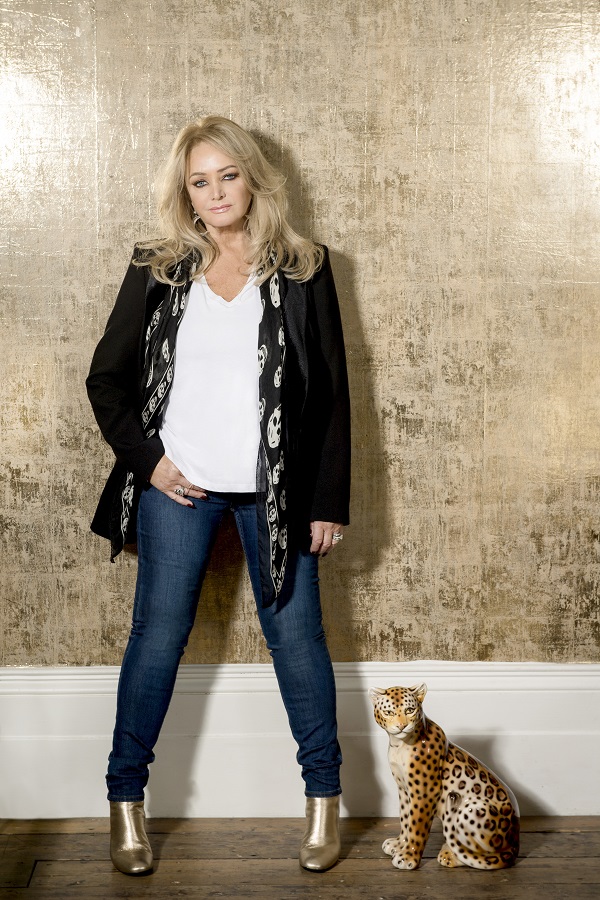 "I didn't realise I'd been in the business for fifty years until I saw the sticker on the front of my album saying 'Celebrating fifty years in the business' I'm thinking bloody hell I don't even feel fifty let alone being in the business for fifty years."
From Release: Marking no less than the complete reinvention of a wonderful and much-loved talent this – her 17th studio album – is a collection of brand new recordings. As befits an artist of Bonnie's undoubted stature, 'Between The Earth And The Stars' is more than just a return to form for the singer known everywhere for her genre-defining hits. Her calling cards are the global number one smash 'Total Eclipse of the Heart', but also of course 'Holding Out For A Hero'. She received a Guinness World Record for 'Faster Than The Speed of Night' album which saw her become the first British female to debut at number one on the UK Albums Chart; the album went platinum in the US. Over and above these tracks that made her a household name.
Bonnie Tyler gave us a call from London to talk about her new album 'Between The Earth and The Stars, how it came together, her very special guests, being in the business for fifty years, touring, and more…
'Between The Earth and The Stars' is your seventeenth album, what are your feelings like around release time, are you still as excited as the first time you released a record?
I'm very excited about this one in particular because there are so many guests on there, it's incredible I can't believe my luck you know. These legends are singing with me, you know! I'll tell you how it happened shall I because I wasn't going to make a new album, it started because Kevin Dunn my old bass player sent me some songs to listen to that he'd written and I was thinking to myself they're not going to be any good because he was my original bass player back from when I was eighteen in the band Swansea and he'd never written songs before, so I wasn't expecting to like these songs but I said I'd listen to them. So I listened to and I'm thinking wow where the hell did these songs come from Kevin, they're fantastic! He said "I've just been writing" and I said "well keep writing we'll record them" and I said "I'm not going to make a new album Kevin, I'm out on tour and stuff but I don't mind making the demos of them and I'll put them on an album we did six years ago and re-release it and put these three new songs on it you know?" He said "I'm gonna ask David Mackay to knock them into shape for me" which was my original producer forty years ago *laughs* and so I hadn't seen David since then and when I met him it was fabulous and like we'd never been apart. So I recorded these three songs and that's all I thought I was going to do but then Francis Rossi who is a friend of the producer David Mackay and a neighbour, and he listened to these songs and he thought these are great songs, ask Bonnie if she'll do a duet with me! So that's how that started.
Then there was tennis and Wimbledon and David was going and he's a big fan of tennis and he was going to Wimbledon and he knew he was going to be meeting up with Sir Barry Gibb, so he said "Bonnie I'm going to ask Barry if he's got a song for you or would write a song for you" and I said "oh my God David that would be awesome." So that's what he did and a couple of months later Barry Gibb sent this beautiful song 'Seven Ways Away' and I couldn't believe it, I didn't know how I was going to sing that song because it was so gentle and I said to my voice coach "listen to this song" and said "how am I going to sing it with my voice?" They said "Bonnie just sing it as you would any other song" and that's what I did and it's turned out great. Then I went on holiday to Barbados and we were invited by Cliff Richard who has a house in Barbados and we all went out for lunch one day and the host of the lunch happened to be Rod Stewart's best friend Ricky Simpson, so I asked him to ask Rod would he do a duet with me because it's been my lifetime to dream to do that, so he said send me an email and I'll pass it to Rod and we'll go from there. That was in the January and I thought I'm not going to lose this opportunity so I waited until I had the right song, Chris Norman had sent me a song called 'Battle of The Sexes' and as soon as I heard I knew, this is it, this is the song for me and Rod, so I sent the email asking if he'd do a duet with me and if he'd consider doing this song with me and within a day or so he got back to me personally, I couldn't believe it I was jumping for joy and he said yes he loves the song and yes he'd like to do it, that he wouldn't normally but yes he's gonna do it. The only thing is he was in LA when I was in London and when he was in London I was on tour so we couldn't do it together but that's how that happened.
Then the Cliff Richard one happened because by this time I was back in Portugal and we were all going out for dinner and we came across to the house for drinks before we went out and I asked him if I could play him a couple of tracks from the album, right? So anyway he comes over and he said yes and first of all I played him 'Seven Waves Away' that Barry Gibb wrote for me and he's like wow, Barry wrote a song for you? And then I played him the duet with me and Francis Rossi 'Someone's Rockin' Your Heart' and then I played him the duet with Sir Rod Stewart and he's like "Rod has done a duet with you?! Wow! We should do a duet" I said "Yeah? Are you sure? I'll keep you to that" and he said "yeah if we get the right song why not?" So David Mackay who's just a fantastic producer and I'm just so happy to be working back with him after all these years he put the feelers out for a song especially for me and Cliff and this song came in 'Taking Control' and he sent it to Cliff, Cliff got back to us and he said "I loved it on the very first listen" so at this time he was at his other house in Florida and he recorded his part in Florida and I did mine in London even though we see a lot of each other but this time we weren't in the right place together but you'd think we were in the same room when you listen to it. It's a fantastic story but it's all true.
I love that you get excited about working with people after so long these people are like heroes to you and you're still so excited about it I love that.
Of course I am, my God I never thought I would ever, ever when I was a young girl of seventeen listening to the Bee Gees that one day Barry Gibb would write me a song, I mean it's incredible. Like then being a being a big fan of Rod Stewart and then meeting his friend and saying it's been a lifelong dream could you please ask him if he'll do a duet for me. Francis Rossi asks me if I want to do a duet and then Cliff says to me we should do a duet, it's just like a gift from God all this, I feel like I've been blessed, I wasn't even going to make an album!
You have been in the business now for fifty years which is unbelievable…
I KNOW! And I didn't know that, I didn't realise I'd been in the business for fifty years until I saw the sticker on the front of my album saying 'Celebrating fifty years in the business' I'm thinking bloody hell I don't even feel fifty let alone being in the business for fifty years.
Now it can be easy to say what's changed but what is the one thing that's stayed the same over your time making music?
Well, I'm still grounded, I've always been a very grounded person, probably because I was already married and settled down before I had my very first hit record, and I'm very family orientated, we're a very close family, a big family, huge family, but that never changes, we love each other very much we're very close.
After so long, what do you still enjoy about doing what you do?
The live work is amazing although it was a joy being back in the studio with David Mackay, I haven't seen him since the 70's when I did 'It's a Heartache' and 'Lost in France' with him and the album 'The World Starts Tonight', it was incredible, it was like we'd never been apart and I did all the album in his front room in his house *laughs* and his lovely wife Brenda made us meals nearly every night and we'd go out to restaurants and have a great time catching up, it was an absolute joy making this album, it was amazing, Honest to God.
Does something like this give you a push to make you want to keep doing it?
Well I never get tired of doing live sows, I mean I'm always out there doing live work I'd love to come back over there and do some shows. I've got twenty four shows coming up at the end of April which I had booked in January, then I've got the London Palladium in September. I came into this business to be a singer in a band on the stage, I love being on the stage, I love singing and that has never changed for me, as much as I love recording the thrill of it all is being on stage and headlining your own shows and you know the people are only there because they've bought the tickets to come and see you you know? I love it.
You mentioned wanting to come back and it's been a couple of years since you were in Australia, but with a new album does that mean we may get to see you here again?
Well there is already talk about it and I'm so thrilled to hear that and hopefully early next year, So if there are any major tour promoters over there you better get in touch quick before somebody else jumps in because I'm coming *laughs*.
I do of course have to mention 'Total Eclipse of the Heart' it recently turned thirty five, a song that is still so loved after so long. What is your best memory of that song over all these years?
Oh being nominated for a Grammy and singing in front of an audience including Michael Jackson, Lionel Richie, Diana Ross and all of them they were all there. I lost out to Michael Jackson but come on, who wouldn't mind coming second to Michael Jackson you know? It's fantastic.
Well my favourite of yours has always been 'Holding Out For a Hero' that's a rocker!
*laughs* I never get tired of singing any of those old songs, I still do them in my shows, but I am going to put seven of my new tracks in the new show I'm going into rehearsals next week and going on tour soon.  I love 'Hero' and the crowd go crazy and they want to hear these songs.
Lastly let's look ahead to the future, finish this sentence for me, in 2019 Bonnie Tyler will…
Well I'll be back at the London Palladium which I haven't been to since 1976 when I was there with Gene Pitney, so I'm really looking forward to that but oh there's so much more to look forward to. I am one happy girl.
Essential Information
From: Wales
Album Website:  http://www.bonnietyler.com/
Latest Release: 'Between The Earth and The Stars' (Out Now – earMUSIC / edel)