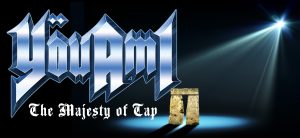 Back by popular demand ..You Am I performing the songs of Spinal Tap.
From You Am I:
Tappers,
Our band desired to play a tribute to one of Britain's loudest, for no other reason than blind devotion. Since the shows last year, we have individually and collectively shouted at from many a window "When ya gunna do Tap again"?. Often accompanied by thrown animal bones.
That answer has unsheathed itself unto us.
Our life as a band has only become Tapper, and we wanna get Spinal and primal with y'all. it's time again to align your chakras and smell the glove.
'Well, I'm fucking over the moon about you guys doing this.' -Harry Shearer
'This is so cool. keep it hard, boys! Rise and shred, my friends' -Michael Mckean
Our eternal thanks to Harry Shearer and Michael McKean for their benevolent, byzantine blessings.
Wednesday April 10th – Karova Lounge, Ballarat – tickets HERE
Thursday April 11th – Corner Hotel, Melbourne Comedy Fest – tickets HERE
Friday May 3rd – Cambridge Tavern, Newcastle – tickets HERE
Saturday May 4th – The Factory, Sydney Comedy Fest – tickets HERE
All tickets on sale now