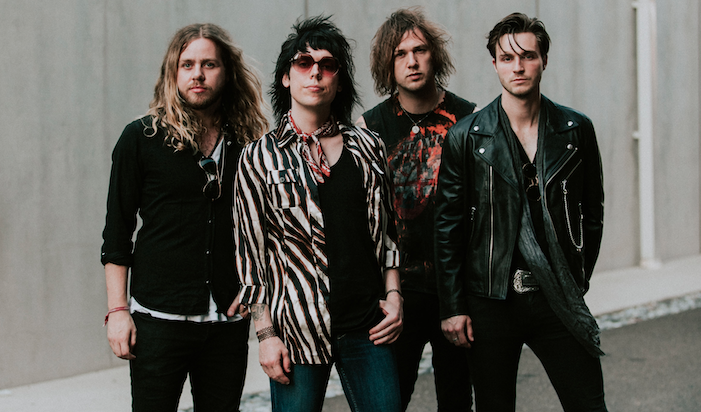 So, you may have seen that I gushed all over them as a support act when they blew me away with Greta Van Fleet earlier this week but tonight in their first and only headline show in Australia I'm ready to be doubly blown away, yeah that's a thing. I remembered the fucking name. Here once again are The Struts…
As Adam, Gethin and Jed take the stage closely followed by Luke within seconds the Oxford Art Factory is jumping. Opening with 'Primadonna Like Me' and it's setting the scene perfectly. The energy is at 100% from the opener and I can tell you straight up that this won't fade. We all click along to open 'Body Talks' and the festival of hooks continues as these songs are pure earworms and I can tell you I have a colony of them inside my head as every one of The Struts' songs can get stuck in there and you'll just randomly start humming one at any time, this week mine has been 'Body Talks' so here we go again. I can tell you right now that this is going to be one of those shows that people talk about for a while after. Hell, people still talk about The Darkness show at the Gaelic Club here in Sydney in 2004. This I'm sure will be the same.
The crowd participation and engagement that these guys demand is effortless, this crowd is hooked as 'Kiss This' rocks and just has everything you need to perfect a rock song. 'In Love With A Camera' continues the awesomeness and I'll keep saying it but these guys can write a song and right now it's not a camera everyone's in love with, it's The Struts. God damn this is fun. As it is their first ever headlining set in Australia it's time to play some songs they didn't play in their support slot and here's one of them. 'Fire' is one of my stand out tracks from the bands most recent album 'Young and Dangerous' and here it is while they're bathed in red on stage. Amazing. Luke sits down at the keyboard while Adam rips a shredding guitar solo which just tops this one off and there's no stopping them. 'Dirty Sexy Money' is just that, dirty, sexy and um… money? Wait. Just the first two. This one is straight up rock and that bass groove from Jed just smashes it out of the park. Silencing the crowd is no mean feat but it's almost effortless for Luke Spiller as this crowd is hanging on everything the band does so as we fall silent, we are then given the order "now you can fucking scream" so we do and we mean it.
A nice subdued intro by Adam as Luke appears in an amazing outfit to then sit behind the piano and starts 'One Night Only' as this massive power ballad kicks into gear. This is where it's as it kicks up the tempo and builds into the power of the ballad. "Sydney I'm the best" and yeah you can have that accolade as you sure are right now. Obligatory rock ending and crowd cheers on cue just cement the way this show is going. In case you hadn't guessed, it's going quite swimmingly.
It's time for an unexpected yet amazing cover of Bruce Springsteen's 'Dancing In the Dark' while basically playing in the dark bathed in red lights the song is stepped up a notch when it included an awesome addition to the band in fan and crowd member Primrose who got up to sing, dance and live her own Courteney Cox moment. Killer job, Prim. Nailed it. Back behind the piano, Luke introduces 'Somebody New' and this is one of my favourites from the album (remember I'm a sucker for ballads) and hearing this tonight in this small venue is something special. What a song. How is that not a worldwide smash hit? Actual question and an answer is required please.
Time to get the crowd back in with some "oh yeahs" as it's time for 'Put Your Money On Me' and they just keep banging out the clangers. They seriously can do no wrong. Gethin belts the intro to the next tune while Luke continues to warm up the crowd (he's never stopped) he's honestly like the energizer bunny, it's amazing. "I am Moses you are the Red Sea" he proclaims as the crowd parts to allow Luke to come down into the crowd. That was amazing, let's recap. He spilt the crowd in half as everyone got down on the ground and he kept us completely silent to sing his parts as he belted them out without a microphone, and we repeated his every note just nowhere near as good. I've never seen anything like that before and not sure I will again. That was crazy and insanely amazing. I shit you not and I mean it when I say this, Luke is one of the most enigmatic front men I've ever seen, he's captivating, and you truly can't take your eyes off him. This is special. Onto 'Where Did She Go?' that has arms waving side to side and a perfect song break for a sing along which equals a thankful band who truly love it here and without pyro or confetti it's time for us to turn into human fireworks as everyone here gets down on the ground to basically jump up on command and that they did. The place goes crazy and arms are waving side to side and as the song explodes again and as the key change hits it really can't get much better. The band leave the stage to massive cheers. As they damn well should.
They return to give us some more music and thank everyone involved for them being here and just testament to a band that deserves everything they're getting. Behind the piano Luke starts 'Ashes' and as discussed previously ballad = happy Troy. Of course it turns into a sweet ride and Adam killing yet another guitar solo not to mention the spectacular outro. It's getting close to the end now as 'Could've Been Me' kicks in and it's just all out sweaty awesomeness in here right now. The crowd take the last chorus before things explode again into a killer crescendo and amazing rock ending. This song is the perfect closer and a song that just leaves you wanting more but also so very happy. As the song finishes the band take place at the front of the stage to accept the adoration they deserve as they just played one hell of a show that will have people talking for a long time.
I don't think I've said this once yet, but one word can sum up tonight's performance and it is… Wow.
Ladies and gentlemen, I give you your new favourite band, The Struts.
Essential Information
Venue: Oxford Art Factory – Sydney
Date: January 31, 2019
Presented by: Live Nation Australia
Website: http://www.thestruts.com
Set List:
Primadonna Like Me
Body Talks
Kiss This
In Love With A Camera
Fire
Dirty Sexy Money
One Night Only
Dancing In The Dark
Somebody New
Put Your Money On Me
Where Did She Go?
Ashes
Could've Been Me