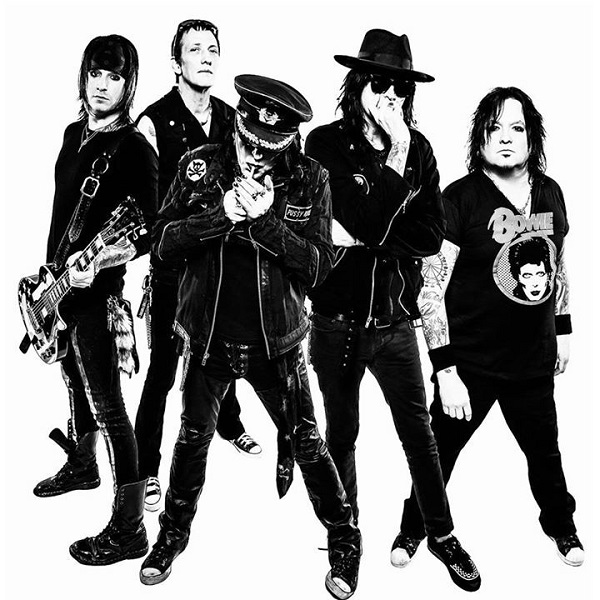 "I've always been in the aspect that I just try and keep the family together always, shit that happened before in the old days we just kinda fell apart…"
From Release: When you think of Hollywood's infamous '80's rock 'n' roll scene, it won't take long before you turn your mind to Faster Pussycat. Led by the incomparable Taime Downe, Faster Pussycat was formed in Hollywood during its '80's glam metal boom. As a mainstay of the live L.A scene and featured on the Decline of Western Civilisation 2 – The Metal Years, the band was more in line with the rawness of Guns 'N' Roses and Motley Crue rather than the polished pop finish of Poison and Warrant.
While at home in LA we gave Taime a call to talk about Faster Pussycat's return to Australia, memories of the early years, new music, changes, and more…
It's been eleven years since you've been in Australia, and I believe you'll be hitting us with a set heavy across the band's first three albums, what do you think it is about these albums and this era that people still love?
Fuck dude, I have no fuckin' clue *laughs* we just play the shit that just over the years of just playing we just figured out what songs seem to move good live, some songs just don't flow and you aren't real comfortable live playing, like they sound weird and are more for the studio or to listen to yourself but just in terms of playing it and getting in the vibe or whatnot. Just over the years when we added a new songs from 'Gloryhole' and that's been ten years now almost so it's like when we added stuff to that there were a bunch of songs that were fresh and new to us at the time but certain ones don't come across live and same with the old ones and we say "we've never played that one in twenty years, let's break that out" and then there's a reason that we didn't fuckin' play it, it's just weird to play and doesn't sound right on stage, I mean we never played it live in the old days because of the same reason and you just forget. That's why certain bands people say "Oh they never play that song ever" and we go to see shows of bands we like and stuff and it's the same fuckin' reason. So we'll play the ones that move and keep you pumping on stage and stuff.
Looking back across those first three albums and five years from 1987 – 1992 what's your favourite memory of that period?
Oh geez I'm so fuckin old *laughs* remember it's all just a blur of just fun, drinking, frolicking and there was so much fun shit, all the tours that we did with different bands whether it be Motley Crue and KISS, and Mototrhead and Alice Cooper, just all the touring was so much fun over the years, Ozzy, we've toured with a lot of cool bands, and that was fun, just being young *laughs* hangovers, now I'm sober I don't have hangovers again but even back then hangovers lasted a few hours as opposed to a few days. Everything was new as well, you know what I mean? Like you're growing up, in your early twenties and shit, like eating sushi for the first time, trying wasabi, and just everything it's weird it just feels like so long ago but it was a lot of fun shit. Being able to be a kid and get on a tour bus and fly first class somewhere, everything was new, a lot of first times. It was fuckin' fun time to be that age.
Then in '93 you guys called it a day for almost a decade. Was there ever a time you thought Faster Pussycat may not return?
Oh yeah cause you just never know with shit like that, you just look up the history of bands in general you know what I mean? Some bands only last a year or two maybe and they're done forever and some go on to form different bands, some people go solo, in that bands history you just never know. I had no idea I'd be fuckin' doing this for thirty fuckin' plus years.
Since 2001 you've had the same line up with the exception of Ace, what is it about this band line up now that has kept the band going?
I've always been in the aspect that I just try and keep the family together always, shit that happened before in the old days we just kinda fell apart with the whole big… we had a record label, Elektra and like I said we were kids just coming out of fuck I don't know what, a complete high in the mountain where all of a sudden you have an accountant, you have a lawyer, you have record company people, you got free lunches at fancy restaurants and different shit all of a sudden that shit ended and we grew up. We kinda got together in Hollywood, we didn't grow up together as people and the shit went pretty fast, time flies, so it's a matter of I try to keep the shit together. We started doing The Newlydeads when they came back from Chicago and we did that and then I added Brent and Greg back to the mix and it just didn't pan out, we're still good friends, I'm good friends with Greg and Brent but their life is different, people's lives change, they're both pops, both dads and shit is different. My guys we're this bunch of degenerates that just kinda stuck around together, we're like brothers. Even with Michael Thomas I didn't want to let him go back then, Ace coming in was fuckin' perfect and I like to keep everyone together because we all get along really good, we're like brothers, we're all different personalities in different shit and eighteen years of playing together, that's a long fuckin' time for anything. You know what I mean? Imagine your job and working in the same place with the same people for eighteen years, it doesn't really happen that often, there's a lot of turnover in every aspect. Family you don't really turnover, they're there, that's what I kind of consider I don't like changing shit up unless I absolutely have to and sometimes there's a time for change with certain people and that happens, but I try to keep everybody together as much as possible you know.
In terms of new music, it's been a long time but has there been any thought about a new release in the future?
Oh definitely, I just put together my new studio at home after having the same pro-tools rig for the good part of fifteen years so I just changed up shit and sitting in it right now. I mean I got sick almost two years ago and I ended up quitting smoking, I quit drinking, I quit doing drugs, I had to do that shit or not stick around much longer so now it's going to be interesting. We were working on a bunch of shit before I got sick and I've just been transferring all the tracks and stuff into the new rig and just getting ready to start finishing up some of these songs but just in terms of creating shit usually I'm walking in here with my Jack on the rocks, a Budweiser, a pack of smokes and a pile of drugs and like ok let's get to work, now I'm walking in here and the first time I walked in I was like what the fuck am I supposed to do in here? I'm not tanked or buzzed, but it's fun setting up this new studio with some killer gear, got my Les Paul and P Bass and inputs and this new audio interface is all dialled in just thumping starting blocks, so I want to see what happens when we start creating new stuff. The stuff that we did before I got sick, we were getting ready to do some drums and shit over at Gilby's studio, we got most of the songs just with programmed drums and they still sound good drums but I wanted Chad on it and the live drums. They're still good but we've gotta go back into Gilby's and re-track on shit like that so I'm just getting ready to go through all that shit but there's a bunch of new songs. It's almost done too.
There's almost been a resurgence in the 80's rock sound and knowing your sound changed slightly, has there been thoughts of going back to that raw sleaze rock sound?
With the whole industrial shit I played with a band called Pigface like Ministry and Skinny Puppy and stuff it wasn't to change it was just to learn new shit you know what I mean? That's when I got into computers and shit, this is '93, this is before there was a dot fucking com I learned this computer shit because to me it was interesting because I learned some of the shit by doing graphics when we did 'Wake Me' we went into a paintbox system and did the album cover for 'Wake Me When It's Over' and then I saw this Mac just came out doing all the same shit you could do on that so it was just killer, I just kinda got into computers and I could do some sequencing so I started learning it. Even with The Newlydeads and some of the industrial sounding shit we're still 4/4 bass rock and roll just with some extra, if you listen to the rhythm it's still blues based chord changes and stuff and just a little bit more evil but still catchy stuff. I've always been like eve since we restarted doing some of the Faster shit and all that I just kinda write what I think's cool, I don't go for a direction, I don't go for this or I don't try to make it sound industrial or make it sound bluesy rock, me and Danny will just sit in here and before we'd sit in here and have a beer and whatnot *laughs* now I'll have a cup of coffee and let Danny have a beer and see what comes I don't know *laughs* I have no idea what's coming next.
An album of Faster Pussycat love songs maybe?
Exactly… or Polka.
Lastly let's look ahead to the future, finish this sentence for me. In 2019 Faster Pussycat will…
Finally release something new.
So it's coming this year?
Yeah whether it's a song, half a song maybe, maybe a whole record.
FASTER PUSSYCAT February 2019 Australian Tour Dates
Thu 14 February – Adelaide, Enigma Bar
Fri 15 February – Melbourne, The Prince
Sat 16 February – Sydney, Crowbar
Sun 17 February – Brisbane, Crowbar
Tickets On Sale Now From: http://silverbacktouring.com.au/faster-pussycat-2019/
Essential Information
From: Los Angeles, CA, USA
Band members: Taime Downe – vocals, Ace Von Johnson – guitar,  Xristian Simon – guitar, Danny Nordahl – bass, Chad Stewart – drums
Website: http://www.fasterpussycat.com
Forthcoming Release: In 2019…