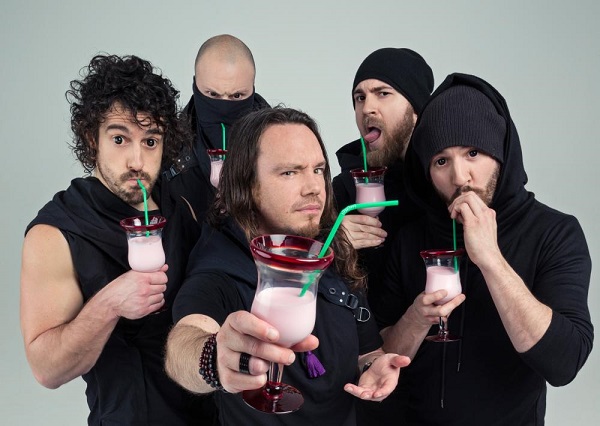 "… there's no difference in preparation whether or not we're playing to a small room of 100 or a festival with 10,000 people it's all the same… "
From Release: Get ready. Twelve Foot Ninja are coming for their first headline tour of Australia in two years. The hard rock outfit have cemented a cult following off the back of their brand of genre-fusing heavy music. One of Australia's most innovative, and experimental rock bands, #1 on the AIR album chart, ARIA nomination for Best Hard Rock/Metal album, Winner of Best New Talent at the US Golden God Awards, and 16 million views of their clips on YouTube they have toured all over the USA, Canada, Europe and Australia.
Kin gave us a call while overlooking a lake and majestic mountains in Queenstown for a good laugh as always and not only that but to tell us all about what's happening in the TFN camp, touring, music, fairy bread, and more…
It's been almost five years since we last chatted so let's catch up, how have the last five years been for you?
Full on, really full on, really hectic, lots of tours, lots of ups and downs, lots of meals, hundreds and thousands of breaths and heartbeats, and sweat beads, and oh man, it all happened, everything could've happened in five years pretty much happened.
Were there lots of hundreds and thousands, like lots of fairy bread?
Yeah man always. It makes for a proper party when you have fairy bread I reckon.
I heard it's actually on your rider…
*laughs* It should be on our rider, that's probably a good idea I might have to add that.
You're about to headline your first lot of shows in Australia for the first time in a couple of years, tell us how these 'Upload' shows will shape up…
The Upload shows will shape up to be an explosion of just musical goodness. Of eargasms, well multiple eargasms that will last a lifetime. You'll come out of those shows with stories that you want to share with your grandchildren, and it's just gonna be an extravaganza. We're touring of course with the amazing Voyager, which has been a long time coming, we've wanted to tour with them for a long time and I think the feeling is mutual, so there's gonna be a lot of love in the room. I think it's definitely going to be a tour for the ages.
Do you think they'll let you play their keytar?
Oh man that would be unbelievable, but if not we'll get one of them up to play with us on something.
On the other side of Uploads you're also on the mega Download bill, who are you most excited to be sharing the bill with?
My personal, the one I want to see the most is Behemoth, I'm a big fan of Behemoth and I've been watching videos of their most recent tours and I'm absolutely hanging to see them. I'm looking forward to seeing Polaris, we played a show with Polaris years ago now in Sydney and I haven't seen them since so I really want to see where they're at. I hear their love show is exceptional so I'm really excited to see those boys again.
Obviously a headline show is different to a festival show, how if in any way do you need to prepare differently?
Well we don't that's the thing *laughs* just putting it bluntly, there's no difference in preparation whether or not we're playing to a small room of 100 or a festival with 10,000 people it's all the same, and we get into the frame of mind in exactly the same way every show we play and that is before we stage Stevic will get us into a huddle and he'll say a motivational speech and just put us in the zone and these speeches are epic, he delivers the greatest motivational speeches I've ever heard in my life, so that doesn't change if it's a festival show or an intimate headline show. So it's all the same, it's all relative.
In terms of new music, it's been a couple of years since 'Outlier' are there plans for a new release soon?
Yes there are, we're currently working on our third album and it's going swimmingly.
Well, that's the best way for it to go…
I reckon, I think so, especially given the fact we're recording it in the middle of the ocean this time on a submarine, yeah, hope there'll be some form of flotation or swimming of some kind. Yeah, it's all sounding really, really good so far and it's very different to what we've done in the past and of course when I say that all our fans kind of go "Yeah but all your stuff is different, of course it is…" however, this particular lot of work is quite different to what we've done before and many varied and a lot of experimentation going on. It's pretty exciting; I'm excited to hear what people make of this. Either they'll take it well or not so well and either way it will be a surprise for us.
When do you think we might hear something?
We're hoping this year, that's the plan, anything could happen though and we're trying our best not to do a TOOL and keep putting it off, we really want to get it out this year and the reason being we just want to get back out there and play again and tour so it's imperative that we have a release under our sleeves to do that and so one needs the other so we really want to get it out this year.
Outside of uploading and downloading, and being in the studio, what are the plans for Twelve Foot Ninja for 2019?
Well release music A), B) release some crazy twisted film clips, C) go on tour again, hopefully get our asses back to The States, back to Europe, catch up with a lot of people that we haven't seen in a long time, and yeah hopefully kick ass to use the American vernacular.
Over time it's easy to say what's changed but what would you say is the one thing that's stayed the same about Twelve Foot Ninja?
Stevic Mackay. He is the one constant, he exists in this dimension that is beyond space and time, there is no space or time where Stevic exists and he is the one constant. I would actually be surprised if one day it's revealed that he is God itself, seriously, he is the constant, if it wasn't for him we wouldn't be here that is for sure. It's all on Steve and it's tough and it's a tough job but he does it well, he does it really well and I think that he is the glue that keeps up together.
That's lovely! Have you written a song about him? I feel like he deserves one…
I've written plenty but I don't want to tell him which ones they are *laughs*. He's definitely the centre of the Twelve Foot Ninja universe and for good reason.
After now ten years together, what's the one thing you've learned about being in a band that you thought wasn't a part of it when you all started?
Good question, that's a great question, what's something that we didn't expect? Probably to still be around would be the most obvious one, to still exist, but we have this incredible diplomatic system that any disputes are quickly resolved by a game of rock, paper, scissors and you guys try this, any disputes it doesn't matter who's right or who's wrong you just solve it with a game of rock, paper, scissors and whoever loses just has to swallow it, just has to OK, I admit I didn't win. It works every time and definitely the thing that's kept us together and I think that we would employ rock, paper, scissors to resolve our diplomatic issues is probably something we didn't expect either. So there's the two.
I feel like I should implement that at work for in meetings…
Yep, that's it! You should solve it over a game of rock, paper, scissors. Russ and I have developed a system, we do it telepathically, what we do is you close your eyes when you do it, this is the secret, you close your eyes and as soon as you're about to do it you get an image of what it should be and if you follow that seriously, 90% of the time you'll win. I don't know how that works, it's a little bit pseudo-scientific, it's a little bit supernatural but for some reason it works.
Lastly let's look ahead to the future, finish this sentence for me, in 2019 Twelve Foot Ninja will…
Add pieces of bread with hundreds and thousands on them to our rider.
I'm taking credit for that!
Oh please, I will definitely credit your for that. That's probably the best vision of the future I can probably give you.
Catch Twelve Foot Ninja out on their 'Shuriken Tour' at these dates:
Saturday 2nd March 2019 – Rosemount Hotel, Perth
GET TICKETS
Friday 8th March 2019 – ANU, Canberra
GET TICKETS
Saturday 9th March 2019 – Download Festival Sydney
Parramatta Park, Sydney
GET TICKETS
Monday 11th March 2019 – Download Festival Melbourne
Flemington Racecourse, Flemington
GET TICKETS
Friday 15th March 2019 – Miami Tavern, Gold Coast
GET TICKETS
Saturday 16th March 2019 – The Valley Drive in, Brisbane
GET TICKETS
Saturday 23rd March 2019 – The Gov, Adelaide
GET TICKETS
Essential Information
From: Melbourne, Australia
Band members: Damon McKinnon – Bass, Kin Etik – Vox, Shane 'Russ' Russell – Drums, Steve 'Stevic' Mackay – Guitar, Rohan Hayes – Guitar/Vox
Website: http://www.twelvefootninja.com
Forthcoming release: 2019?