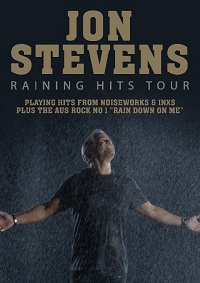 Kicking off what is set to be a massive 2019, Jon Stevens is back on the road with his aptly named Raining Hits tour, featuring not only all the greatest hits from his extensive back catalogue, but also the iTunes Australian Rock and Indie Rock #1 track Rain Down On Me. The tour, which runs through until April, features highly anticipated headline shows, special guests and festival appearances. Jon will rock out the hits from not only his solo career, but also Noiseworks and INXS.
With a back catalogue jam-packed with smash hits, and no shortage of great songs to choose from, the revered singer-songwriter is looking forward to reliving the different times of his musical journey, and sharing those experiences with audiences. With an extensive back catalogue of hit songs included in the setlist, the show is guaranteed to delight.
Jon Stevens hasn't really stopped working – touring, writing or recording – since he first started out in the industry as a young musician. He really needs no introduction to Australian audiences; a revered singer-songwriter within his own right, he has fronted some of the most legendary Aussie bands – Noiseworks, INXS and Dead Daisies. His 2017 solo album Starlight brought his career full circle, showcasing an impressive musician whose songwriting nuance sets him on a musical pedestal as one of the best in the business today.
Launching his career back in his home of New Zealand as a teenager, Jon Stevens already had two #1 singles by the tender age of 16. Fast forward to the early 1980s and with five mates Noiseworks smashed onto the Australian airwaves with singles such as No Lies, Love Somebody, Take Me Back, Touch and In My Youth to name a few.  They were the embodiment of what Aussie rock was and should be – hard-hitting, talented and they put on a bloody good show. Never one to rest on his laurels, Jon Stevens didn't stop working when Noiseworks when on hiatus. He followed up with solo albums, multiple stints in stage productions such as Jesus Christ Superstar and earned world-wide acclaim taking centre stage with INXS. His next band – The Dead Daisies – stepped up that international reputation with the debut single Lock and Load featuring the legendary Slash on guitar.
Whether touring with INXS, doing the festival circuit with Noiseworks, playing his own headline solo shows to packed houses, one thing has always been consistent with Jon, it is, and always will be, about the music. His hard work over the years has truly paid off, as Jon Stevens is considered one of the country's premier artists and a legend on the live music scene.
Get your tickets to Jon Stevens Raining Hits tour now.
Friday 22nd February 2019
Shoppingtown Hotel, DONCASTER VIC
www.shoppingtownhotel.com.au
Friday 8th March 2019
Bankstown Sports Club, BANKSTOWN NSW
www.bankstownsports.com
Saturday 9th March 2019
The Juniors, KINGSFORD NSW
www.thejuniors.com.au
Friday 29th March 2019
Lizottes, NEWCASTLE NSW
www.lizottes.com.au
Friday 5th April 2019
Chelsea Heights Hotel, CHELSEA HEIGHTS VIC
www.chelseaheightshotel.com.au
Friday 12th April 2019
Tivoli, BRISBANE QLD
with special guest Vanessa Amorosi
www.thetivoli.com.au
Thursday 18th April 2019
Palms at Crown, MELBOURNE VIC
with special guest Vanessa Amorosi
www.crownmelbourne.com.au/entertainment/concerts
For more information, please visit www.jonstevens.com