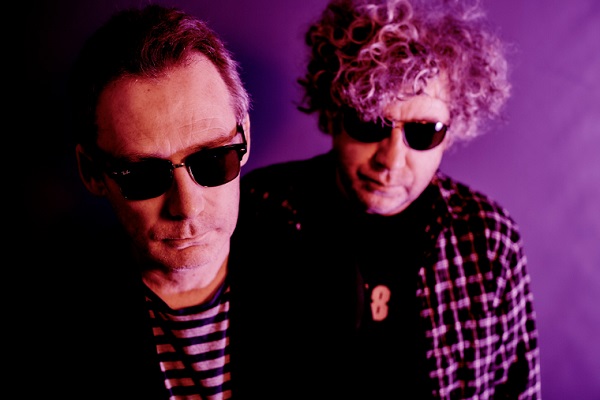 "…this time around I mean personally I just enjoy it more now because we're still here, whatever it was we were doing we're doing it right because we're still here and you just chill out more now."
From Release: Brothers William and Jim Reid led THE JESUS AND MARY CHAIN to become pioneers of the post-punk notion. Like mad scientists, the brothers would concoct formulas of noisy, effects-driven scores to accompany lyrics of angst and discontent. This would be there modus operandi from their 1985 debut Psychocandy through to their most recent work, 2017's Damage And Joy. THE JESUS AND MARY CHAIN were 'cutting-edge' back in '85 and "now, thirty-something years on, as the feedback fades, the smoke clears and the years roll by, the band are as compelling as ever".
We gave Jim a call while he was at home to talk about the Chain's return to Australia, new music, coming back, memories, the future, and more…
You're heading back to Australia next month, tell us what is the best way to describe a Jesus and Mary Chain show in 2019?
Ooh it's probably difficult for me to say that, well just I mean the obvious, you'll get the guys up on the stage, we'll be doing a cross section of stuff from throughout our career, we'll be doing a few things our latest album 'Damage and Joy' but there's something for everybody at a Mary Chain show, we're not going to do obscure B-Sides or whatever although there are some people  that would probably like us to but we keep it kind of where there's something for everybody really.
Do you have a favourite memory from a previous trip down here?
Probably the first time that I came to Australia it was just mind blowing because it just such an amazing place really and I'd never been there before. The first time you ever go anywhere new I think is just the most intense, and I just remember I was having breakfast in Sydney and I was lying in bed just overlooking Sydney Harbour and the Opera House just thinking wow I've really hit the big time here.
With Damage and Joy out back in 2017, your first album in almost twenty years has this got the ball rolling and has there been any thought about new music from the band?
We are going to record another album and the plan is to do that this summer and to have it out at some point next year.
How if in any way has you approach to song writing changed over the period between albums?
It hasn't, I mean it's the same process and there's I mean basically there's no set way to do that, whichever way a song comes is always welcome but it usually just involves sitting around tinkering with your guitar late at night or whatever. I suppose I used to like a drink when I did that and now I'm on the wagon so that's probably the biggest change at the moment. As far as William is concerned it's probably the same really, he likes to get mildly stoned and write music.
Since coming back together in 2007 what has this second coming of the band allowed you to do that you hadn't done previously?
Well probably relax, when I think of the first period of the band it seemed to just be stress, a lot of stress and you were worried can I really do a world tour? Do I really want to do this? Or am I gonna be allowed to continue to do this? There was always this feeling that the band was gonna end next week and you spend so much time stressing about that and when it actually did end it just didn't seem like the end of the world I thought it would have been. So this time around I mean personally I just enjoy it more now because we're still here, whatever it was we were doing we're doing it right because we're still here and you just chill out more now. It doesn't look like it on stage because I still find it difficult to go on stage you know I'm not a natural performer but I do, I actually do enjoy it more.
Even after so long you're still not comfortable up there?
I'm not, I mean I'm naturally a very shy person so it's an odd way for me to make a living really. When I was younger if someone had suggested getting up on stage as the singer in a band I would've been absolutely horrified but here I am it's what I've spent the bulk of my adult life doing. It's a weird one but I enjoy it but it terrifies me.
At over thirty years, what's left to do as a band that you wan to do that you haven't yet had the chance to do?
I mean I don't really look at it like that anymore; I just take it a day at a time and just enjoy it happening while it's happening. When we were younger we probably looked at it that way like let's do this and let's do that but you know just chill, just sit back and enjoy the ride. If I could go back and tell myself at the beginning of this whole thing what to do and given advice it would've been that, don't stress it man, just go on with it and just enjoy it as it goes.
Over time it's very easy to say what's changed but what would you say is the one thing that's stayed the same about your time in The Jesus and Mary Chain?
Stayed the same… probably just the way it feels really on stage. When you're on stage and you're looking out it could be any time with the exception of looking at a sea of smartphones it could be any time in the last thirty years really it's the same vibe, you see you're on stage and it feels the same. We might look different and might be different but to me it feels the same. I mean being on stage in 2019 feels like being on stage in 1985 I think.
So that same fire and same fuel is still there…
Pretty much, yeah.
Lastly let's look ahead to the future, finish this sentence for me. In 2019 The Jesus and Mary Chain will…
Make a record.
THE JESUS AND MARY CHAIN March 2019 Tour Dates:
Thursday 7th – Sydney – Sydney Opera House
Friday 8th – Brisbane – Tivoli
Tuesday 12th – Melbourne – Forum
Friday 15th – Adelaide – The Gov
Saturday 16th – Perth – Astor Theatre
 Tickets From: https://metropolistouring.com/tours/thejesusandmarychain-2019/
Essential Information
From: Scotland
Band members: Jim Reid – vocals, guitar, William Reid – guitar, Scott Von Ryper – guitar, Brian Young – drums, Mark Crozer – guitar
Website:  http://thejesusandmarychain.uk.com
Latest Release: Damage and Joy (Out Now)