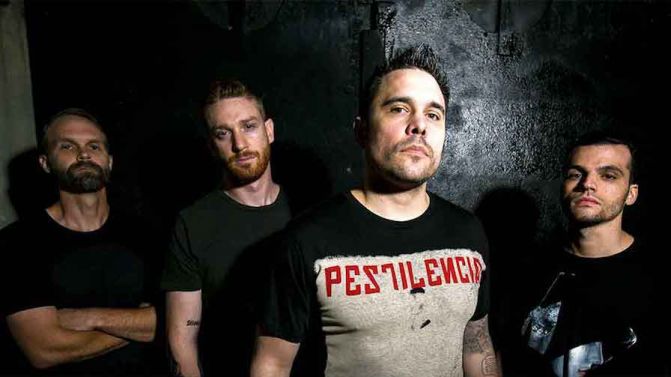 "I think that's the main thing that makes me want to keep doing Trapt is the fans and how they react to it."
From Release: Formed in 1997 TRAPT and have sold over 2.5 million records worldwide. It was their eponymous major-label debut, the self-titled 'Trapt' album that really got things going for them. The album was a perfect mix of hard rock with catchy hooks and dynamic choruses and plenty of songs that still remain etched in your mind today. Fusing together propulsive guitars and unforgettable upbeat refrains, TRAPT are adept at producing empowering anthems that you could easily hear this piping through an arena with a rallying power.
We gave Chris from Trapt a call while he was in Cincinnati getting ready to head back Down Under to talk about the band's return to Australia, new music, learnings, and more…
To kick off it's been about a year and a half since we last chatted so let's catch up, how has the last year and half been for you?
It's been eventful, we wrote a lot of great songs I think some of the ones I'm most proud of I would have to say. Went through a lot of stuff, a lot of self-discovery and growth and all that blah bah blah but I think it came out in the music and the song writing and yeah we're playing a new song at the last couple of shows that we did and we're gonna play it in Australia so we're excited about that to bring a new song to the table when we come over there.
Your first show in Sydney blew us away, when it's a first run anywhere what were the feelings like when you got such a great reaction?
We always knew we had some fans in Australia but you never know how it's gonna go when you get over there, we were pleasantly surprised at how well they received us, it was awesome, it was a great time and we can't wait to get out there and do another packed show and bring a new song and we're stoked so hopefully we can make something of it and every year or two come over and next time we come over try and do an acoustic kind of thing you know.
So for those that missed out, can you give us three words that you feel sum up a Trapt show perfectly?
I'd say energy, connection, and discovery.
It's been a few years since 'DNA' you just talked about a new song, but what are the plans for new music on the horizon? 
Well this summer we're gonna be doing a bunch of shows with Puddle of Mudd and some other bands and probably put out a new record this summer so we're pretty much done with it in the last couple of weeks and in about a month or so we'll be done with it and we'll get ready to out it out. So we'll be doing that and we're gonna be touring a lot of the year and do what we do.
You're coming up to twenty two years as a part of Trapt, what is it you still enjoy about being part of this band?  
It's been basically the main thing I've done all my life and that's it other than when I was a kid, it's been a career and it's still going and I'm very happy about that and very gracious about that. It's awesome to have people that care about what you do.
Over time it's pretty easy to say what's changed, but would you say is the one thing you feel has stayed the same in your time together?
Well, I guess just trying to discover as much about myself as I can so I can put it out there in song form and hopefully it impresses people and I think I should try to do that every record, I mean we do that every time we put a record out and every time we play live for people and all that good stuff. I think that's the main thing that makes me want to keep doing Trapt is the fans and how they react to it.
So what's the one thing you've learned about being in a band that you thought wasn't a part of it when you all started?
You know what when you first start a band you don't think about copyrights and money and all that, so that part gets injected in there and definitely something a young band doesn't think about so that kind of stuff is weird and you get better at it when you start to figure that stuff out. The music business is like an oxymoron to me, I mean music for me I've always wanted to think of it like a hobby, like a passion and not like a job, so when you say music business it makes it more sterile than it could be. It's like two different things to me.
Looking back at your career, what for you has been the ultimate coolest moment you've experienced?
I think going to Japan was pretty cool, the shows we did were with Black Eyed Peas, Red Hot Chili Peppers, Lenny Kravitz and Trapt *laughs* the most random line-up ever, so I those few shows were pretty weird and pretty crazy and probably a highlight.
As always, let's look ahead to the future, finish this sentence for me, by the end of 2019 Trapt will…
Have played in many different countries and will have a new album out and do a bunch of touring in North America and hopefully have lived a great year of their lives.
Trapt February 2019 Australian Tour 
Monday 18th – Perth – Amplifier
Wednesday 20th – Adelaide – Enigma Bar
Thursday 21st – Sydney – Factory Theatre
Friday 22nd – Brisbane – The Zoo
Saturday 23rd – Melbourne – Max Watts
Tickets: https://metropolistouring.com/trapt-2019/
Essential Information
From: Los Gatos, California, USA
Band members: Chris Taylor Brown – lead vocals, rhythm guitar, Peter "Pete" Charell – bass guitar, Brendan Hengle – lead guitar, Adam Prentice– drums, percussion
Website:  http://www.trapt.com/
Forthcoming Release: In 2019…