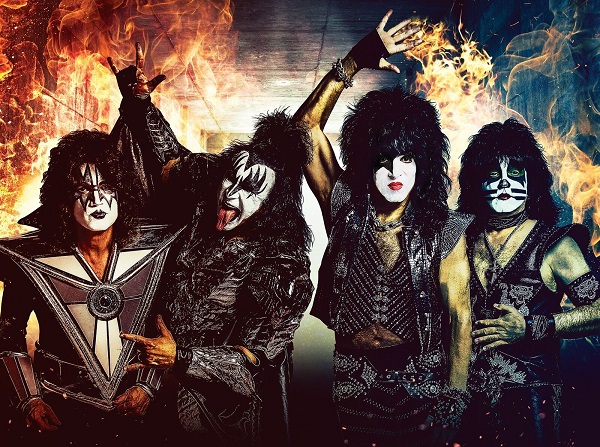 "…there are a lot of artists that go out and do these kinds of things but this is legitimately going to be the last tour for KISS."
From Release: Known for their trademark larger-than-life blistering performances, KISS has proven for decades why they are hands down the most iconic live show in rock n roll.  The Rock & Roll Hall of Famers who have sold more than 100 million albums worldwide have said this tour is devoted to the millions of KISS Army fans.
At home just outside of LA, Tommy Thayer of KISS gave us a call to talk about the 'End of The Road' as KISS are set to embark on their final tour, we a lot talk about the shows, what's happening around them, new music, the legacy and the future of KISS, and much more…
Thanks for your time today, Tommy, of course we're here as KISS are heading out one last time on the 'End of The Road' tour, with a catalogue spanning forty-five years how do you go about putting together a farewell set list?
Well you know it's not easy, we've actually been working on that. We've been rehearsing the last couple of months already and trying to find the right combination of the right songs to really make the impact to the set on the new tour, but there's four and half decades of music and albums to choose from and we're going to pick songs from all the eras equally so we cover all the different era of KISS well. So we've been working on that and we're gonna play more songs than we usually have and maybe playing twenty or twenty five songs in the set so we're gonna cover a lot of ground with that.
So I look forward to the four and a half hour show, yeah?
*laughs* Not quite like Bruce Springsteen, but it will be longer for KISS but it'll be a big show and will be a full meal that's for sure.
I have to ask, KISS have done farewell shows before, is this definitely it?
Well… good question because there are a lot of artists that go out and do these kinds of things but this is legitimately going to be the last tour for KISS. Gene and Paul especially they want to go out and do a final tour while we're at the top of our game and not declining which could happen in a few years. Gene's almost seventy and they really want to go out and do this now while we're in our prime still and the band is great so that the tour is something special rather than later on when things aren't going as well *laughs* but legitimately this is the last tour and it's not just hype or some kind of promotion but it's for real.
For yourself who has been around the band for almost twenty five years and actually in the band now for sixteen years, how does it feel for you to be a part of the end?
Well it's kind of mixed for me, I'm always proud of whatever we're doing and certainly is an honour for me to be in the band in the first place, I'm living every kids dream of being in one of the biggest rock bands in the world playing lead guitar on one of the biggest stages in the world and that's especially great. At the end of the day when we get done with the tour, I'm not quite as old as those guys so I'll still be doing things and playing music and that sort of thing but we'll see what happens beyond this tour. Again, this tour could go a year or two, maybe even three years if we're gonna hit every city in the world we want to go to, so we've got a lot of work ahead of us and then we'll see what happens after that.
Now, touring may be wrapping up but could there be any plans for new music from the band in the future?
Not really right now, it's kind of frustrating to do new music these days because people aren't buying music anymore, I know a lot of the fans would like to have a new KISS record but on the other hand spending ten months writing and recording a new record in a way it's almost not worth it because again the outlet to sell music and people to buy it is not what it used to be so that's kind of frustrating to do that, so it's a hard decision, it's a hard thing to decide whether to do or not but I think we're gonna put that idea on hold for now and just focus on making this tour great and we've got a lot of songs and a lot of music to include from the catalogue already so we've got our hands full already, but we'll see about new music in the future but no plans right now.
Back to the tour, KISS has always had a huge following in Australia, and you being here a number of times how do the Australian fans shape up to those around the world?
The Australian fans are some of the best in the world there's no doubt about it, the first time KISS came to Australia as you know was in 1980 and it was like Beatlemania so it's always been a very special place to go and it's always been over the top even from the very beginning when they went there in 1980. We always love going there, it's a wonderful country, beautiful culture, wonderful people and we always feel very welcome and always look forward coming down to Australia every time we come. It always goes well, and my first official gig in the band was in 2003 which was the KISS Symphony gig in Melbourne at the Telstra Dome the show we did with the seventy piece orchestra all in KISS makeup, so that was a special time. So we've got a lot of special feelings and love for Australia there's no doubt about it.
I know you guys have done conventions and all sorts of things outside of the shows when on tour but are there plans for something special on a farewell run?
Well there's talk of different special events and of things to do and I'm sure we will definitely explore that, I mean we're not going to be down there for a little while until the end of next year, so there'll be some special things happening, we want to make this more than just a concert and make it a real event as far as the shows and doing something when we come to the city, like it's KISS World and that thing and I don't know exactly what that will be yet but we always like to make it more than just concert and make it more of a special event for the city.
KISS is larger than life with a legacy that will be remembered forever. For you what will you remember most about being a part of this phenomenon?
You can't go wrong with being in one of the greatest, most historic bands of all time, again I'm honoured just to be in the band in the first place and I always appreciate that and never take it for granted. To grow up being a kid and aspiring to play guitar and be in a band, any band to begin with but to end up playing in KISS for fifteen or twenty years and culminating with this tour that we're doing now, its every kids dream and I couldn't be more fortunate and more lucky to be doing this.
Paul and Gene being legends and Rock and Roll Hall of Famers have done it all and seen it all, when you first put on the makeup what was their message to you?
You know, just be yourself and make it yours I mean I was coming into the band and filling big shoes to begin with but I was quite capable I could get on stage and perform and to take over the role of the Spaceman was a little daunting to begin with but in the last like I said in the last fifteen, sixteen, seventeen years I've become very comfortable with it and I've made it my own in my own way. Again it's an honour to be doing it, I have all the respect in the world for the guitar players like Ace and Vinnie Vincent and these guys, Bruce Kulick that came before me, I have a lot of respect for them and I wouldn't be doing what I'm doing if they didn't do it in the first place.
Over time it's easy to say what's changed but what would you say is the one thing that's stayed the same in your time with KISS?
Well the thing that's the same with KISS and it's the thing that makes KISS great is the timeless classic kind of quality to what KISS is, the imagery and the characters never really go out of style and I think that's the thing that sustains us in a big way it's not like most bands where the style or the look of the band is not cool or goes out of style after a few years, KISS is a timeless entity and will always continue to work. When new kids come see the band they get the same feeling that I did or other kids did when they first saw KISS back in the early '70's it was the special thing that puts a smile on your face and makes you want to rock *laughs* and again the identity and the imagery of KISS never goes out of style and I think that's the secret that sustains KISS and will continue to sustain what we do indefinitely.
I know there was some talk a little while back about the possibility of a TV show replacing Gene and Paul and keeping the KISS name going, that's not true is it?
*laughs* No, I've heard rumours like that or ideas like that and people talking but that's never really been the plan, and if KISS did continue and I know Gene and Paul are open to it conceptually and I don't know exactly how it would work but if it did happen it would have to happen organically meaning you couldn't just replace two guys or three guys and come up with a KISS version 2 or something, it would have to happen organically, one person would have to step down and you'd have to find somebody that's really exceptional to come in that's replaced that person whether it's Paul or Gene or whoever and then over time if that caught on then maybe somebody else could change or something like that. It takes time for things like that to really work right it has to happen over time but I don't know how that's going to work but it would have to go that way if it did.
For now we'll leave it as it's ending and let's just end it on a high!
Well it is, and the reason we're doing this tour again is because KISS as it is today this is going to be the last tour legitimately, it's the end of the road and that's what we're doing and again it's with the most sincere intent that we're doing this tour and people will have to come see KISS one last time, it's the last chance, and the people that have never seen KISS before this'll be the last opportunity to see the band that you've always heard about and that's what it is.
Do you have a date for where it all ends and where that may be for that final show?
I don't think so yet, we've just got the first few legs for the tour for 2019 scheduled and like I said it should go more than a year, could go two or three years depending on how many cities we end up doing but I don't think there's really an idea of where and exactly how the last show will be and I'm sure at some point that'll happen and we'll know and be able to let people know, but we don't know right now.
What has being in KISS allowed you to do that you hadn't been able to do prior joining the band?
*laughs* Well it opens a lot of doors that's for sure, you can always get a good table in any restaurant in the world just at a moment's notice when you play that KISS card which is what I call it *laughs* but there's all kinds of things that come along with being in a famous rock band and I like to enjoy that, I don't take advantage of it but definitely there's a lot of perks that come along the way.
So, once everything is done with KISS any idea what's next for you personally?
Well I'm in this business, I've been in the music business professionally maybe thirty or thirty five years now and I will continue to do that, I've got other projects that I'm currently working on, some animation projects I'm developing and trying to get deals for, I've been writing some songs with a good buddy of mine named Jason Scheff who played and sang in the band Chicago for many years, we actually live near each other and we've been writing some stuff and recording just for fun. So there's always going to be stuff like that but I'll probably be in the music business and doing fine no matter what's going on.
On a personal note, big fan of Black 'N Blue so just a thanks for the killer tunes!
*laughs* Yeah you know Black 'N Blue was the start and that was the band we came out of Portland the five guys and came down to California and got started and next thing you know we're opening for KISS in 1985 on the Asylum tour and that's how I got to meet Paul and Gene in the first place and things just kind of took off from there and that was over thirty years ago.
Also over thirty years ago you got to play with our local legend, Jimmy Barnes!
*laughs* That's right, that's a little known fact I mean it was funny because we had just done our first album with Black 'N Blue it was 1984 or 1985, the guy that signed us to Geffen records his name was John Kalodner he was a very well-known guy in the A&R business and one day he called me and I was probably just 24 at the time and I'd never really done any studio work as far as for other artists and that sort of thing and he called me and said "Hey Tommy, there's an Australian artist he's like the Australian Bruce Springsteen" I remember what he told me, he goes "name's Jimmy Barnes, he's recording a new record in LA and they need a guy to come down and play guitar on some tracks would you go down and do it?" and I said "Sure" and it just blew me away that they asked me to come play because I hadn't really done something like that and I figure well, that's kind of a feather in my cap and they must think I play guitar OK. So I went down and Mick Fleetwood was playing drums and Billy Burnette on guitar, the keyboard and bass player from the band Little Feet, and me. I don't even remember what songs, but I remember we did a couple of songs and that was the beginning of some of my early studio session work for other artists. So it was kind of trial by fire, but it was fun and nice to meet Jimmy.
Lastly, I always get people to predict the future so I want you to finish this sentence for me. In 2019 KISS will…
*laughs* KISS will be touring the world and bringing down the biggest stadiums and arenas with a killer show, bigger and badder than we've ever done before, and it's gonna be emotional because for most people coming to see KISS in their particular town for the last time it's gonna be a celebration but also an emotional time because it's the last time. So that's what we'll be doing.
KISS 'END OF T HE ROAD' AUSTRALIAN TOUR DATES:

Saturday November 16    
RAC Arena, Perth WA
www.ticketek.com.au & 132 849
Tuesday November 19     
Coopers Stadium, Adelaide SA
www.ticketek.com.au & 132 849
Thursday November 21    
Rod Laver Arena, Melbourne VIC
www.ticketek.com.au & 132 849
Friday November 22         
Rod Laver Arena, Melbourne VIC
www.ticketek.com.au & 132 849
Saturday November 23     
Supercars Newcastle 500 NSW
www.ticketek.com.au & 132 849
Tuesday November 26     
Qudos Bank Arena, Sydney NSW
www.ticketek.com.au & 132 849
Thursday November 28    
Brisbane Entertainment Centre QLD
www.ticketek.com.au & 132 849
Proudly presented by One World Entertainment, TEG Live and Triple M Classic Rock.
www.oneworldentertainment.com.au  |   www.teglive.com.au
Essential Information
From: New York, USA
Band Members: Gene Simmons – vocals / bass , Paul Stanley – vocals / guitar, Eric Singer – drums, Tommy Thayer – guitar
Website: http://www.kissonline.com