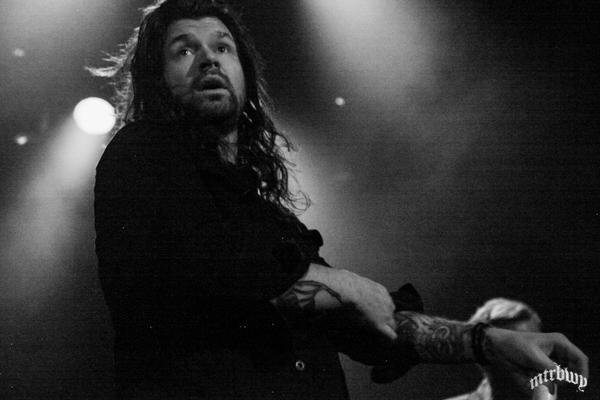 Tonight is my first gig of the year, let's do this! I haven't seen Taking Back Sunday for many years, so tonight as they prepare for the first of two nights at The Metro I'm thinking we're in for a fun, nostalgic night and I think TBS are going to make damn sure that happens.
Young Lions from Brisbane are here to open the show and straight up, wow. OK this is bloody good. Sometimes a support band takes a while to set their scene but the opening moody song was actually spectacular, I can't even describe the mood it took but they're killing it. With each song they get a little heavier and with their own TBS type vibe they win over the crowd as the cheers get louder after each song. Making his way down into the crowd the front man makes this place his own. The crowd parts to allow him to sing his heart out and move around. Respect. By far the best choice I've heard for a support band in years! Check these guys out.
Taking Back Sunday on a Monday makes me laugh but that's just me. So as the crowd really starts to fill up it's almost time to celebrate not only TBS being a band for twenty years, but also two of TBS's album those tonight being 'Tell All Your Friends' and 'Louder Now'
Big cheers as the band take the stage and wasting no time the guitars ring and 'You Know How I Do' is up and it's on and there's so much going on in this song but at no time is it muddy or incoherent. As it fades it's time for 'Bike Scene' as they continue on telling all their friends here tonight. Addressing the crowd during a song stop there are cheers before Adam belts back into it. The crowd loses their mind as the guitar strums the opening to 'Cute With No E' and that's what I like about these album shows because the big hits come out early and right now listening to the crowd who are almost louder than the band is something pretty damn cool. Holy shit this is impressive. They have this crowd locked in, there is so much love for this right now and it sounds killer. After talking about how they've been a band for twenty years and about expensive cigarettes the album continues with 'There's No I In Team' followed by 'Great Romances of the 20th Century' which is such a bloody good song and a highlight for me so far! They just put so much passion into these songs and the performance. It's pretty impressive to behold.
Taking a breather for maybe ten seconds things do slow down with 'Ghost Man On Third' before that builds into the emotional rollercoaster most of TBS's songs take you on. Things get a little more upbeat with 'Timberwolves At New Jersey' with a lot of microphone swinging they chug through this one, then as the piano slows down then speeds up sounding all kinds of Van Halen 'Right Now' the song explodes and 'The Blue Channel' is one of the rockiest tunes of the night. Things stay rockin' as the chunky guitar underlies 'You're So Last Summer' and as they close out the album and the first part of the show with 'Head Club' and with a "thank you very much, that concludes the tell all your friends portion of the night, that was really fun." They chat about Australia during a 'mid set check in' with John and now it's time to get a little 'Louder Now'.
The album and this part of the set opens with 'What's It Feel Like To Be A Ghost?' and they love this one and they smashed it out of the park yet they don't even let the guitars fade before the bass rumbles and 'Liar' sees the band bathed in red lights and the frenzy continues. While this one is kickin' ass I can't help but think what's going to happen when the next song begins… Some more microphone theatrics are awesome and OK this was cool. Instead of the massive cheer when a big song starts the crowd instantly singing along with Adam and that's something I've not seen before. Brilliant. 'MakeDamnSure' is one of my favourite TBS songs and they smashed it out of the park tonight. What's usually the closer came up now and it was SoDamnGood.
'Up Against' has the floor starting to bounce up and down with that groove and they are as tight as you want from a band. They don't miss a note and end it bang on. 'My Blue Heaven' isn't a song about the milkshake I had last week but instead a song that they and the crowd love. Again talking about these album shows it's very rare to get two in one night but TBS are showing us why they've been around for twenty years with songs of this calibre and albums that just flow. Right now the floor is shaking and I'm ok with that, they are truly rockin' things up and that was awesome. Not as awesome as 'Twenty-Twenty Surgery' though. That's always been a rocker in their set and was great to hear it again tonight and most definitely a crowd favourite.
Time to go for a 'Spin' and this one is a little more frantic than the others but they again don't miss a beat. Quality stuff. Mark and Shaun leave the stage for a well-earned breather as they slow things down and Adam throws on an acoustic guitar and proceeds to tell a story before some 'Divine Intervention' and even gets the harmonica out for good measure. Nice to have something a bit different in the set and I'm going to listen to that one when I get home. With only a few to go 'Miami' brings the tempo back up and proclaiming it one of his favourite TBS songs, Adam and the band power through this one and it even has a bitchin' guitar solo to boot!! Shaun hits the bass riff and the band quickly join in on 'Error Operator' and the floor seems to have a mini circle pit which is rad! The only sad thing about that song is that means there's only one more. The set and the show closes with 'I'll Let You Live' and as John starts it this mellow beginning doesn't fool anyone as it rocks out in the choruses and that vocal is absolute trademark TBS!
Wait… that's not it?! There's more?! Alright!
'You Can't Look Back' is the first one of the 'encore' and this one rules. You forget some of these songs but when they come out live it's a treat. The hi-hats and guitar get the crowd excited when 'This Photograph Is Proof (I Know You Know)'starts and watching the number of arms raised in the air showing some love is great. The drums smash in 'All Ready To Go' and they absolutely slay this one. Damn what a song. After a nice farewell chat they close the set now with 'A Decade Under The Influence' and with that NOW they're done.
That was an awesome two hour set from a band that delivered these songs perfectly, like I said, it's rare to get two albums back to back in a night so what Taking Back Sunday did tonight was nothing short of awesome. A damn good band and one you should go see if given the chance. Here's to the next twenty years!
Essential Information
Venue: The Metro Theatre – Sydney
Date: January 14, 2019
Presented by: Live Nation
Website: http://www.takingbacksunday.com
Photo: Annette Geneva – Every Day is Saturday – Check out our full gallery here
Set List:
You Know How I Do
Bike Scene
Cute Without The 'E' (Cut From The Team)
There's No 'I ' In Team
Great Romances Of The 20th Century
Ghost Man On Third
Timberwolves At New Jersey
The Blue Channel
You're So Last Summer
Head Club
What's It Feel Like To Be A Ghost?
Liar (It Takes One To Know One)
Makedamnsure
Up Against (Blackout)
My Blue Heaven
Twenty-Twenty Surgery
Spin
Divine Intervention
Miami
Error: Operator
I'll Let You Live
You Can't Look Back
This Photograph Is Proof (I Know You Know)
All Ready To Go
A Decade Under The Influence