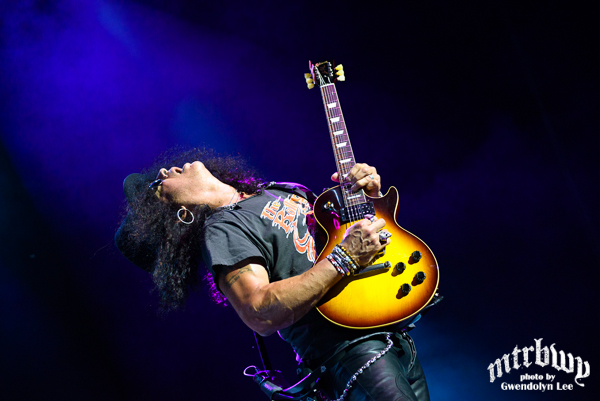 It's always a big night of rock when Slash and his band of merry men are in town, so tonight let us prepare for said rock!!
Sirens ring as Devilskin take the stage and with a big riff and a big scream they kick things off. They rock through their set with tracks covering their two albums and as the crowd slowly starts to build the momentum starts to take hold and the band get into a groove. Jennie's powerful voice is where it's at, she's killing it. Newest single 'Endo' was definitely a stand out. Devilskin have a killer sound and for a four piece they absolutely nail it. You may not have heard of them before but you will be soon. They kick ass.
Slash, Myles and The Conspirators are back, and here in support of their newest album 'Living The Dream' and as they walk on stage lead by Slash, he and Frank stand in front of the drums and intro 'Call of The Wild' and as the familiar vocals of Myles Kennedy kick in you know what we're in for. Instantly the harmonies between he and Todd are on point and part of what makes this work so well. "Let's see those hands" Myles says before many hands are seen and 'Halo' begins, these songs are big rockers made for this environment. It continues with 'Standing In The Sun' and the way that Slash and Frank play off each other on the guitars is really awesome to watch. Fitzy hits the skins hard as the intro to 'Ghost' begins and in terms of Slash solo material this is a truly recognizable riff and I dig it. It's made bigger with a three-part harmony which almost makes you forget the Ian Astbury version.
We stick with the first Slash solo album and 'Back from Cali' one that Myles always sang so we all know how this one should sound and with the big rock ending rounds it out before they kick into 'My Antidote' which keeps the train a movin' as Myles takes to the back of the stage to allow the guitars to take centre stage and shred through the solo. Things slow down after Myles addresses the crowd but they don't stay slow for long as this one explodes into 'Bent To Fly' which is a great addition to the set with that great hook. A quick guitar change from Slash and he's standing front of stage opening this blues laden rocker 'Serve You Right' as they belt it out before he returns to the front to reward us with his amazing guitar playing, which you kind of expect.
'Between The Lines' is another rocker and as Myles hangs the mic over to Todd he takes on 'We're All Gonna Die' which has been a staple in the set but sounds like the band just wrote it. Playing 'Dr Alibi' For the first time in Sydney which you wouldn't guess but its dedication to Lemmy was awesome. It's power ballad time with 'The One You Loved Is Gone' and there's a whole heap of emotion thrown is too and one hell of a guitar solo. Such a damn good song and was easily my favourite from the new album, so hearing it tonight was awesome as live it takes on a while other level. Things get heavy and rockin again with 'Wicked Stone' and this continues to showcase the talent in this band as they are so tight. The outro kicked so much ass too. Man that Cat can play. 'Mind Your Manners' is fast, frantic and this band is on fire tonight. Wow.
The fire keeps burning as they burn through 'Driving Rain' and this one is catchy as all get up. T's so awesome hearing these new songs live. The crowd loved that one and rightfully so. They throw it way back to the first single Slash released 'By The Sword' and again, hearing Myles do these songs vocally just makes them work. They fit in with the set and he nails them every time but as they close it out it's the next one that people lose their mind for as Slash starts running around on stage as the GnR classic 'Night Train' gets the SMKC treatment. The crowd are belting the lyrics back and it's just a buzz. Plus, cowbell. A killer solo mid song was owned by Slash, didn't drop a note. What a song.
Slash intros 'Starlight' and Myles puts his stamp on it. Always liked this song and it sounds outstanding in a room this big. Absolutely nailed it. 'You're A Lie' rocks and just the way this epitomizes the band and what they are. This is a rock song personified tonight. 'World On Fire' steps it up another notch and the band can do no wrong. Band introductions mid song are always fun as they are right now. Slash addresses the crowd for the first time to introduce Myles and they finish off the track and leave the stage.
'Shadow Life' is what they return to and this riff!!! Yes!!! What a track. That might be my favourite of the night actually, I know it's getting close to the end but boy howdy that was insanely good. 'Anastasia' was the perfect choice to close the show as it's big, heavy, and for one last time tonight allows the band to showcase just what they can do live.
This band is the definition of consummate professional, and if you googled "what should a live rock show look like?" there should be a picture of Slash featuring Myles Kennedy and The Conspirators. I mean there may be already but tonight they deserve to be the answer to that question.
Essential Information
Venue: Qudos Bank Arena
Date: January 28, 2019
Presented by: TEG Dainty
Supported By: Devilskin
Photo By: Gwendolyn Lee – Gwendolyn Lee Photography – Check out our full gallery HERE
Website: http://www.slashonline.com
Set List:
Call Of The Wild
Halo
Standing In The Sun
Ghost
Back From Cali
My Antidote
Bent To Fly
Serve You Right
Between The Lines
We're All Gonna Die
Dr Alibi
The One You Loved Is Gone
Wicked Stone
Mind Your Manners
Driving Rain
By The Sword
Night Train
Starlight
You're A Lie
World On Fire
Shadow Life
Anastasia