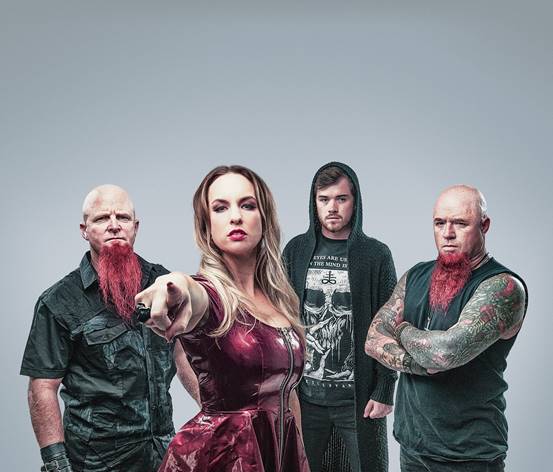 "I guess we have a lot of energy on stage, I like to run around the stage, jump around, sometimes throw a cartwheel or whatever and we just play hard and just look like we're having a lot of fun…"
From Release: DEVILSKIN have earned a formidable reputation by earnestly demonstrating commitment to unpretentious musical values, writing songs that have depth and passion, and a relentless touring schedule. Their tactical instrumental attack is balanced by the seductive Jennie Skulander and her incredible voice that sweeps from whisper to roar, rips with power, drips with melody and captivates with sincerity. The four-piece DEVILSKIN hail from Hamilton, New Zealand and comprise of the mesmerizing Jennie Skulander on vocals, the red bearded 'evil twins' Nail and Paul Martin on guitars and Nic Martin on Drums.
While at home in Hamilton, New Zealand we gave Jennie from Devilskin a call to talk about the bands return to Australia, this time supporting Slash, their previous tours, new music, the future, and more.
You've been to Australia before and now heading back to see us but this time with some guy named Slash! Tell us, for those that haven't seen you before can you tell us what a Devilskin show is all about?
Yeah sure, I guess we have a lot of energy on stage, I like to run around the stage, jump around, sometimes throw a cartwheel or whatever and we just play hard and just look like we're having a lot of fun *laughs* and sometimes there's props like chainsaws and guns and stuff *laughs*.
I saw you guys with Halestorm here in Sydney and loved your cover of 'Holy Diver'. Are there any other metal classics you'd love to try and take on?
I don't think we are this time around but I have tried to convince the boys to do 'Barracuda' we were playing that in Europe just recently and I love singing that song but we might see.
You guys have been relentlessly touring and out there across the world, what's been the highlight so far?
Wow, I guess definitely playing Whisky Au Go Go in Hollywood, that was a few years ago and then recently the tour we did with Halestorm across Europe, we did eighteen shows across twenty five days with them last October and I still feel like I'm getting over that *laughs* that was pretty amazing.
Outside of Australia with Slash, what are the touring plans for the rest of the year looking like?
Well we are going to be coming back to Australia and that's a lot further down the line and then we're looking at recording our next album in April so hopefully have that out mid year, maybe just after and then probably back out to UK and Europe and yeah, start touring with the new album.
I was going to ask about new music, so what can we expect from Devilskin this year, any details you can share?
Just at the moment we've got thirty songs ready to narrow down to make the album, we've recorded two so far one obviously being 'Endo' and the bloody video that we had for that and we're making another video next weekend for a song that's going to be on the album called 'All Fall Down' but yeah hopefully recording in April and looking to have that out this year. We're really looking forward to it, it's been a little while.
Are you finding that with each studio trip that things are becoming a lot smoother?
Yeah definitely I feel like it's getting easier *laughs*
As a big rock band in NZ what's the rock scene like over there?
Oh it's great, the rock scene is pretty full on, it's very supportive and it's great. I always love touring New Zealand as you're going to have a great show wherever you go, it's always good as well to never forget the little towns that you go to because a lot of times the bands miss out on the smaller towns so we try and make it to smaller towns whenever we can as well, so yeah it's great, it's pumpin' over here.
In your nine years as a band what for you has been the biggest thing you've learned about being in a band that you didn't think was part of it when you started?
Just getting along. You do see a lot of bands that don't get along and we're just one big family, well me, Paul and Nic are all related anyway *laughs* we get on really, really well and I think that's helped us especially with big trips overseas and long tours and we tend to be away from our families every now and then which can be quite hard, like I've got a two year old and recently married but it's just good that we get along so well, I didn't think that would be so important when we started but it really is you know? When I'm away and I'm homesick or whatever I can always count on them to lift me up, it's great.
Over time it gets easy to say what's changed but what would you say is the one thing that's stayed the same in your time together so far?
The guys beards *laughs* what's stayed the same? Just being loyal to ourselves and just sort of sticking to what we want to play and a lot of the songs we release don't always sound the same like sometimes we've got super heavy songs and sometimes they're ballads and that's just how we write we don't want to have a producer telling us what to do or that sort of thing or what we should be playing, we stick to our guns and that's been the same for the last nine years.
What's the one thing you want to accomplish with Devilskin that you haven't yet had the chance to do?
Hmm… I guess play more festivals like Europe and that sort of thing; gosh we have done a lot. I guess just getting more well-known across the world especially in the places that have been quite hard for us like Australia *laughs* so it would be great and we could get over there more often.
Lastly let's look ahead to the future, finish this sentence for me, in 2019 Devilskin will…
*laughs* Release a new album and go Number 1 and kick ass.
Tour Dates with Slash feat Myles Kennedy and The Conspirators:
Sydney Monday 28 January – Qudos Bank Arena
Wednesday 30 January – Brisbane Convention Exhibition Centre 
Melbourne Friday 1 February – Margaret Court Arena
Perth Sunday 3 February – RAC Arena
Tickets from: https://www.tegdainty.com/tour/living-the-dream-tour-australia-new-zealand/
Essential Information
From: Hamilton, New Zealand
Band members: Jennie Skulander –  vocals, Nail  – guitars, Paul Martin – bass, Nic Martin – drums.
Website: http://devilskin.co.nz/
Forthcoming Release: In 2019…