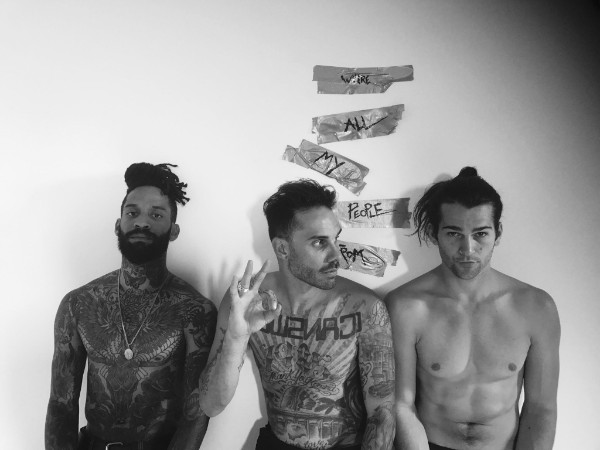 "I think that all of us involved really wanted to see what it is we're doing now so we were all ready for it and we were all waiting, and us all together and having like minds and having energy that we share the way we do…"
From Release: In the midst of America's 2017 socio-political upheaval a self-described "bi-racial double agent who's got a black father and a white mother" – could feel the weight of the divisions. Jason Aalon Butler (ex-letlive.) after meeting Travis Barker of blink-182 by chance, he spent the Super Bowl Sunday with the iconic drummer and mutual friend/producer John Feldman. That day, this unholy triumvirate's conversation inspired the songs that would eventually comprise Fever 333's 2018 debut. Comprised of vocalist Jason Aalon Butler, drummer Aric Improta (Night Verses) and guitarist Stephen Harrison (ex-The Chariot), the Los Angeles trio lock and load gnashing guitars, guttural beats and brazenly bold bars of a hard-hitting hybrid made up of hip-hop, punk and activism.
Our old friend and still nicest guy in the world, Jason Butler gave us a call to talk about his new band Fever 333, their new album 'Strength In Numbers', messages, missions, live shows, and much more.
Always a pleasure to talk to you, Jason and it's been two and a half years since we last chatted so let's catch up, how has the last two and a half years been for you?
It's been good, man, I got married, well I got married a while ago but I had a son, I'm in this band called Fever 333 and things are cool, yeah things are cool.
We're here of course to talk about your new band, so tell us what does Fever 333 represent to you?
Community, charity and change, the three C's, that is the foundation on which this whole project lies and that's really what this is about man, it's about those three things.
Your debut album 'Strength in Numb333rs' is coming next week and in terms of your song writing, what for you is the most important element for you in your music?
Power. Offering power and representation of that power that exists within all people inherently and trying to catalyse that, encourage that and speak with people not for people about their power that they possess and reminding them of their power and really just highlighting that all power really does lie within the people.
In listening to the album it truly flows and you've put together something that is powerful like you said and I really hope people jump on board with it.
Yeah man, me too that would be sick *laughs*.
Your EP last year made quite the impact and has even earned you a Grammy nomination, what just gelled with this band to make this hit the ground running the way it has?
I think that everyone involved in this collective, in this project were all waiting to hear and all wanted to see something in music and in art and society, I think that all of us involved really wanted to see what it is we're doing now so we were all ready for it and we were all waiting, and us all together and having like minds and having energy that we share the way we do and supporting each other the way that we do has really allowed this project to grow really organically, and also really quickly and also very powerfully. So the fact that we all kind of sit in similar frames of mind whether it be the sonic component or the visual component or of course the ideological component, you know the messaging, I think that really sort of allows us to be as strong as we are as a group and as a collective.
I don't want to make comparisons but it was for me it sounded like a newer Rage Against The Machine, with that sound and that vision and it feels like it's at the forefront again and I dig that.
Thank you man, that's an honour. I think they are the benchmark for guitar based crossover just real music, they are seminal, they paved the way so absolutely that's an honour, thank you.
What have you been able to do with this band that you feel you weren't able to do in letlive.?
I'm able to distill the message very, very succinct and very, very unabashed in a way that I guess like I said is supported by all that are in this project and with letlive. I couldn't ask everybody to feel the way that I did about the things that I was talking about, you know a lot of them are personal experiences, a lot of them are very particular to my own culture, to my own environment so I couldn't really expect that of anybody and I wouldn't want to force that on anybody. So with this project luckily like I said I'm very well supported in that by everyone involved and not just the band, everyone on the team whether that be people at the label, agents, management, everybody knows what it is when they got on board, so again it's all incumbent on each piece and each other. The sum of all the parts and all the parts are in alignment so I think it makes it a lot easier for me to say things that could be challenging or confronting, or a bit risky in a world where we feel trepidation or reticence due to censorship or sensitive language and various things, and issues, volatile issues. I feel very lucky to be so supported in this project and be able to say the things that I say in the way that I do.
Well you've got a few issues over there at the moment, so you've got a lot to talk about…
*laughs* Got a couple, absolutely *laughs*
You're heading to Australia for Download Festival, tell us what a Fever 333 live show is all about and why you're a must see on the day?
It's about freedom, it's about coming to a safe space and somewhere where you get to be who you are or who you want to be, who you know you are, who you know you want to be without being judged, without being restricted, restrained, cut down, you know things that normative behaviour or assumed normative behaviour in society can seem very restrictive and seem very subdued and we want to offer people a place to feel liberated and feel free and a place to truly respect themselves, and I don't just mean people that necessarily subscribe to what I believe in politically or societal or philosophically, but everybody. I want everyone to feel like thy can come and be free and they can express themselves in a safe space so we can further this conversation that will hopefully benefit everybody and not just one group but understanding us all as a people by first acknowledging things that need to be discussed.
I've seen you on stage before with letlive. and there's so much power on the stage with you I can imagine it's now amplified about a hundred times with Fever 333, yeah?
Yeah man it's pretty incredible man, the people I get to share this with are just so inspiring to me and they really sort of encourage me and like I said make me want more for myself and that's just from their inspiration, from their own attitudes and what they demonstrate as people it's just incredible, so yeah I think it's pretty ferocious.
Over time it's easy to say what's changed but what would you say is the one thing that's stayed the same in your time making music?
My commitment to being truthful and honest, that's really the cornerstone of everything I try to do in my life but specifically in music. Whether it be the sounds that I try to make, or the things that I try to say, or the people that I try to indoctrinate *laughs* I'm always trying to be honest and that is the one thing that has to remain consistent or else I won't do it anymore. So yeah, just honesty really.
So what are you hoping to do with Fever 333 with the world?
I'm hoping to affect culture and create a culture where people feel safe to discuss, and people feel safe to be who they are. Like I said earlier I want to create a culture that offers representation to the progressive ideals and a culture that offers a space for people to exhibit themselves and new ideas, and again a sense of freedom that I think will eventually that I believe will really help us maintain as a people and help with a lot of the disruption that we see throughout humanity and I know again it's a grand idea but somebody's gotta do it, and someone is gonna do it so if it's not me it'll be someone else and I'll be right there alongside cheering them on, whoever, whatever, whenever that is hopefully in my lifetime but yes I'd like to create a culture where people feel safe to be who they are and be who they want to be.
Lastly let's look ahead to the future, so finish this sentence for me, in 2019 Fever 333 will…
Create a culture.
FEVER 333 – AUSTRALIA 2019
THE BRIGHTSIDE, BRISBANE
FRIDAY MARCH 8
Tickets on sale now from livenation.com.au
DOWNLOAD FESTIVAL, SYDNEY
SATURDAY MARCH 9
Tickets on sale now from www.downloadfestival.com.au
DOWNLOAD FESTIVAL, MELBOURNE
MONDAY MARCH 11
Tickets on sale now from www.downloadfestival.com.au
Essential Information
From: Inglewood, CA, USA
Band Members: Jason Aalon Butler – Vocals, Aric Improta – Drums, Stephen Harrison – Guitars
Website: http://www.www.fever333.com
Latest Release: Strength In Numb333rs (Out Now – Roadrunner Records)