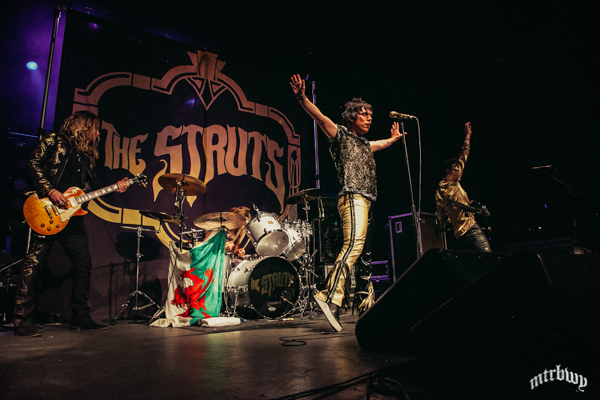 Tonight we're going to get musical. Two amazing bands and let's just get into it…
"Get your hands in the air!" Luke yells as The Struts take the stage. The band jump straight into 'Primadonna Like Me' And this is fun, this is rock and roll. I shit you not I could go home now, that was an opener and encore performance all rolled into one. Things get funky in here and it's time for 'Body Talks' and to hear the crowd all over it is the best. Damn! I knew these guys would be good but holy shit. They have the crowd in the palm of their hands right now and "if you're not ready to scream, if you're not ready to dance then you may as well Fuck off to the exit right now" and guess what happened… not one person moved. 'Kiss This' keeps the momentum up and these guys could easily be playing a stadium right now. I don't want this to end. 'In Love With a Camera' is easily one of the bands catchiest songs and as they belt it out and I look around and see a lot of people bopping along to this and I'm talking about people you wouldn't normally see do that.
At their first ever show in Australia they are absolutely owning it. 'Put Your Money On Me' full of "oh yeahs" courtesy of the crowd make this a killer and with an ultimate rock ending they just keep on rolling with the anthemic 'Could Have Been Me' and in case you haven't guessed, this is amazing. What a song!! It just keeps getting better. Band introductions are even amazing and it just continues. 'Where Did She Go' has everything you need in a song. The crowd got down on the ground and were commanded perfectly jumping up in unison. They absolutely destroy and I mean destroy in the best way possible the ending and end their set this way
"Ladies and gentlemen remember the fucking name THE STRUTS!!"
That was hands down the best opener I've ever seen and mark my words this will be one of the last times you see The Struts support anyone. I'm more pumped than I was before because holy shit. That was amazing.
As the chants of 'Greta Greta Greta' start, we're only a couple of minutes away from Greta Van Fleet taking the stage.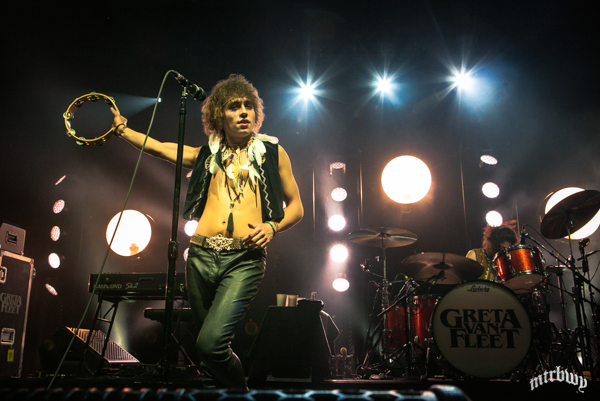 "Another day at the office, man" as Greta Van Fleet are met by cheers and as Jake leads us in with a guitar solo the weird stop start intro has everyone cheering but as 'The Cold Wind' kicks in this is all about the rock. This is a big sound for a four piece and they mean business. The way Josh screams is insane and I have no idea how he does it. Straight away the riff for 'Highway Tune' hits and the place is loving it. This is a truly musical band, I foresee many a jam happening in this set as there's intensity up there and I think that's what helps to make this work. 'Edge of Darkness' has a groove that you can't help but move to as a giant puff of smoke emerges from the crowd there's at least one person who's completely down with tonight. Awesome, I haven't seen this many people cheer for a tambourine since the Tambo Todd incident at a recent Butch Walker show as the place just erupted as Josh lifted the tambourine and proceeded to beat it to within an inch of its life. My foreseen jam session came true as the band absolutely rips everything a new one. It's now been 3 hours and 47 minutes since this song started but that's ok, I'll just go to work straight from here. As Jake flings his guitar behind his head he's not missed a note. OK the song finished with a 20 minute rock ending but seriously these guys are amazing musicians. Wow.
This is their first time here in Australia and they like The Struts are ready to blow the roof off not only this venue but the country. 'Flower Power' sees Sam usually on bass get on the keyboards and this somewhat slower tune lights the place up and this groove is smooth as all get up. I truly love that the band have been on for 30 mins and only played four songs, it's awesome. The keyboard outro extends the flower power a bit longer but it was worth it. The acoustic comes out but with the band it still commands power as they play a John Denver track called 'The Music Is You' now and anyone that covers Denver is pretty OK in my books. Up next is 'You're The One' and this is an amazing song. The slowest of the night but loved it with that acoustic up there.
The Greta chants start again and it's time for some blues. This is more like it a bit of Howlin' Wolf with 'Evil' and this is rockin'. What an awesome cover! You can feel the influence from it all over the band. As the guitar rings in again it's time for a 'Black Flag Explosion' this intro was very 'Wanted Dead or Alive' and without many Zeppelin references tonight I've held back but, wow. Zeppelin. This tune is epic. No surprise that it's long but that's what makes this what it is and this band what they are. These again are some killer players and bathed in smoke and blue lights they smash that one out of the park. Wow. 'Watching Over' keeps the groove going, that damn groove hasn't gone anywhere and I can't see it going anywhere either. This one is killer.
With only a few songs to go, so I'd say another hour or so we settle in and 'When The Curtain Falls' gets a cheer as it drives its way in and as they of course nail it as the curtain (stays open) falls and the band take a bow and leave the stage. The rowdy crowd starts cheering and the Greta chants kicks in again. OK they're back and with 'Black Smoke Rising' the guitar riff lifts the roof off the place when that recognition of the song happens. Oh man this one rules. Probably the catchiest one of the night and how Josh can still pull off these screams after doing them all night is beyond me. With one more, this ain't no discount lion safari, this is the most rockin' 'Safari Song' I've ever heard. Oh cool a drum solo from Danny. Nice!! In the last song too gotta love that. Without missing a beat the band come back to slay the ending and with a "Thank you very much Sydney" they're done.
The Enmore Theatre was so full of energy tonight courtesy of two amazing bands and an unbelievable show. That is live music from two very different but similar bands, derivative but with their own sound and a sound that will be heard for many more years. What a way to spend a Tuesday night! Wow.
Essential Information
Venue: The Enmore Theatre – Sydney
Date: January 29, 2019
Presented by: Live Nation
Special Guests: The Struts – http://www.thestruts.com
Photo by: Annette Geneva – Every Day Is Saturday – full gallery HERE
Website: http://www.gretavanfleet.com
Set List:|
The Cold Wind
Highway Tune
Edge Of Darkness
Flower Power
The Music Is You
You're The One
Evil
Black Flag Explosion
Watching Over
When The Curtain Falls
Black Smoke Rising
Safari Song