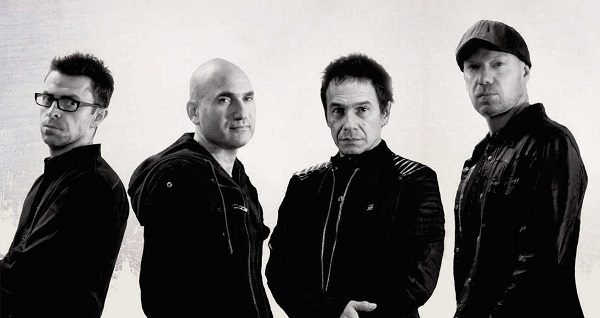 "The best you can do is make new music, release it and tour and see what happens, I mean no one really knows what's going to happen, '…ish' proved that to me."
From Release: 1927 formed in 1987 and went on dominate charts with songs such as That's When I Think Of You, If I Could and Compulsory Hero – all of which were on the multi-platinum selling debut album ISH.  ISH went on to become the highest selling debut release by an Australian artist and won two ARIA Awards – Best Breakthrough Artist – Album and Best Breakthrough Artist – single for That's When I Think of You. The video for Compulsory Hero took the Aria for Best Video at the 1990 awards.   They continued to release music into the early 1990s before disbanding in 1993.
While over in WA, we gave Erik from 1927 a call to talk about the celebration tour with Pseudo Echo, new music, memories of '…ish', touring, and more.
We're here because you're out on the road at the moment with Pseudo Echo, once again on the Celebration Tour and as you have been for the last two years but why was now the right time for this one last run together?
Well you know you want to beat a dead horse until it's actually dead so we just kind of figured it's enough. It's been a good run, the turnout has been fantastic but Pseudo Echo is a band in its own right as are we and we get on well and we're recording some new music at the moment as well, so we need to get on and start promoting that stuff as well.
I've seen you live over the years and it's always just a pleasure to hear these songs and watch the crowd, what do you think it is about your songs that truly connected with your audience?
Oh god, I really don't know, I wish I did know but I don't know. I'm very grateful I have to say but it's just one of those things that I don't understand.
Well when you've got it, keep flaunting it…
*laughs*
Since 2009 when 1927 returned you've had the same line-up and touring coming up to 10 years, what about this second incarnation of 1927 are you enjoying the most?
I think it's the no pressure, the guys in the band are really great guys to work with, nobody has any hidden agendas and it's just one of those machines that just works well, there's no dramas at all it just feels really good.
So it's crazy to think that '…ish' recently turned 30, looking back what was your fondest memory of releasing that amazing debut album?
I don't know if I've got any fond memories of it, I've got some fonder memories of astonishment that things went the way they did cause nobody expected it and we were happy when we first heard 'That's When I Think Of You' on the radio and we were like "wow we've got a song on the radio, how awesome is that" and a couple of months later things were getting kind of hectic. So yeah and still to this day when I look back at all that period of my life it's still just mind blowing when you think about it.
Yeah because you guys basically took over the airwaves and the ARIA's, it was huge back then!
Yeah ridiculous hey! *laughs*
You mentioned new music and 'Generation-I' was released back in 2013, so can you tell us about the new music from 1927 in the future?
I wish I could, I don't have a crystal ball. I can tell you that I hope it's going to be, well it's shaping up to be a good bunch of songs, I'm really happy with them as I was with 'Generation-I' but you know how it is these days, different world, different climate and iTunes came along and wrecked everything for everybody. The best you can do is make new music, release it and tour and see what happens, I mean no one really knows what's going to happen, '…ish' proved that to me.
How are you finding your song writing has evolved over the years, Gary did most of the first one but then you wrote on the second and ongoing, so how do you see it as evolved?
It's still the same for me, I'm not a prolific writer, I'm over pedantic with things I'll write a song and think that's awesome and it'll change fifteen times before it actually gets pressed so to speak, so I wish I could change that about myself but I'm just too bloody pedantic *laughs* I can't help it.
So obviously once you finish with Pseudo Echo, then a new album, then a tour to follow?
Yeah absolutely, I'm trying to finish bits of the album in between sections of the tour, it's working OK but I need a little more time, but as soon as we have a little space of time we're gonna get that wrapped up and get it out there. Yeah that's pretty much the way it's been for us the last ten years, we'll do a couple of months touring and a month off or so and then just get back out there and play different areas that we haven't played yet.
Now you've had some great slots over the years but I saw you open for Roxette back in 2012 and wanted to ask about that experience and they're such a great band.
Oh look they were fantastic to work with and unbeknownst to people the gorgeous female singer she was actually very ill at the time and was recovering from a brain tumour on that tour, nobody knew about it at the time but they were just fantastic to work with and their crew was awesome and we just had a fantastic time with them.
Over time it's easy to say what's changed but what would you say is the one thing that's stayed the same in your time making music?
My love for it and my passion for it, it's like food for me, I have to do it, I have to have music in my life it's just one of those things that has always been in my life since I was a kid, my Mum used to bombard me with Beatles records and whatever else and that's the one constant in my life is that.
Lastly let's look ahead to the future, so finish this sentence for me, in 2019 1927 will…
Play in the most remote gig in Australia…
Really, where?
Yes, in Birdsville, we're playing out there with Midnight Oil in July, it's not really crystal ball stuff as I know that as a fact. *laughs*
Remaining 1927 & Pseudo Echo Celebration Tour Dates
Thu 17 Jan – Panthers Port Macquarie NSW
Fri 18 Jan – Club Forster NSW
Sat 19 Jan – Rooty Hill RSL NSW
Wed 23 Jan – West Tamworth Leagues Club NSW
Thu 24 Jan – Dubbo RSL NSW
Fri 25 Jan – Bathurst Memorial Theatre NSW
Tickets For The 1927 & Pseudo Echo Celebration Tour Available From The Venues
Essential Information
From: Australia
Band members: Erik Weideman – lead vocals, guitar, keyboards, Damien Cooper – drums, Craig Laird – lead guitar, Simon Shapiro – bass guitar
Website: http://www.1927.net.au