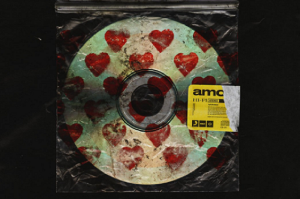 Bring Me The Horizon are back and as I sit in a room with other writers at Sony Music in Sydney we're all being treated to a very early playback of the band's new album 'amo'. So as we hush, they press play.
The intro builds for 'I Apologize If You Feel Something' and sets the tone for the album, yes, very different but you'd expect that from a band that likes to evolve, likes to experiment and with that these sounds you wouldn't expect from BMTH are immediately blown away by a huge guitar riff that makes me happy. 'Mantra' was the first taste we had of the album and that chorus is one hell of a hook. Driving guitars, driving beats and one kick ass middle 8!! I can just see this one live, there's pyro, there has to be! The big riff smashes it home and then, oh, different again, atmosphere level intense but this one called 'Nihilist Blues' has Grimes featuring on this track of difference, oh ok, I dig this, there's still those underlying guitars but as it hits the bridge breakdown this is truly different and I'm sorry if I use that word a lot but unless I Joey Tribbiani it and pull out a Thesaurus then get used to 'different' as BMTH are not only trying but killing it in doing so and I guess that is testament to the band they are and have become.
'In The Dark' starts much as the last left off but this groove has you nodding along in no time and the guitars make an appearance sparingly but are used perfectly and has the perfect clap moment made for the stage. Dani Filth from Cradle of Filth guests on 'Wonderful Life' and yes, the big guitars are back! Yeah, this is very worthy of the second single, it's big, it's bold, and almost vintage BMTH. What I am loving here is the tone, holy shit they have this and their sound down. Dani takes the mid-section before I pretty much jumped up and wanted to run into other people but the Sony staff told me to sit down. This one is one damn good song.
'Ouch' again, kinda as far removed as you can get from previous BMTH but why not right? It was a nice interlude into 'Medicine' and it sounds like Deaf Havana but this for me is actually the stand out on the album so far, what a damn good hook of a chorus, catchy and so well produced, so many layers here and not one of them overpowering the next. The way Oli and in particular Jordan have grown as producers is a pleasure to listen to. 'Sugar, Honey, Ice and Tea' brings back the riff! I love the balance on this album, you honestly don't know what you're going to get next but it's flowing and how they've done it with such varying sounds is beyond me but it seems BMTH know exactly what they want and are. This kicks ass. Yes, a guitar solo, nice, and with that another catchy one down and I can just see the merch now.
'Why You Gotta Kick Me When I'm Down?' blends all the sounds we've heard so far and sort of slows things down and this one is full of unexpected twists and turns and sounds but I'll be damned if I can find a way to fault it. 'Fresh Bruises' makes me want to turn the lights off and get the glow sticks out as it's probably as far removed from BMTH as I've heard yet. 'Mother Tongue' keeps that mellower sound that we heard before, ooh, I like this chorus a lot. It's an excellent arrangement and it's catchy once again and with some 'whoa ohs' thrown in for good measure this could easily be all over the radio.
'Heavy Metal' featuring Rahzel brings it back around and with a name like that and a massively good dig at metal culture "A kid on the gram in a Black Dahlia tank says it's ain't Heavy Metal"  With the beat box in it, it works, this song is genius and the room just cheered as Oli screamed and the song finished. Perfect. 'I Don't Know What To Say' is almost a ballad if you could say BMTH has ballads, strings, keys, and that atmosphere builds and they know when to let the music explode and take hold. This musical break is where it's at structurally this song is a producer's dream, parts, layers and more, it's the perfect song to close out one amazingly well written, produced and played album.
Bring Me The Horizon is a band that grows and they get better with each album. 'amo' is brilliant. I can't wait to listen through again.
Essential Information
From: England
Release date: 25 January 2019
Record label: Sony Music Australia / RCA
Produced By: Oliver Sykes / Jordan Fish
Website: http://www.bmthofficial.com
Track Listing:
I Apologise If You Feel Something
Mantra
Nihilist Blues (featuring Grimes)
In the Dark
Wonderful Life (featuring Dani Filth)
Ouch
Medicine
Sugar Honey Ice & Tea
Why You Gotta Kick Me When I'm Down?
Fresh Bruises
Mother Tongue
Heavy Metal (featuring Rahzel)
I Don't Know What to Say