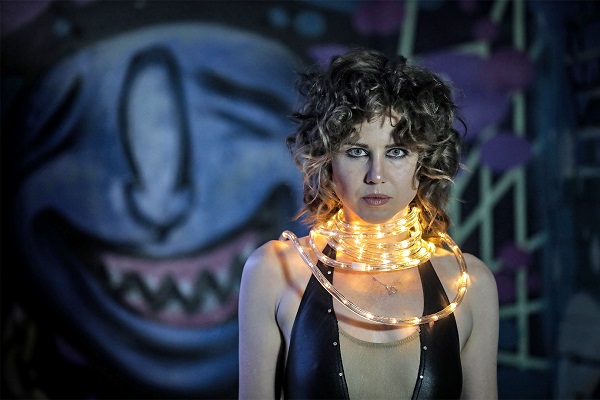 "This is a squad with fierce ambition, unlimited compassion and moves that will make you break your vows."
From Bio: RACKETT are a loud experimental punk-pop band based in Sydney, Australia. The band is fronted by Rebecca Callander on rhythm guitar and vocals, Ally Gaven on bass, Astrid Holz on drums and Kat Ayala on lead guitar. The members have undergone extensive music and performance training and specialise in a range of genres from jazz to heavy metal. Their combined powers make for a diverse and highly skilled songwriting team, taking no time at all to move from their once virtual anonymity to becoming a house hold name.
We had Bec from Rackett answer some questions for us, as if you haven't had the chance to check them out yet we highly recommend you do at your earliest convenience. We present to you our newest Best Thing You Never Heard, Rackett.
Let's start with the basics; for those that aren't aware of Rackett, can you please give us the abridged version of your story, and how you would best describe your music?
I'd describe RACKETT as a grunge-pop bitch squad. This is a squad with fierce ambition, unlimited compassion and moves that will make you break your vows. The story started with four girls in primary school that wanted to grow up and be the Spice Girls. Highschool scathed the girls innocence and inked their virgin arms till they passed through the channel of emo darkness and into the light of woman hood, still Spice Girls at heart, just a little rough around the edges.
Can you now please introduce each band member including yourself, and give us a rock 'n' roll fact or myth about each of you?
Rebecca Callander, that's me, I'm the songwriter, manager, front woman, singer and guitarist. My rock n roll secret is that i actually like to go to bed at 9am and would prefer a square of dark chocolate over a tequila any night. Ally Gaven to KJ; Ally has been our bassist and singer forever, however she's got pregnant whilst we were recording the EP in the studio so KJ is stepping in. Ally's most rock n roll attribute is that she played rock n roll for 4 months whilst carrying a baby, KJ is rock royalty and has toured the world more than once and lived with Jimmy Barnes. Astrid Holz is our drummer and she's more like tech and control than rock and roll, she's a badass sound engineer with a heavy hand. Kat Ayala is our shredder lead guitarist and she just a walking rock n roll goddess with electric fingers.
In terms of your music you're about to release your second EP titled 'I Please Myself', and instead of giving us a standard review, let's say if you had to give us your best door to door sales pitch to try and convince someone to listen to it before they slam the door in your face, what do you say to them?
Do you please yourself? Great, this is the EP for you.
With your song writing, what do you consider to be the most important ingredients that make up one of your songs?
Groovability and lyrics.
What has being in Rackett allowed you all to do that you feel you haven't been able to do in musical endeavours you've been involved in?
Get sponsored by Strandberg guitars and have one of the world's leading guitar designers personally send you two of his best guitars, have beer sent to you by young Henry's, get styled and receive clothes you could never afford. Ha ha, that's all the materialistic perks, but I guess the best part is touring Australia with a band that genuinely kicks ass.
So what bands did you grow up listening to and how did they help create the style of music that can now be heard throughout your music?
I grew up in Bundaberg, my father would come home after a night playing rugby and blast Midnight Oil through the house, the first song I have sand and danced to was 'Beds are Burning' by Midnight Oil. My father and mother also managed a pub in rural north QLD and so I grew up listening to alot of Cold Chisel, Crowded House, Hunters and Collectors and AC/DC. Then my father also liked to play The Cranberries  and Simply Red. Once I had my own pocket money I would buy Spice Girls singles and re make their video clips at home.
In terms of touring, here's your chance to plug any upcoming shows, and for those that haven't seen you, how would you describe a typical Rackett live show?
We are hosting an EP Launch Party at Waywards on Tuesday the 18th Dec, it's free, entry is first in best dressed. Then we are playing at Lost paradise for NY.
You've opened for some killer artists already but for a bit of fun, say you're given the chance to open for any artist or band in the world, who would they be and why?
The Foo Fighters for sure. Don't really need a reason for that yeah?
If you were to cover one song that no one would expect that you'd cover what would it be and why?
Can't get you outta my head by Kylie Minogue.
Lastly, here's a chance to rub a magic lamp and from it you are granted three wishes for Rackett.  They are:
1. International promoter from Japan calling me and telling me he wants us to tour Japan
2. I Please Myself gets heard by everyone in the world
3. Jack White asks me to record an album with him
Essential Information
Location: Sydney
Band members:  Bec // KJ // Asti //Kat
Website: http://www.rackett.tv
Latest Release: I Please Myself EP – LISTEN ON SPOTIFY – HERE