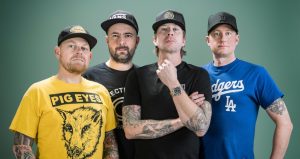 MILLENCOLIN fans are always waging wars, pitting so many of their brilliant records against each other to see which comes out the victor. It's a war that never will be won considering they are always shaking up their modus operandi and playing outside their comfort zone. The one consolation fans can take when the band tour here in March 2019 is that MILLENCOLIN will be playing an arsenal of hits from across their massive catalogue and also some new tracks from their forthcoming album SOS out February 15 on Epitaph.
Forming in 1994 amidst a cavalcade of circle pits and tattoos, GOLDFINGER were at the forefront of the exploding mid-Nineties Punk scene, and on the back of their self-titled debut garnered a massive worldwide fan base. Consistently throwing one of the most exciting, energetic live punk rock shows you'll ever witness, GOLDFINGER are announcing their first Australian tour in over 7 years.
Punk Rockers unite…this killer double bill of MILLENCOLIN and GOLDFINGER will see twisted flesh, flailing limbs and a sea of swarming bodies across Australia next March!
Tickets go on sale Monday 17 December, 9am local 
Destroy All Lines Presents
MILLENCOLIN + GOLDFINGER
2019 AUSTRALIAN TOUR
TOUR DATES
Saturday 2 March – Metropolis, Fremantle 18+
Monday 4 March – HQ Complex, Adelaide 18+
Wednesday 6 March – 170 Russell, Melbourne 18+
Friday 8 March – Roundhouse, Sydney Lic A/A
Saturday 9 March – The ValleyDrive In, Brisbane 18+
Sunday 10 March – Soundlounge, Gold Coast 18+
www.tickets.destroyalllines.com
For more information on Millencolin
Web | Instagram | Facebook | Twitter
For more information on Goldfinger
Web | Instagram | Facebook | Twitter