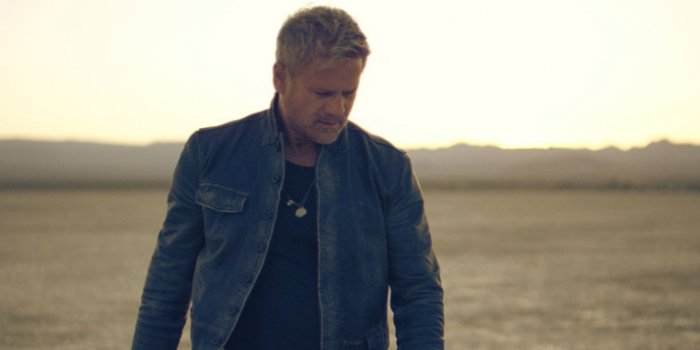 "I think it's out duty as artists to help where we can, obviously you can't be everywhere all the time but when the planets line up you can get involved then you do."
From Release: Coinciding with the Hay Mate: Buy A Bale – A Concert For The Farmers concert, Jon Stevens is releasing a charity single, Rain Down On Me, with all proceeds going to help the drought-stricken farmers. No stranger to releasing altruistic music for important causes, the plight of the farmers is something that instantly resonated with Jon. Harking from a small farming community in New Zealand that often had its own differing struggles, he feels an affinity with those on the land. More than two decades ago, when drought was impacting Australia in a big way, Jon released another charity single, with proceeds going towards the farmers. Fast forward to 2018, and when he was asked to be part of the Hay Mate concert, he immediately thought back to a recent song he had penned – Rain Down On Me – and offered it up to Rural Aid for fundraising support.
In Melbourne we gave Jon Stevens a call to talk about his newest single benefiting the farmers called 'Rain Down On Me', we talked about the song, its creation, touring, his majestic voice, and much more.
It's been just over a year and a half since we last chatted, so let's catch up, how have the last 18 months been for you?
Oh flat out, mate *laughs* it's been fantastic, obviously 'Starlight' helped out and being on the road with that and then coming back into this year I was away overseas for January writing and recording and came back and started touring February 7th and I've been on the road all year since then. So I'm looking forward to having December off and time with the family and back into it next year.
Can you tell us a bit about 'Rain Down On Me' and how the song came about?
It's one of the songs I wrote in January and it's just been sitting in my bag with all of the other songs  *laughs* and when I was asked to do 'Hay Mate' and get involved in the raising money for the farmers I became fully aware of what's been going on in the country and with the farmers and it's just been devastating, it's the worst drought on record ever in history and you just think in 2018 how can that be happening? With all the technology and the way we do things nowadays you know, so I got involved and I had this song called 'Rain Down On Me' so I re write a bit of it and just decided I'm gonna give it to the farmers and  to rural aid and every cent that it makes is going to go towards helping them and that was my way of just contributing a little more than just getting on stage and performing for one night you know what I mean.
You've been a big supporter of charities before with your music, how important is it for you as an artist to use your voice to help?
Look I think it's out duty as artists to help where we can, obviously you can't be everywhere all the time but when the planets line up you can get involved then you do. All the artists I know do it, I do it, it's just par for the course, music brings people together and that's the main ingredient I mean a life without music would be pretty dull. That being said the 'Hay Mate' concert was put together by John Farnham and Glenn Wheatley and Channel 9 televised it around the country and all kudos to those guys as they instigated it and put a massive spotlight on the fact of what's happening out there and on the land. So hopefully other people will do something about it, particularly the government, I was just reading the other day that the current Prime Minister is talking about committing five billion dollars to getting some sort of long term situation happening, I mean build pipelines, I mean they can build pipelines for oil that go around the globe, I'm pretty sure the government can build pipelines that go out to areas that are continually affected by dry weather, or at least have the option you know what I mean?
I actually grew up with Ricki Rae and you headed up to the country to record this song with him, what did he help bring out in this song that delivered this end result?
Well his studio is a great studio, he knows it inside out, he's a musician and I've known him for many, many years, he's a very well regarded musician and engineer. He's a talented guy and he loves music and all things sonic, so he's got a studio out there which as a great drum room, it's in the country and there's kangaroos everywhere and animals in the house so it's just really laid back and really conducive to creating. I took my band in there obviously we'd been on the road and I'd already recorded the song, the song was already there and it was just a matter of sharpening it up and producing it in the right way where it still carried all the ingredients of trying to get this point across. I took my band in there specifically to record the song to give to the farmers and that's the whole thing with this song and hopefully Australia and everyone with a phone or a device will download it, it's $1.69 out of your life, it's nothing but it will go a long way to helping rural aid. I mean what can I say, you do your bit. I mean people in the city and I've been guilty of this and it's why I'm pushing so hard, you just get so insulated, you get immune to the bad things happening in the world, you see it every day on the news and it's all bad news, bad shit going on everywhere, in the cities we've got plenty of everything, and to know that people in the country are really doing it tough it's like oh my god, what can we do about it, I mean people are proud out there on the land, they don't put their hand out, they deal with their problems and they try to do the best they can. The song I've written is a song about hope, it's a song about struggle but it's a song about hope.
In terms of your song writing there's always been an honesty and realness in your music, what for you is the most important thing about the way you craft your songs?
Look in this case like I said I'd written the song in January and I'd already had the title 'Rain Down On Me', I already had the first verse and the third verse I re-wrote and it gave the song more power, more powerful meaning considering what I'd decide to use it for. So I was just trying to put myself in their shoes, I came from a country background and it's just writing from the heart really, that's all you can do, write from the heart and keep it real.
You're currently out on tour and your voice is as good as ever, what sorcery do you use to keep it in such good shape?
Grey Goose generally *laughs* look, I think it's like anything, it's a muscle you work it a lot, I've been singing rock and roll all my life and tough wood my vocal chords will be fine, my ears are fine too I don't have ringing ears, they ring sometimes but from all my friends with tinnitus it's a horrible thing to have it drives you mad, the ringing in the ears from loud music and touch wood I've never had that and I think when you enjoy what you do and I enjoy singing, I really enjoy it *laughs* I don't think about the bad things that can happen I just enjoy the process and enjoy playing in front of people and giving to people and giving music out. So I think that's probably what helps me a lot because I don't worry about all those things, like oh my voice is sore, my throat is sore and I've gotta gig on, and I'm still gonna do the gig, I'm always gonna do the gig no matter what because it's just me, I'm just wired that way.
When you're doing a 'Best Of' Tour, how hard is it to pick the best when it's all that damn good?
It's been pretty hard but we're chopping and changing here and there, I mean every song is a single I suppose from over the last thirty years and I guess the other fortunate thing in having been in Noiseworks, INXS, The Dead Daisies, Jesus Christ Superstar, I mean that's predominantly what I play, and I have to throw in a couple of solo things here and there, I mean two hours has gone by *laughs*.  It's just one of those things where you play what feels good and what the people want, the people that come to my shows are ecstatic to hear songs that I haven't played in years. So going back through the catalogue was a bit of a real revelation for me actually, because I'll always think forward, always think what I'm doing now and next, I don't really think about what I did yesterday or ten years ago or twenty years ago, I mean yeah I sing 'Take Me Back' and I sing 'Touch' and those songs I wrote all those years ago because if I didn't sing them people would bloody throw things *laughs* and I'm happy to sing them, why wouldn't I be. You can't please everybody but you just try to please yourself in the process.
Sometimes it's easy to say what's changed over your time making music, but what would you say is the one thing that's stayed the same?
What's stayed the same for me is just being in the moment, just recognising that when you're in the studio and you're creating and you've got an idea that just pops into your head when you playing something and recognising that moment when you take it to another level or the excitement factor goes up and you've gotta capture it you know because inspiration is fleeting, it comes in and it goes out as quick as it comes in and no amount of technology is ever going to replace the fact that each individual human being has this thing called inspiration no matter what it is *laughs* and as musicians we get to recognise that ability and harbour it and capture it in music and for me I'm always very aware of creating and finding that groove and finding that thing. It's a little bit of magic dust and I can't really put my finger on it, it's a subconscious thing I'm not sure if it's an intangible thing and then all of a sudden there it is and there's a song and you go where did that come from? How did that happen to be here? That still amazes me to this day how I have been able to know how I can create something out of absolutely nothing. I cannot paint or draw a stick figure by the way, can't do it but I can write a song and play music no problem and sing songs, So when look at great art, any art, it just freaks me out how people can do that. So I'm sure with the same with people that think that about people that make music you know.
Other than the new single, are there things in motion for more new material?
Yeah, as I said I started recording and writing in January so I've got a bunch of stuff already and I've done a couple of things whilst I've been on the road this year and I'm committing to go back into the studio ASAP with Sammy my guitarist who and I made the 'Woman' album together back in 2015, and it's one of my favourite records that I've done and I want to get creative again with him and have some fun making more music,  so certainly something in 2019 for sure.
Lastly as always let's try and predict the future, so finish this sentence for me, in 2019 Jon Stevens will…
Will be on the Red Hot Summer Tour from February until the end of April and in between I'll be in the studio and then hopefully probably around August I'll drop a record.
Essential Information
From: Australia / New Zealand
Website:  http://www.jonstevens.com
Latest release: Rain Down On Me – (Out Now)