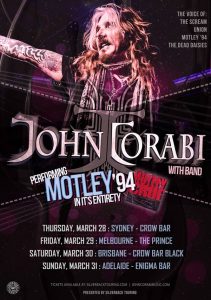 Rock 'n' roll journeyman, JOHN CORABI, is no stranger to hard rock fans as vocalist of THE SCREAM, ESP (the Eric Singer project), UNION (with ex-Kiss guitarist, Bruce Kulick), RATT and his current role as the front man of the DEAD DAISIES. Widely acclaimed as one of the great rock voices ever, Corabi's hypnotic and charismatic live swagger also make him the consummate frontman.
For many though, he really came to prominence when he landed the high-profile gig of replacing MOTLEY CRUE front man, Vince Neil, in 1992.
It was during his short tenure with MOTLEY CRUE that the band released their self- titled album, MOTLEY CRUE, in 1994 (often referred to as Motley '94) as the follow up to the hugely successful, Dr Feelgood album. Whilst the album did not reach the heights of its predecessor, it is regarded as a re-invention of sorts and long considered a fan favourite with Corabibringing extra guitars to the fold and a gruff, ragged edge to the vocals. The album was simply more mature, heavier and rougher.
Now, on the 25th anniversary of the album's release, JOHN CORABI embarks on his first ever solo tour of Australia, with his band, performing the album in its entirety, a real treat for both MOTLEY CRUE fans and rock fans in general.
John Corbai March 2019 Australian Tour Dates
Thu 28 March – Sydney – Crow Bar
Fri 29 March – Melbourne – The Prince
Sat 30 March – Brisbane – Crow Bar Black
Sun 31 March – Adelaide – Enigma Bar
Tickets On sale – NOW
From: silverbacktouring.com