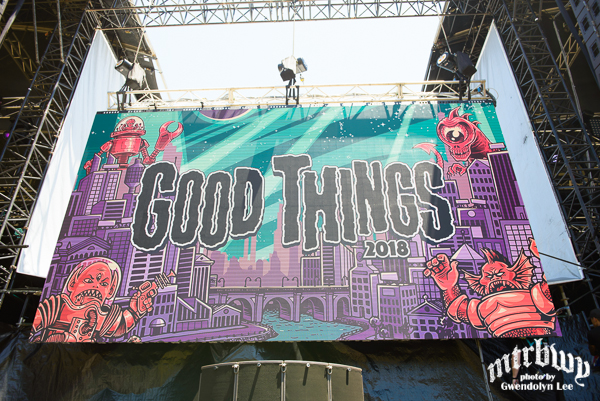 Let the good times, I mean things roll… welcome to the first ever Good Things Festival show in Sydney! This takes me back to the first Soundwave I went to in Technology Park back in 2007 but in the eleven years since then festivals almost run like a dream and after a pretty seamless entry and the usual wristband put on way too tight, I'm already impressed at the way things have begun.
I head straight to stage 2 to see RedHook Open the day. As always with opening bands they get to be the tester for the sound system and after a somewhat shaky start with the bass it kicks in and they're off. We dig these guys and as the crowd starts to grow and make their way in they stop to watch the openers, with their hybrid sound and an always awesome cover of Limp Bizkit's 'Break Stuff' they seem like they're made for a main stage and I will continue to watch them grow and evolve.
Time to go for a walk to check out the food and drink and lay out of the park and head down to stage 3 to check out Waax and they've got quite a crowd. The sound down here is great and I must say, in seeing these guys a few times before today they sound on point. This is a band that gets better every time I see them and that makes me happy. With some major support slots already under their belt I predict more will follow after watching the way people reacted to them today.
Back up to stage two to catch Waterparks and the crowd has grown as people continue to literally stream in. These pop punk rockers are killing it. I've moved back and the sound is much better back here, so here I stay, also it's where the shade is so I'm good. Catchy quick tunes make this set fly by and I didn't know much about them before and I now need to make sure I do.
Staying where I am in the shade, although I don't have a direct view of stage 1 I can see Northlane on the screens and they have fire!! It's time for some metal! They've turned it on from the first second and the sound on stage 1 is clear as day. A great set of tunes and when those clean vocals hit this band shines. A confetti cannon explodes purple everywhere and I'm sure we'll be seeing a number of pieces stuck to the sweaty patrons throughout the day. Very impressive set from these Aussie metal legends. LA Dispute were a surprise find as I walked around and although very reminiscent of At The Drive In at times I enjoyed what they were putting down.
It's time for the buzz band of the festival, it's time for Baby Metal. As the crowd starts to form and grow it's obvious this is who many came to see. As the rocked up version of 'Sakura Sakura' starts the show they take to the stage and the choreographed routine of the band makes this captivating to watch. I can't understand a word but it's rockin' and just sounds insanely good. They ask for a pit to open and it happened, no wonder there's so much dust flying around! As a band, musically they are outstanding, this is tight, heavy and allows Baby Metal to stand at the front and deliver. Although it feels like the set was shorter than expected there were definitely people talking about their set after they were done.
The Used oh man, now don't get me wrong when I say this, to me this is the first real professional sounding band of the day. There's just something about these guys that have been doing it so long that they just sound so damn good. They are tight and killing it. Bert is currently singing the Play School song and even nailed that. From that through the catalogue they get to 'pretty handsome awkward' and you can't beat that riff. Just when you think it couldn't get any better Bert starts a rant but then as they hit the riff of 'Smells Like Teen Spirit' it turns into 'Shine' but then back into teen spirit and belted out the chorus to close their set. The happiness on Bert's face is a treat to see and this is a band that still rocks.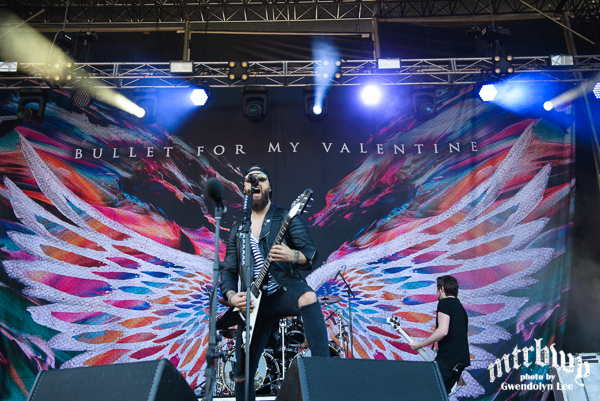 It's time for Bullet For My Valentine and straight into 'I Don't Need You' and this is the heavy we need. This is great and the dust is flying and the riffs are heavy. As the opener fades they hit the next one 'Over It' and they're nailing it. The drums hit and hit hard as the crowd cheers as the military style riff of 'Your Betrayal' hits and with a big scream and the guitar comes in those vocal harmonies make this song the beast it is. Matt tells us his voice is a little shot but you wouldn't know as they continue through their set and 'Letting You Go' was a great addition and fits into the catalogue nicely. A drum solo at a festival, interesting but good as the guitar rings to close it out they hit the riff of 'Killing Time' with the amazing guitar squeal it just blasts the set apart. So damn good. Next up 'Piece Of Me' and it just keeps getting better. The crowd cheers and start clapping along and singing as it begins, 'Tears Don't Fall' is the biggest song of the set so far and it's going down a treat. Closing the set with 'Waking The Demon' with fists pumping they tear into the big one and by far the best band of the day so far. Now we're talking!
The Dropkick Murphys take to the stage and with 'The Boys Are Back' and this massive ensemble hit us with song after song of their almost festive punk rock with acoustic guitars and accordions they continue to belt out the tracks. Funnily enough I say festive and they just played a Christmas track. They really are a great band and with the promise of returning for some indoor shows they play 'Rose Tattoo' song, not band. As they continue to power through their set they end on the one we've all heard from The Departed and 'I'm Shipping Up To Boston' and the place went crazy when that one kicked into full swing. Quality set from a quality band.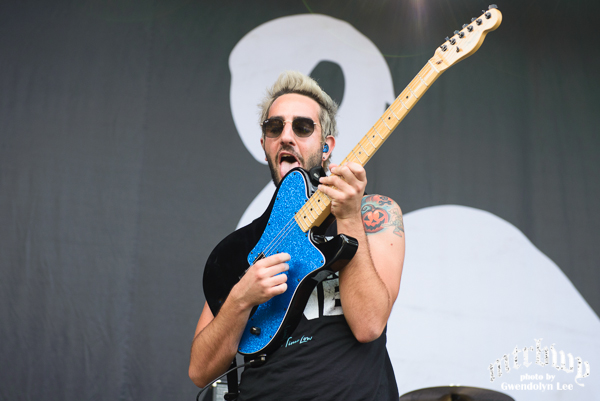 Now I've loved All Time Low for a while and I always look forward to catching them live so as they come onto the stage to 'We Will Rock You' they walk on stage and into 'Damned If Ya Do' and what I like about ATL is that they just enjoy their time on stage and into 'Everything Is Fine' and the crowd are loving it. They have them clapping and singing and they're just really enjoyable to watch. Particularly Alex and Jack who jump around the stage and the way they interact is what playing live is all about in my opinion. 'The Dark Side Of Your Room' kills it but the humour is what makes this band so much fun. Catchy melodies in, well, all of their songs just make you happy like 'Backseat Serenade' Let things build and rock out. A song like 'Life of the Party' which takes things in a bit of a different direction for the band as taken from their latest album 'Last Young Renegade' and it also allowed Jack to shine on the guitar. Throwing in an old one 'Kids In The Dark' and they loved that one. The set slows down actually probably for the first time by any band tonight as they thank all the bands on the bill. Back to rock it up and 'Six Feet Under The Stars'now time for a new one 'Birthday' heads into 'Lost In Stereo' and with one more they close with a request of 14 crowd surfers and 'Dear Maria Count Me In' is the perfect way to close it. Jack jumps into the crowd to meet some people and with that and our love of Pina coladas and getting caught in the rain we get ready for Stone Sour as the Stone Hour is upon us.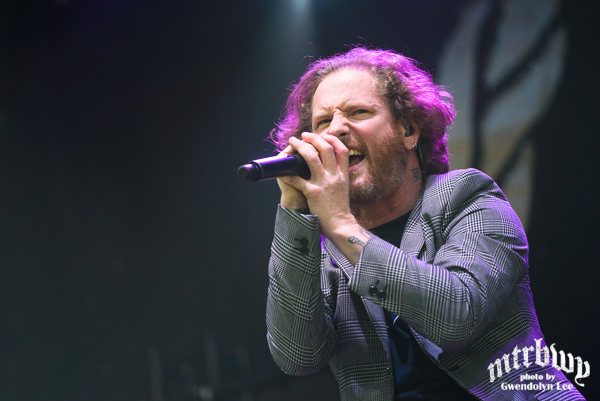 "Hello you bastards" yells as the intro music plays and Stone Sour walk on stage to YSIF and "Sydney you beautiful mother fuckers how you doing tonight?" Corey Taylor screams as pyro fires from the stage and it's on 'Taipei Person / Allah Tea' with confetti and streamers this is awesome. Without wasting any time the powerhouse that is Stone Sour tear into 'De me a favour'. As it finishes right now they're all singing happy birthday to Corey and as he said "the great big mouth is a little bit older today" and with more pyro coming up from the stage into 'Knievel Has Landed' and when Corey says "let me see those Fuckin hands in the air" you listen as they belt this one out. The guitar riff hits for 'Absolute Zero' and this being one of my favourite tracks of theirs it's awesome to hear it this early and they didn't miss a note. The band leave the stage and Corey returns to the front with a guitar "it's my birthday but you motherfuckers are a gift" as he asks us to sing along with 'Bother' and we oblige. Things get fuller as Corey keeps the guitar on and the three guitar assault kicks into 'Tired' and then things get even heavier with '30-30,150′ and the confetti gun comes out again. 'Get Inside' keeps it heavy followed by my favourite 'Song #3' which is catchy as hell and that chorus just kicks so much ass live then before the last note even rings out Corey strums the opening chord to 'Through Glass' and I can see a number of phones hoisted high to capture it and the song was happily shouted back to the stage. With one more and a whole bunch of whacky waving inflatable arm flailing tube men they belt into 'Fabuless' to close the set and it's been a long time since I've rock and rolled and it's only rock and roll but I like it. Stone Sour always put on a killer show and tonight was no different. I do prefer them in a smaller venue but they truly are a killer live band and showed they deserve their spot up there tonight on the main stage. They may say it's all downhill from here but The Offspring are next and it's time to 'Smash'.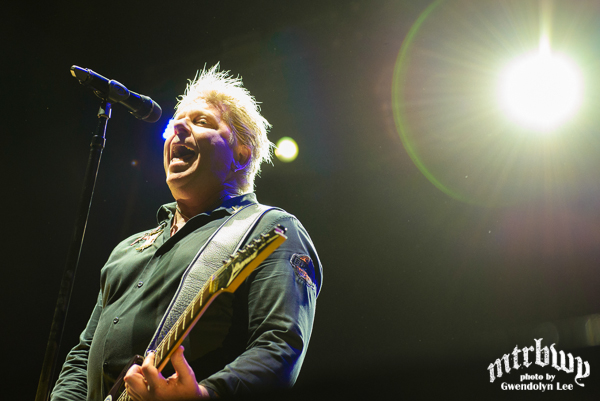 "Ahhhh it's time to relax…" and here come The Offspring and without hesitation it's straight into 'Smash', the album we're here to celebrate. 'Nitro' and all its punk fury then the bass riff kicks in for 'Bad Habit' courtesy of Tony from No Doubt who's playing bass for the band on this tour, and Dexter is sounding great. The Offspring always threw out short and fast tracks and as the crowd gets to join in and it's always fun hearing group swearing if you know the song you'll know what I mean. They jump back into it before we 'Gotta Get Away' as the drums and guitar ring it in as Dexter straps on a guitar and I've always liked that one and it sounded pretty good tonight. 'Genocide' is one of the tracks I'm not super familiar with but it'll be nice to reconnect with this album and songs like this as was 'Something To Believe In' which was chunky and punky but it's the next one everyone was waiting for… and of course "you gotta keep 'em separated" for 'Come Out And Play' and as you would expect it had the crowd singing along and yelling out the chorus. I'll always remember the first time I heard this back in 1994 and it was different then and always great to hear live and even if it wasn't at the same energy level as I've heard it before they still lapped it up. 'It'll Be A Long Time' followed by 'Killboy Powerhead' before 'What Happened To You?' gets us all ska in here. 'So Alone' was another quick one as Noodles talks about water they then jump into 'Not The One' then the title track of the album we're celebrating in 'Smash' and they close it with 'Self Esteem', a song they skipped in the order but it made sense to close the album out with this one and as the crowd yell the intro and the chorus it was a fitting way to finish this part of their set. They leave the stage with a promise to come back for some more.
They're back with 'You're Gonna Go Far Kid' and then straight into 'All I Want' which was awesome! Then they keep things rockin' with 'Can't Get My Head Around You' then for something different a piano wheels out for a completely different version of 'Gone Away' which allows it to not be belted out as we know it but as the drums belt in momentarily it builds as the band comes back in. That was the surprise of the night. Up next is the world's best want ad 'Why Don't You Get A Job?' And this is just such a fun song! Time for an interesting cover, and why not though as The Offspring play 'Whole Lotta Rosie' by AC/DC and it's actually quite good. Unexpected but good and Noodles did ok! That Def Leppard count in gets them going and right now it's 'Pretty Fly For A White Guy' time. That was great and this late in the night to hear everyone loving it was pretty damn cool! As they ring in 'The Kids Aren't Alright' to close the show and the day it was a great closer and was a great set from the headliners of the inaugural Good Things Festival.
Today's festival as always it's impossible to see all the bands but looking at it as a whole, this thing was run as smooth as you'd want. Sure, shade and seating would be great but as this continues to grow, much as Soundwave did hopefully in the coming years it may have a new home. Well done to the organisers of the event, you kids ARE alright. See you next year!
Essential Information
Venue: Parramatta Park
Date: December 8, 2018
Presented by: Destroy All Lines
Website: http://www.goodthingsfestival.com.au
Photos by: Gwendolyn Lee – full galleries HERE! Gallery 1, Gallery 2, Gallery 3