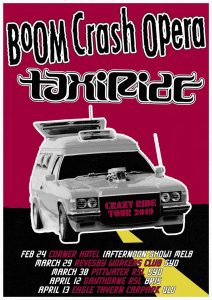 For the first time in 10 years, Boom Crash Opera and Taxiride will join musical forces for the'Crazy Ride' Tour in 2019.
The tour will commence on February 24 at The Corner Hotel, Melbourne, followed by Revesby, Pittwater, Gaythorne, and winding up in Eagleby, QLD on April 13th, 2019. The 'Crazy Ride' tour delivers a line-up of 90's Aussie pub-rock nostalgic setlists combining some of the most enduring radio favourites and chart hits. 
Formed in 1985, Boom Crash Opera'scatalogue of up-tempo melodic rock songs include: 'Great Wall', 'Hands Up In The Air', 'Onion Skin', 'Best Thing', 'Dancing In The Storm', 'Talk About It' and 'Bettadaze'. 
Boom Crash Opera have enjoyed extensive chart success, including numerous ARIA nominations for Highest Selling Single (Great Wall), Best New Talent & Best Video (Hands Up In The Air). They have toured and recorded locally and internationally off the back their first three albums 'Boom Crash Opera', 'These Here Are Crazy Times' and 'Fabulous Beast'.
With 35 odd years as a band, Boom Crash Opera continue to deliver amazing live performances. Punters were reminded about this recently on the 'Rock Radio Riot' tour earlier in 2018, with Aussie Rock legends The Screaming Jets. The addition of new front man Andrew De Silva two years ago, has seen the band scale new heights. De Silva's vocals scale the iconic back catalogue with ease and his onstage confidence and experience with ARIA Award winning group CDB, have only heightened the colour and musicality of Boom Crash Opera's live performances.
1999 saw the stunning arrival of Taxiride, four young Melbourne musicians who were to dominate Australian radio for the next 5 years and become one of Australia's biggest musical exports for the 1990's & 2000s. Taxiride is primarily a pop/rock band, also drawing influences from pub rock and are frequently compared to Crosby, Stills, Nash & Young.
 Entering the charts at Number 1, their critically acclaimed multi-platinum debut album 'Imaginate' released in 1999, featured four top 20 singles; 'Get Set', 'Everywhere You Go', 'Can You Feel' and 'Nothing In This World'. Their second album 'Garage Mahal' spawned the hit singles, 'Creepin' Up Slowly'; the Number 1 Australian Airplay song for 2002 also featuring the hit singles 'How I Got This Way' and 'Afterglow'.
In 2018, both bands are in vibrant form with Peter Farnan, Boom Crash Opera's 'Sound architect' commenting on the proposed tour with Taxiride, "The connections are endless. We've toured together, we've played together. Members and ex-members have co-mingled in bands all over the place. Above all there's the respect we have for each other's work. And privately – who can pull out the most hits on any given night? There's the challenge…A challenge we can't wait to through down…."
Taxiride lead singer Jason Singh says, "You probably couldn't get a more perfectly matched double bill in my opinion. Boom Crash Opera have been a constant companion throughout my musical life. With 7 hits from their debut album alone, it makes for a hit filled night to remember. We've toured together before, in fact the last tour Taxiride did before we took a much- needed long break was with BCO. So, for us to reform to celebrate the amazing legacy we've worked for and to pick it up where we left off with BCO is incredible".
BOOM CRASH OPERA AND TAXIRIDE 'CRAZY RIDE' TOUR DATES
Tickets on sale now
Sunday 24th February 2019:
The Corner Hotel, Matinee Show Richmond, Melbourne, VIC
https://www.eventbrite.com.au/e/boom-crash-opera-taxi-ride-tickets-52970068902
Friday 29th March 2019:
Revesby Workers Club, Sydney, NSW
https://rwc.org.au/whats-on-event/boom-crash-opera-taxiride-crazy-ride/
Saturday 30th March 2019:
Pittwater RSL, Sydney NSW
https://purchase.tickets.com/buy/TicketPurchase?agency=PITTWATER_RSL&orgid=23722&schedule=list
Friday 12th April 2019:
Gaythorne RSL, Brisbane, QLD
https://tickets.oztix.com.au/outlet/event/316552c6-9e60-46fe-a482-ebefd3cad2af?utm_source=Oztix&utm_medium=Website&utm_content=EventGuide
Saturday 13th April 2019:
Eagle Tavern Carpark, Eagleby, QLD
Free entry
www.eagletavern.com.au
To connect with Boom Crash Opera and Taxiride:
Boom Crash Opera
Taxiride