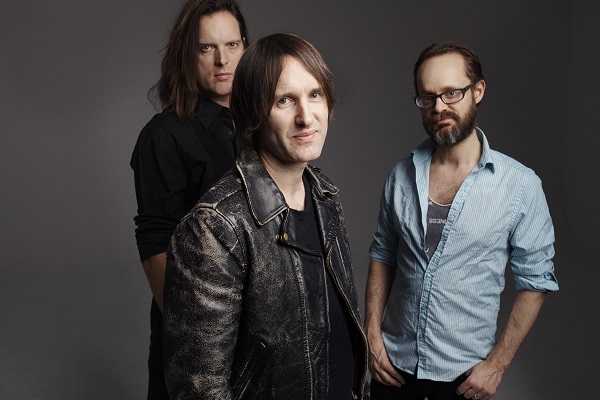 "…the commitment of everyone has been really strong of a three piece, me, Mark and Rick like we started jamming together when we were fifteen and we still get the same buzz whenever we're working on new stuff…"
From release: Inspired by Nirvana, Sonic Youth, Pixies they are known worldwide for their energetic and incredibly fun live shows that continue to delight fans. ASH are truly a band that no matter how many times you have seen you can never get bored of seeing. This year ASH released their seventh studio album, 'Islands'. Pound-for-pound, it's also the strongest, most exhilarating long player of ASH's career, an album which reaffirms the trio's status as one of the most idiosyncratic and singularly thrilling guitar bands.
While he was in New York we gave Tim from ASH a call to talk about their upcoming return to Australia, their latest album 'Islands', new music, Star Wars, and much more…
It's been a good five years since we've seen you in Australia, can you give us an idea on what an ASH show in 2018 looks like?
I guess we're touring the album 'Islands' at the moment so we're playing a lot of that album and it's sitting really well with the old stuff and it's going down really well and we're playing a lot of old favourites as well of course, a lot of stuff people want to hear from the old days and it's still a really full on, energetic type of show, three piece rock and roll.
As the catalogue grows are you finding it harder to put together a set list these days?
Yeah, yeah it is a nightmare, I guess we have our classics we tend to always play but I guess trying to get the balance of the new stuff we're really excited about as well without kind of overdoing it, so yeah *laughs* we tend to focus on the freshest release and then the classics, that's kind of the main mix.
In over twenty five years of performing live what do you still enjoy about the stage?
Just like seeing the reaction of people, people singing along to the old stuff, the real kick is if you see the new stuff getting a great reaction too. I love playing with the guys too and adding new material is always a great buzz as well. It always takes a while to really click but once it does it's really good.
You released 'Islands' this year, in the three years since 'Kablammo!' what for you was the main catalyst for the creation of these songs?
Actually I went through a bad break up just before I started writing it, so there's quite a lot of break up songs that just flowed out really easily, so it kind of had the whole catharsis of that, like a lot of it was just written quite quickly and it just felt like a very complete album quite early on, we just picked our favourite eleven songs and just started recording them and then just added one down the line a little bit, the opening track 'True Story' was the very last song to be written. So we felt here's the story, it's all complete in these certain songs, and most albums we would record a bunch of extra songs just in case some of the ones didn't work out but for this one it was all quite fully formed from an early stage.
It must be a good feeling when you know you're on to something good…
Yeah, completely, we were all very confident with the tracks.
What did returning to Infectious records help do for this record and for the band?
I guess it was nice because they're all quite chilled and let us do our own thing as far as the recording goes but they were really kind of on it and organised with the release and we got to explore some fun formats, like a special edition of the vinyl which is a metallic silver which was really cool. Also they're bought up our back catalogue so we can start reissuing that and it kind of feels like we're back at home again, so it's really cool.
Are there plans to go back and put the older albums out on vinyl?
Yeah, we're still working on the whole plan for that, they presented us with a seven year plan for reissuing stuff *laughs* it's pretty crazy to think of stuff we might be doing in 2023. It's mad *laughs*.
So sometimes it's easy to say what's changed in your time together in a band but what would you say is the one thing that's stayed the same in your time together in ASH?
I guess like the commitment of everyone has been really strong of a three piece, me, Mark and Rick like we started jamming together when we were fifteen and we still get the same buzz whenever we're working on new stuff like we're in a rehearsal room and still imagining a time when we were developing songs going through our demo tapes when we were fifteen years old, there's still that kind of excitement that we get. So that's probably like the best thing.
It's also quite rare to have a band that still has the same members after so long…
Yeah thanks, it's pretty unusual *laughs*.
In your twenty six years in the band is there still something you'd love to do that you haven't yet had the chance to do?
I guess we never had a number one UK single, we had two number one albums but you always dream of having a big hit that would be a defining number one *laughs* but the music scene has changed so much I guess we were lucky when we started out that guitars were all over the mainstream and we were lucky with that time, it might come round again *laughs* you never know, I always keep writing in hope.
Have you already started writing for the next one?
Yeah, we're kind of like half way through it, we've been touring so much that I kind of left it in a half finished state for over six months. So January I'm looking forward to getting off the road and trying to finish it, but also in the meantime I kind of feel like I'd like to write some completely fresh songs for it as well, it might take on a completely different form from what it currently is. If I had a month off right now I could finish it really quickly I think.
That would be pretty quick as 'Islands' has only been out for about six months…
Yeah, it's only been out since May, but it took a while to get the record deal sotted with resigning with Infectious, and 'Islands' was kind of finished for a while and just while we were waiting I just kept on writing and we started recording the new record, so it's kind of like we were one step ahead for a while *laughs*.
Let's talk about Star Wars, as obviously our site name is an homage to it and I know you guys are fans, what are you hoping for the most in Episode 9?
I'm kind of hoping they go somewhere completely fresh and different, I know a lot of people were disappointed with the last one and I didn't mind it so much, but I guess the previous ones kind of bummed me out because it was so much rehashing from the old ones, so I don't know, I'm hoping for something kind of fresh and good and fingers crossed it won't be terrible. There's an opportunity to make a really good one.
Lastly let's look ahead to the future, finish this sentence for me, in 2019 ASH will…
Oh right *laughs* in 2019 will release our number one hit single that we've always been waiting for. *laughs* whatever it takes, we'll make sex tapes, whatever it takes *laughs*.
ASH November 2018 Australian Tour Dates
Tuesday 13th – Brisbane – The Zoo
Wednesday 14th – Adelaide – Fowlers Live
Thursday 15th – Perth – Rosemount
Saturday 17th – Sydney – Factory Theatre
Sunday 18th – Melbourne – Corner Hotel
Tickets From: https://metropolistouring.com/ash-2018/
Essential Information
From: Downpatrick, County Down, Northern Ireland
Band members: Tim Wheeler – lead vocals, lead guitar, keyboards, Mark Hamilton – bass, synthesizer, Rick McMurray – drums, percussion
Website:  http://www.ash-official.com
Latest release: Islands (Out Now)