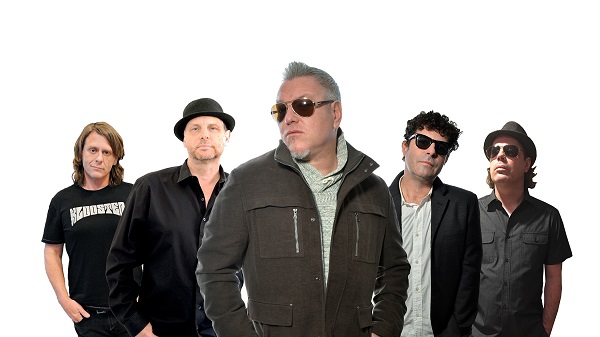 "2018 for Smash Mouth is really like 1999. Our passion & energy for these songs haven't changed, they are our babies. We carry them in our back pocket so when we're playing live we can pull them out whenever we need."
From Release: Smash Mouth were regular chart toppers of the 90's alternative music scene, selling in excess of 10 million albums worldwide.  They are no strangers to Australian audiences with songs like the All Star, Can't Get Enough of You Baby, Walkin' On The Sun and celebrated Monkees classic I'm A Believer, all of which have become radio staples and included on party playlists everywhere! Last year the multi-platinum and Grammy-nominated band celebrated the 20th anniversary of their debut, smash-hit album "Fush Yu Mang".  Back in 1997, the single Walkin' On The Sun was an immediate international sensation and quickly shot to No. 1 on the US Billboard charts, and eventually boosting the album sales to over 3 million copies in the US alone.  In the two decades since, Smash Mouth have not slowed down.  In fact, they are still as vibrant as ever with their groovy beats, memorable melodies and fun lyrics. Their 1999 release 'Astrolounge' was a brilliant follow-up album boasting three top- ten hits All-Star, Then The Morning Comes, and Can't Get Enough Of You Baby and sales for that album nearly doubled those for their debut.  Smash Mouth's third, eponymous release featured the smash hit I'm a Believer providing the musical heart of the soundtrack for Shrek.
Ahead of their Australian tour, we had Steve from Smash Mouth answer some questions for us about the band's upcoming Australian tour, memories, new music, and much more.
We're here because you're heading back to Australia, can you give us an idea of how these shows are going to shape up and what a Smash Mouth show in 2018 is all about? 
2018 for Smash Mouth is really like 1999. Our passion & energy for these songs haven't changed, they are our babies. We carry them in our back pocket so when we're playing live we can pull them out whenever we need. It's great to have 7 hit songs and two of them are No. 1's the entire world knows. Our set list spreads them out and it feels like 1 big hit party. We may even throw in an unexpected famous cover from a different band just to throw off the crowd. Yes you may hear Smash mouth perform a Van Halen song.
You've been to Australia a number of times, do you have a favourite memory from one of your previous trips you can share with us? 
What I remember is very cool small clubs with real music fans. I also remember how expensive everything was. We sent a runner for cigarettes and beer one time and I swear it was like $300.
Your music has always had a fun and happy vibe but what would you say is the biggest difference between Smash Mouth in the studio and Smash Mouth on stage? 
Much more energy on stage. We feel & take energy from the crowd, we do drum solos, we bring fans on stage etc,…. It's a big party!
Album wise you recently released an acoustic album of 'Fush Yu Mang', what was it like looking back at your debut and re-recording these songs that are now twenty years old? 
It was great, like giving CPR, we breathed new life into the songs but it wasn't easy. Probably the most challenging album we've done.
Now just over twenty years since your debut release, over that time there would've been a lot of amazing moments, what stands out for you as the moment that will stick with you forever 
It was probably being nominated for a Grammy and going to the Grammy's. I remember walking down a hall and I look up and David Bowie is walking my way. A subtle too cool "How's It Going" as I walked passed him. As if I didn't just walk passed an Icon.  The other moment is when our first single "Walkin On The Sun" started breaking and I heard it in a restroom at a casino in Las Vegas. I was like What The F*ck!
Are you currently working on or are there discussions about new original music from you guys? 
Yes we will have two new songs with very cool videos dropping soon. People will be surprised who features on one of them.
So it's sometimes easy to say what's changed in your time in a band but what would you say is the one thing that's stayed the same in your time together in Smash Mouth? 
To be honest everything came full circle. Our original founders (Greg, myself and Paul) are all back in the band. We're pretty much back to our original line-up. The old energy sparked new energy for new creation.
Looking back, was there one piece of advice you were given when you started making music that you still go back to and live by to this day?  
All the advice we received on day one we made sure to do the opposite. Now that we're more experienced we are now implementing that guidance, 20 years too late but non the less.
You've been in this band a long time and done a lot but what's on your bucket list of things to do that you haven't yet had the chance to do? 
I'd like to have a Talk Show and have a medium role in a feature film.
Lastly, let's try and predict the future. Finish this sentence for me. In 2019 Smash Mouth will… 
Our 20th Anniversary of our most popular album "Astro Lounge" featuring "All Star". we are releasing a Double Album featuring a remastered version of the LP along with all brand new stripped down versions of every song and some B-sides and remixes and probably one new song.
SMASH MOUTH
(WITH SUPPORT ACT AREA-7)
2018 AUSTRALIAN TOUR DATES 
Thursday 8th November
Enmore Theatre, Sydney
Tickets available from:
www.ticketek.com.au
Friday 9th November
Twin Towns, Tweed Heads
Tickets available from:
www.twintowns.com.au
Saturday 10th November
Eatons Hill Hotel, Brisbane
Tickets available from:
www.oztix.com.au
Sunday 11th November
Airlie Music Festival, Airlie Beach, Queensland
Tickets available from:
www.airliebeachfestivalofmusic.com.au
Wednesday 14th November
SS&A Club, Albury
Tickets available from:
www.ssaclub.com.au
Thursday 15th November
Southern Cross Club, Canberra
Tickets available from:
www.ticketek.com.au
Friday 16th November
Anita's Theatre, Thirroul
Tickets available from:
www.ticketmaster.com.au
Saturday 17th November
Croxton Band Room, Melbourne
Tickets available from:
www.oztix.com.au
Presented by Lennard Promotions
Essential Information
From: San Jose, CA, USA
Band members: Steve Harwell – lead vocals / piano / keyboards, Greg Camp – guitar, Paul De Lisle – bass, Michael Klooster – keyboards, programming, Randy Cooke – drums, percussion
Website: http://www.smashmouth.com
Latest Release: Fish Yu Mang (Acoustic) – (Out Now)