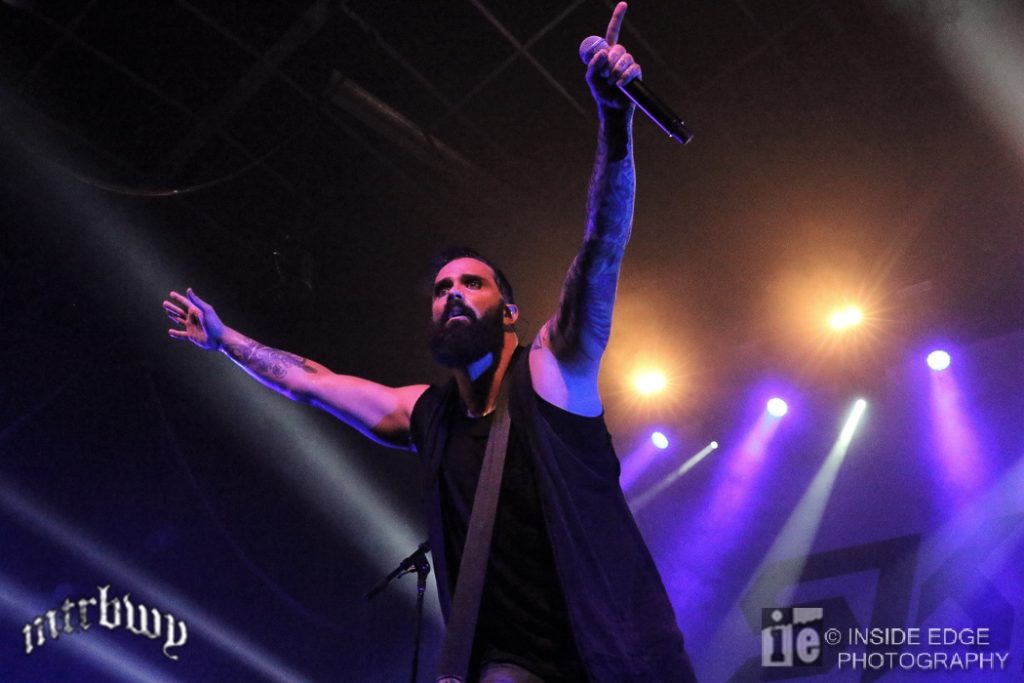 It's been seven long years since Skillet graced Australian shores and tonight with a growing catalogue in tow, they're here for their faithful and seeing how long the line was for people waiting to get in, those faithful are ready to rock.
RedHook are bang on time and first up tonight and for a newish band on the scene it's so awesome to see the way they have taken to the stage. Their sound is large and for a four piece they're doing a great job even if the lights don't like them. 'Minute on Fire' was our introduction to them and hearing it live for the first time tonight it was made for the stage. Their presence is that of a band that's been doing this for a long time and even if they have in various incarnations, this one is where it's at. I feel like they already have this down and with some more exposure they just may do what they deserve to do, take over. As they're covering my favourite Limp Bizkit song and doing ok at it, it's time to 'Break Stuff'. With some refinement and I think a second guitarist RedHook would excel even further. Definitely a band to watch out for.
Red Gazelle are up next and as they hit the stage they bust out the intro they sound full!! The cheers were warranted, and a big scream sets the scene and man what a sound these guys have. I've seen these guys before in smaller venues but they truly suit this stage. For a three piece musically to have a sound this fat is impressive. They power through their set and I have to say, it's impressive. This is a band that know what they're doing. Big notes and a big crunchy sound make these guys deserve their spot. A catalogue that will grow and with that the songs, and I tell you if these guys write and pull out THAT song, with a band like this you'll be hearing so much more of Red Gazelle. Super impressive band.
Before the band even started 95% of their merch had been sold and as Skillet take to the Sydney stage instantly they make us 'Feel Invincible' and wow. What a sound this band has as Jen Ledger behind the drums takes the backing parts this sounds exactly like the record, it's amazing. The lights are drenching the band in colours and moving at a rate of knots to keep up with the intensity of this opener. What a way to start to a show!! As 'Whispers In The Dark' starts those around me are yelling the lyrics back at the stage and as I look out to the crowd there are a number of arms being thrust toward the stage. A big solo from Seth and a swinging bass from John add to the showmanship of the band. Korey riffs it up and the big rock ending continues this awesome beginning of the show.
'Sick Of It' gets the crowd jumping as John gives away the bass allowing him to roam free and including jumping down into the front pit. The bass returns as he talks about what we're sick of and hands are raised accordingly. A supreme rock ending shows some talent before it's time to 'Rise' with a sing along before this one kicks in. What a big song and when you look at their body of work, these songs are big anthems and that's what I really dig about this band. A cello makes its way to the stage and they start 'Lions' which is pretty much one kick ass power ballad. It's nice to keep the energy up but slowing it down at the same time. A massive bridge blows this one out of the park and the vocal balance between John and Jen is truly something.
The obligatory Aussie Aussie Aussie chant leads into 'Back From The Dead' which was as big as you'd like but as the band take a rest the cello comes back to intro 'Awake And Alive' but Jen removes herself from the drums to open it as they give us a slower beginning before it blows up into the monster (pun intended) that it is. This is quite possibly my favourite Skillet song and hearing it tonight is something pretty cool. He of the cello makes his way across the stage helping to fill this one out the way it needs to be heard. This band is so tight!!
'Not Gonna Die' is so heavy and I've said it already but the sound of this band is something to behold and even without the bass, the twin guitar attack is such a huge wall of rock. These songs just contain so much optimism and hearing them live they really take on such a different feeling, it's like it's being delivered the way it needed to be. 'Hero' is another one of those songs and the song that means something different to everyone. Jen steps aside from the drums again and joins John at the front of the stage to belt this one out with him. A bitchin' harmony guitar riff to close this one out was perfect.
'Those Nights' is all about video games and heavy metal and even with some impromptu Def Leppard they kick into this one and judging by the way people are reacting I feel like they've waited a while to hear this one. John heads back jnto the crowd to let some people sing but as this slower one comes to a close Korey switches up guitars again and rings in 'Undefeated' and the place gets jumping again and these song structures are killer. Seth solo outros this one and I just can't fault how good this band is. A song like 'Undefeated' has such a good great vibe. Taking it back to 'Comatose' and as the cello plays the crowd cheers for the title track to the album. The big chunky guitars once again give the song that unmistakable trademark Skillet sound, this gig is truly amazing to be at.
'Stars' ballads the place up again with hands raised in the air and Korey on the keys while the kick drum pounds the room. A thank you from John before asking if we feel like a 'Monster' and I'll take the cheer as a yes. Bathed in red lighting they tear through this anthem and it's obvious this one is a favourite. Such a big song means we're getting close to the end of the set. The massive wall of 'Rebirthing' agrees with my statement as the bass is making my shirt move, it's awesome. This one is all about hooks and allows Korey to take the female vocal part on this one, a kiss for good measure from John seals this one as they build an outro keeping that bass pounding and guitars ringing, and just like that the band leave the stage
A few minutes to catch their breath they return for one more which is 'The Resistance' and if "this is how we rise up" then count me in. What a way to close out a show full of anthems, heavy music and a band that know exactly what they're doing and do it well.
I can guarantee it won't be another seven years before we see Skillet back in Australia, and regardless of what you believe in terms of faith, this band absolutely delivers live and given the chance, go and see them. Loved every second of tonight.
Remaining SKILLET November 2018 Australian Tour Dates
Saturday 17th – Brisbane – Eatons Hill Hotel
Sunday 18th – Melbourne – Forum
Monday 19th – Adelaide – HQ
Tickets from: https://metropolistouring.com/skillet-2018/
Essential Information
Venue: The Big Top  – Sydney
Date: November 15, 2018
Presented by: Metropolis Touring
Photo by: Peter Coates – Inside Edge Photography – full gallery HERE
Website: http://www.skillet.com
Set List:
Feel Invincible
Whispers in The Dark
Sick of It
Rise
Lions
Back From The Dead
Awake and Alive
Not Gonna Die
Hero
Those Nights
Undefeated
Comatose
Stars
Monster
Rebirthing
The Resistance