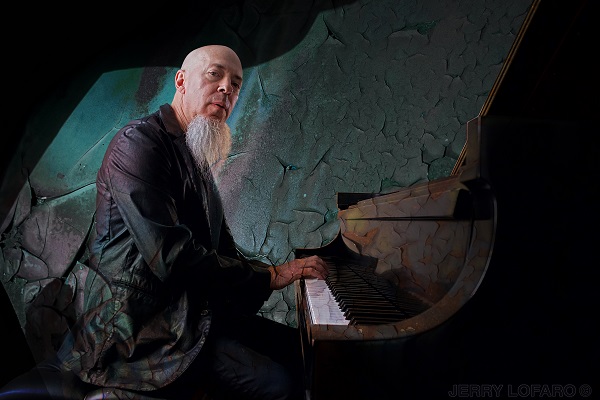 "…the piano is kind of like a home base for me, it all started with the piano and that's like the instrument I feel so comfortable with so it's a great way for me to express myself and as a musician take people on this journey."
From Bio: Jordan Rudess is best known as the keyboardist/multi-instrumentalist extraordinaire for platinum-selling Grammy- nominated prog rock band, Dream Theater. He trained at the world-renowned Juilliard School of Music, where he first studied as a child prodigy at age nine. As a teen, he defected to synthesizers in a classic act of rock 'n' roll rebellion. In 1994, Keyboard readers voted him "best new talent," and since then has become the universally acknowledged heir to the shredding throne of such prog-rock royalty as Keith Emerson and Rick Wakeman.  Jordan is renowned for his unique fusion of classical technique and influences with rock sensibilities.
Sitting in his piano room at his house we Skyped in with Jordan Rudess to talk about his upcoming Australian 'Bach to Rock' solo tour, how it came together, how it works, as well as new music, his company Wizdom music, and much more!
It's been five years since we last chatted, so let's catch up! How have the last five years been for you?
Wow, I'm glad I called you early as we definitely have to catch up *laughs* oh god, the last five years I've been so busy, everything has been so busy between my group, Dream Theater, and my solo work that I'm doing, my business, when I think about it it seems a lot has happened.
We're here because you're headed back or should I say Bach to Australia to take us on a journey. Can you tell us a bit about how these 'Bach to Rock' shows are going to shape up for us?
Sure, so the 'Bach to Rock' show is really, really fun for me to do, it's basically a journey through my musical life, starting with when I was a Juilliard student at a very tender age and leading up to now. What I do is it's kind of like a chronological trip and within it I get to play all different styles, literally playing some Bach and then maybe throwing in some Chopin and then the many styles that lead up to where I am now, The fun thing is it's not just playing music I also get to tell a story which of course will be especially nice for me in Australia because everybody speaks English, some place it's a bit harder because of a language barrier, but I hope there won't be any language barrier there and I can go through this journey. It tends to be something fun for me and for everybody because a lot of the stuff even if they follow my career with Dream Theater, or with Liquid Tension that people don't know so there are kind of a lot of things people can find out and be somewhat surprising within the Jordan journey. Also the other nice thing is having the shows be focused on the piano is kind of like a home base for me, it all started with the piano and that's like the instrument I feel so comfortable with so it's a great way for me to express myself and as a musician take people on this journey.
What was the process like putting a solo show together? Was it tough figuring out how you wanted to do it?
Yeah , tough in the sense that it's tempting to just wanting to go out and play and do a concert throw some tunes together but all the people saying they just listen to music for music's sake, people also like to be thinking about something conceptual, they like stories and going through journeys, and together with my wife who's also a theater producer she kind of helped lead the direction towards coming up with something that would actually be engaging on more levels than just ion a musical level, so that's kind of how from Bach to Rock was born and the idea of really telling the story, telling my story which is pretty unusual because it kind of went from one musical extreme to another, but there's a lot of threads that kind of bring everything together.
When you become in essence the front man for the evening, do you have to go into the show with a different mindset?
It's different a completely different role from being a keyboard player in a band, and it's a different role musically as well, and some of that may be obvious to people but when you're playing with a band you have a drummer that's constantly a beat even if you're in Dream Theater where the beat keeps changing but still there's a definite beat. As a keyboard player playing the music that I am it's a different kind of musicality, it's not so much defined rhythmically, there's a lot of give and take so it becomes a little bit more personal and because I'm talking to the audience it's a real connection, so the role is very, very different, but it's not that different for me in terms of just who I am and what I've done in my life because I've always been a solo performer even though I haven't toured around the world as a soloist I've done so many solo presentations and performances and certainly when I was younger as a young  concert pianist, so it's just another kind of way for me to present myself to an audience which I love.
Next year marks your twentieth year as a part of Dream Theater, over that time it may be easy to say what's changed, but what would you say is the one things that's stayed the same in two decades with the band?
John Myung *laughs* he's very consistent, he's probably the most consistent person I know, he looks the same, talks the same, he's still doing the same cool kind of stuff on the bass and that's your consistent factor right there.
I have to ask, anything in the works musically either solo or with the band or both at the moment?
There's some cool stuff, at the moment we're not only mixing the new Dream Theater album but I'm also mixing my new solo album which is going to come out on Mascot records in April, the Dream Theater album is coming out in February, at the end of February, and the Jordan Rudess solo rock album is coming out probably like towards the end of April. So those things are really exciting and definitely filling up my plate as I prepare to leave for this big trip as well.
I always ask this of master guitar players, but in terms of piano and keys who for you stands out today as someone to watch?
Well I've always surrounded myself with talented people and a lot of young people and I'm always interested to kind of support younger artists who are trying to make it in this crazy world of ours. I could say a couple of names of people, one of them in a young artist whose name is Gerald Peter, another one to keep your eye on is Eren Basbug who is a conductor and I recently did a concert in the Czech Republic and he conducted the orchestra and did all the orchestral arranging of one of my big classical pieces, he's still a young guy with a great future. Both keyboardists but Eren is also a conductor.
Outside of Dream Theater you've worked with a multitude of artists but is there anyone you'd love to lend your talents to that just hasn't called you yet?
That hasn't called, we sure there's tonnes of people out there in the world that would be fun to work with, although we've toyed around with the idea I've never worked with Steve Vai, we never did anything together although we jammed together on stage one Dream Theater concert which was fun and I've always had a lot of respect for his playing. Another artist I think is wonderful and maybe one day I'll have the chance to work with him is John McLaughlin the Mahavishnu Orchestra. If Peter Gabriel called me I wouldn't say no to doing something with him, so yeah there's plenty of people.
Outside of actually making music, tell us a bit about Wizdom music and the apps and why that was something you wanted to become involved with?
So, Wizdom music is my company that makes cutting edge next generation software for musical instruments, mostly for IOS but over the years we've done some stuff. I'm very inspired by music technology, I love it, I have a passion for it, I love synthesizers and different ways to make music and when I first put my hands on a multi touch device which was basically the original iPhone I had a dream about the way that it could kind of lead to the next generation of music making and so I started my company that year and I found a programmer to work with and we created an app called Morphwiz and Morphwiz that year won the Billboard best musical app award which was a great start for my company and from there I was able to put out different cool apps like Samplewiz, Harmonywiz and Tachyon and now my latest one is called GeoShred, GeoShred is my biggest kind of work and it's my collaboration with a team I met from Stanford University in California, it' a really cool instrument, it's very cutting edge, it's extremely popular in India and the reason it is is because it allows one to go between a diatonic modality and a fretless modality very easily so you know in Carnatic music in India they do a lot of really cool bending and they're very conscious of pitch and so GeoShred offers this amazing control of being able to slide around and really intelligently work with your pitch control which is what they need. GeoShred is also based on a technique called physical modelling and that's something that was developed by my partner Julius Smith at Stanford. So it's just something that I love to do, I also get involved with other companies that are not Wizdom music and I get involved with people that do cutting edge cool stuff, like I was involved with bringing the Roli Seaboard, the Seaboard is a cutting edge kind of hardware, it's a keyboard but it's not a keyboard it's a spongy flexible kind of keyboard you can do vibrato on and move around. So yeah its one of my interests but these days what is fun besides doing all my technology stuff I've been spending a lot of time at the piano specifically at my Steinway grand which is in my house and just really enjoying getting back to those roots and the acoustic music and looking forward to coming out and getting to Australia and just kind of being able to present my journey though the piano as it is close to my heart and just a cool way to express myself.
Lastly, let's look ahead to the future, so finish this sentence for me, in 2019 Jordan Rudess will…
Hmm… will experience the first true virtual reality multi-dimensional instrument. That sounds good right? *laughs* I'm putting it forward I'm always working on that, right? *laughs*
Jordan Rudess November 2018 Tour Dates:
Wednesday Nov 21 Brisbane – Triffid
Thursday Nov 22 Adelaide – The Gov
Friday Nov 23 Melbourne – Art Centre Playhouse
Sunday Nov 25 Auckland – Tuning Fork
Tuesday Nov 27 Sydney – Sydney Opera House Studio
Wednesday Nov 28 Canberra – the Basement
ticket information http://davidroywilliams.com/tours/jordanrudess/
Essential Information
From: New York City, NY, USA
Band members: Jordan Rudess
Website:  http://www.jordanrudess.com