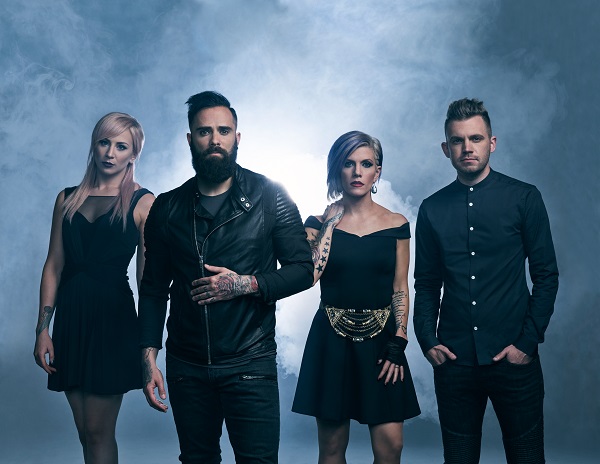 "…we always have some surprises like a song people didn't expect us to play and we do something differently live, I don't know, I like the live experience to be different from just listening to the record if possible."
From Release: SKILLET lets their music speak the loudest. That's how the quartet has cemented its place as one of the 21st century's most successful rock bands. Selling over 11 million units worldwide, the Wisconsin quartet have received two GRAMMY® Award nominations and won a Billboard Music Award for the platinum-certified Awake. Their double-platinum single "Monster" was "the 8th most streamed rock song of 2015" with a total of 57 million plays (and counting) on Spotify and would earn the distinction of becoming "the best-selling digital single in the history of Christian Music." 2013's Rise landed at #4 on the Billboard Top 200 upon release and received resounding and eclectic acclaim from the likes of USA Today, New York Times, Revolver Loudwire, and more. It's been a long wait, they were last in Australia back in 2011, but finally they return!
At home in Wisconsin, John gave us a call while on a break to talk about Skillet's upcoming Australian tour, new music, changes, evolution, and which 80's rock band they relate most to…
It's crazy to think it's been five years since we last chatted, so let's catch up, how have the last five years been for you?
*laughs* Very good, thank you, I'm excited about coming back down and seeing you guys it's been kind of a long time. We've been touring like crazy all around the world so I'm just really glad we're finally able to come back.
Now it's been seven years since you've been to Australia and thankfully now you're heading back in November, so after so long away how will you be shaping these shows up?
It's gonna be really fun, we've had two records since we came down last time so I guess just naturally speaking there's two new records to play music from so a lot of songs we've never played in the country before, so we're looking forward to playing new music, obviously we're gonna play the radio tunes, the ones that people would be really mad if we don't play like 'Monster' and stuff *laughs*, people will get mad and never come again. So we're doing quite a good mix from four of five different albums I believe it is, but we always have some surprises like a song people didn't expect us to play and we do something differently live, I don't know, I like the live experience to be different from just listening to the record if possible.
Now for someone like me who hasn't seen you before, can you give us three words that you feel sum up a Skillet live show?
Skillet show… energy, community and I would say empowerment.
Sold, I'm there!
*laughs*
We last spoke when 'Rise' was being released, since then you've had 'Unleashed' but even that was two years ago, are there current plans for a new release in the works?
Yeah we've been in the process of recording, we're maybe seventy percent done with the record and it's slated to be coming out next year and very excited about the new album, we're not playing any new music yet , but very anthemic, fist in the air kinds of songs.
That's what I love, the fact that people still make that kind of music, I've always loved the Bon Jovi kind of style, anthemic songs that just make you feel good…
Yeah I love Bon Jovi, it's a good example of something I think that especially during the 80's era, more like late 'Slippery When Wet' in the mid eighties, then 'New Jersey' both of those records were so anthemic and you know Bon Jovi in a certain way had so many fans that weren't even necessarily rock fans but they liked Bon Jovi, they liked pop music but maybe Bon Jovi was on their list of rock bands that they liked because he was just broad and had a touch of metal to the music even though he was just a rock pop artist So in a certain way if people say what band does Skillet most kind of represent if it was the eighties I usually say Bon Jovi, because Skillet has a touch of metal, a touch of hard rock and we always have a bunch of fans that aren't necessarily hard rockers but they love Skillet's music. So that's a good mix.
What for you has been the most notable evolution in the way you write music over the years?
Well let's see, I don't know, I think a turning point for Skillet was certainly our record called 'Comatose' that was in 2006, that was kind of a real turn, before then we've always kind of always experimented with a lot of different sounds and each record has had kind of its own twist you could say, and 'Comatose' was a real turning point when we found a way to make Skillet really commercial, that's what I'm getting at, that was the beginning of lots of fans that wouldn't say they liked metal, wouldn't say they liked hard rock, wouldn't say they like Gothic music but they were into Skillet. That was a real turning point and I think we really honed in on our sound and not just identity as far as the sound but I think identity as far as lyrics and how to reach multitudes of different people and that was just a realty special record.
Being in this band now for over twenty years, what's left on your list of things you want to do that you haven't yet had the chance to do?
Well, man I'm having such a great time honestly, I just love playing music and I'm so grateful that I'm still doing it, I'm honestly quite shocked that we are, I think Skillet is quite an enigma to most people and it's an enigma to me *laughs*, I don't know how it's managed to go on this long but tell you the truth if I can just keep doing what I'm doing now I don't need to reach any more plateaus, I'm just having a great time even if it's playing clubs just around the world you know. I guess what's left to do, even though we've had some real success at radio we're still not really a household name as far as radio bands go and that would be a really cool thing for me if we were more of a staple at the rock format, but we're still always a little on the fringes because we don't always 100% fit in with the format, like as a mentioned earlier we are hard rock but we're also very pop and very modern compared to most of the new rock that comes out, there's a lot of other facets to Skillet. So we do get played and we have been real fortunate to have some hits at the format but we're still a little bit on the outside and if I could have one wish it would be you know, get even more play and become even more of a staple at the format that would be great.
So over your time together it can be easy to say what's changed but what would you say is the one thing that's stayed the same in your time together?
I mean I think the thing that's stayed the same has probably been us as people, as individuals but also as a band, there's always like kind of an identity or a personality of the band I guess you could say and that can just change naturally as you get older and things, and I think Skillet has just held on to, and not just by happenstance, we made a decision to hold on to who we were and our identity, everybody knows that Skillet is a faith based band and there comes a certain kind of pressure once you start having real success in the rock world there becomes a pressure from the industry to try to cover up where you came from, don't tell people about your faith, don't tell them that you used to do this kind of music or X, Y and Z and we've never been embarrassed about that, never shyed away from that and that was a conscious decision that we made that we wanted to say who we were as people but also as a band identity. That's the thing that stayed the same and that's the reason I think that fans have stuck with us for so long I think that they believe that we are being real and authentic and I think that kind of to me I think that makes great art when you're authentic and I think that's why we have so many fans that are not religious, we have a lot of fans that are almost anti-religious but they like the way that our music makes them feel and I love that and they kind of gravitate to the authenticity of the band and I think that serves us really well.
Quickly, outside of Skillet you've just released an EP with your new project Fight The Fury, man it's heavy! What does this band and this music allow you to do that you feel you can't do with Skillet?
You know, Fight The Fury is just really fun, I think what it is for me is it's like a pet project I can do what I want on it, I wrote all of it and I produced all of it and recorded almost all of it myself, I even did the art direction for the cover, photography direction, video direction *laughs* it was just kind of like I was able to do whatever I wanted to do and I think where that really comes out is that it is really heavy, a lot of screaming and some angst to the music and the format of the songs just isn't as conventional, like if you notice not every song is three minutes and five seconds, like everybody these days and all the labels they want songs to be play played on radio and put on playlists and trimmed down to three minutes to get on all those playlists. When I was growing up Metallica were making four, five, six minute songs, 'Ride The Lightning' and 'Master of Puppets' those records and I always really loved that but the thing with Fight The Fury is its heavy and it's almost like I can do whatever I want to, Skillet I feel has its own identity and I felt I wanted to start to start something so they can both be very independent in their identities.
I follow your Instagram and am a huge fan of your Marvel tattoo leg sleeve you have going on, so let's play predictions, what do you think will happen in Infinity War 2?
Oh my gosh *laughs* I don't know what's gonna happen but they better fix it that's all I'm gonna say *laughs* fix whatever they broke, I mean I was upset for days, three or four days something just wasn't right and it's all from this stupid movie *laughs* but I really don't know what they're gonna do I just hope they fix it that's for sure. The first hour and a half of the movie I was like this is the best film I've ever seen and then it all happened and I was like what is going on? *laughs*
Lastly let's look ahead to the future, finish this sentence for me, in 2019 Skillet will…
Release a new album!
SKILLET November 2018 Australian Tour Dates
Thursday 15th – Sydney – Big Top
Saturday 17th – Brisbane – Eatons Hill Hotel
Sunday 18th – Melbourne – Forum
Monday 19th – Adelaide – HQ
Tickets From: https://metropolistouring.com/skillet-2018/
Essential Information
From: Nashville, USA
Band members: John Cooper – Lead vocals, bass, Korey Cooper – vocals, keyboards, guitar, Seth Morrison – lead guitar, Jen Ledger – drums
Website: http://www.skillet.com
Latest release: Unleashed (Out Now)