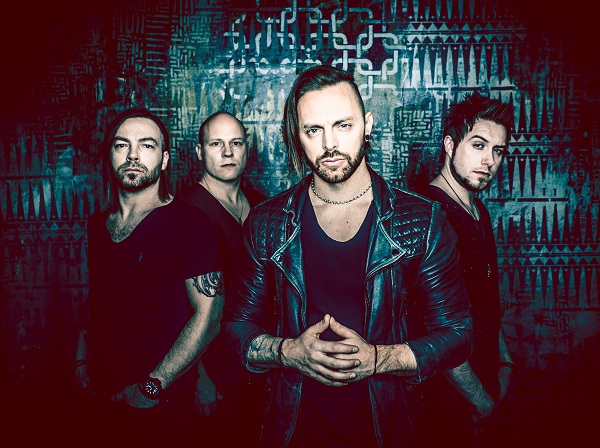 "…I do think Bullet is as strong as ever now live and I think that's very important because that's where it is in my eyes, playing live where as a band we enjoy it and it's where the fans enjoy it and we connect with the fans. It's all about the live performance."
From Release: Bullet For My Valentine are one of the biggest British metal acts in music history. Five albums in, they find new ways to invent intelligent noise and remaining unshackled by the legacy that comes with being masters of the trade. After initially forming as Jeff Killed John in 1998, eventually securing a five-album major label deal, their 2005 debut The Poison and 2008 follow-up Scream Aim Fire would provided an injection of what heavy music was very much lacking at the time. Consecutive full-lengths Fever, Temper Temper and Venom would cement their stature as modern masters, selling millions of albums worldwide and being crowned Best British Band at the Kerrang! Awards three years in a row – where they've also been awarded for Best Single, Best Live Band and Best British Newcomer. It's not just the press and fans that have afforded them such faith – even the heroes that inspired them in the first place, bands like Iron Maiden and Metallica, have personally selected BFMV to hit the road and share the stage with them.
In Colorado and in the snow we gave Jamie a call to discuss Bullet For My Valentine's return to Australia for the Good Things festival, their latest album 'Gravity', playing live, and much more…
Of course, we're here because you're coming back to see us for the Good Things festival, it's a great line up, tell us what good things people can expect when they come to watch your set?
Just a high energy kick ass Bullet show that we always expect to put on really. We've got some new songs in our set that we're gonna throw in for our Australian fans, some classics and yeah we're really excited and think it's gonna be awesome.
It's such a cool lineup of artists on the bill and I always like to ask artists playing festivals what bands they're hoping to catch on the day?  Any take either of your eyes?
I know The Offspring are playing, we've crossed path with them on the tour circuit a lot and they're always a fun band to watch and stuff. We just hang around when we're not playing and just have a good time watching really.
Your live show has always been a spectacle, what is it about the live aspect of Bullet that shines through in this environment?
I don't know, from the band and the songs it just makes sense live and everyone just gets involved, and going back to the new album the new songs they add a different energy to a live set and we're always really excited to play the new stuff, people lose their minds, get a few pits going, sing along and that's what it's all about.
Your latest album 'Gravity' has been out for a few months now, how has the cycle been for you since its release so far?
Yeah it's been a weird one because it was released in June and we could say we started touring this cycle in January because we started touring in The States with Avenged Sevenfold in a build up to the album we did every festival circuit and we're currently on our third US tour this year. So it's been really busy and been really good, obviously the festival circuits the slots that we've had have been really good and the crowds have just been amazing really, so we're just really excited to come back to Australia, I think it's been two and a half years now and play for you guys. Honestly we love coming and it's a good vibe.
Coming into the band a few years ago and this being your first album you've played on after touring with the band for some time was it an easy process then moving into the studio to make this album?
I wouldn't say easy because obviously this album is different in a way to the previous albums, we sat down and started writing and wanted to do something different and not make another album that Bullet has done before which is understandable six albums into our career now, it was time to try something different. At first I didn't know where the band was going, I didn't think anyone knew but once we started writing a few songs and it came together it started to make sense and we started to find our feet then. It was stressful but the final product was well worth it.
I love what you guys did and I know you copped a lot of shit for it but I think it's great…
Cheers man *laughs*.
From the outside in watching this band over the years and now being in it, it may be easy to see what's changed in a band but what would you say is the one thing that's stayed the about Bullet For My Valentine?
I just think the live aspect of the band, obviously I've grown up with the band and I'm younger than the guys and when 'Poison' and 'Scream' came out I was just starting to play guitar and starting my own band then and obviously seeing the band live they've always blown me away live and I think we've kept that going and that's special as some bands do lose the live vibe about them but I do think Bullet is as strong as ever now live and I think that's very important because that's where it is in my eyes, playing live where as a band we enjoy it and it's where the fans enjoy it and we connect with the fans. It's all about the live performance.
So what's on your bucket list of things to do as a band that you haven't yet had the chance to do?
That's a good question, it's different because like you said before I've joined they've probably achieved different stuff to what I want to achieve now. It's like we're doing a tour in November in The UK and we're playing the Cardiff Arena which is where we're from so that's gonna be a special one for me and I know the boys have played it before but it's definitely one off the bucket list for me. I think as a band it's just keep growing as a band and playing bigger venues and that's it really.
Lastly as always let's predict the future finish this sentence for me. In 2019 Bullet For My Valentine are going to…
*laughs* conquer the world *laughs*
GOOD THINGS FESTIVAL LINE UP:
The Offspring (Performing 'Smash' In Full)
Stone Sour
All Time Low | Dropkick Murphys
Bullet For My Valentine | The Used
BABYMETAL | The Smith Street Band
Dashboard Confessional (Performing songs from 'The Places You Have Come To Fear The Most' + Fan Favourites)
Mayday Parade | La Dispute
Northlane | The Wonder Years
Waterparks | Tonight Alive | Scarlxrd | Emmure
Palaye Royale | Make Them Suffer | Waax
Boston Manor | Void Of Vision | Ecca Vandal
DATES AND VENUES:
Friday 7 December – Melbourne Flemington Racecourse, Melbourne
Saturday 8 December – Parramatta Park, Sydney
Sunday 9 December – Brisbane Showgrounds, Brisbane
General Public tickets on sale NOW through www.oztix.com.au
Melbourne and Brisbane are licensed and all ages 15+ (Please see ticket conditions for age restrictions). Sydney is 18+
Venues and lineup subject to change
For more information head to www.goodthingsfestival.com.au
Essential Information
From: Bridgend, Wales
Band members: Matthew "Matt" Tuck – vocals, guitars Michael "Padge" Paget – guitars, Jason Bowld – drums, Jamie Mathias – bass, vocals
Website:  http://www.bulletformyvalentine.com
Latest release: Gravity – (out now – Sony Music Australia)