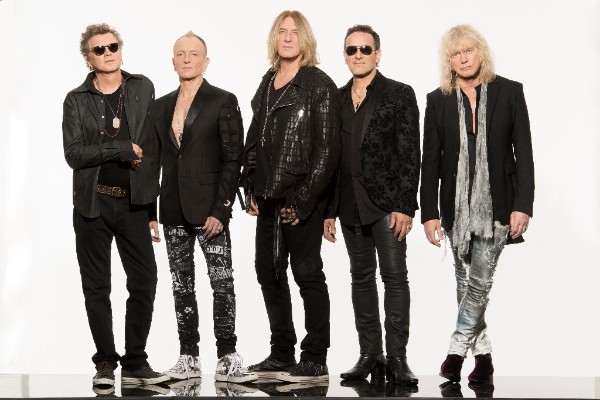 Def Leppard's 'Hysteria' is an album that means a lot to me, in 1987 when I was eleven years old my dad brought home a cassette for me and said "I hear these guys are sort of like that Bon Jovi band you like so I thought you might like this" and handed me the cassette. It was a life changing moment, and thirty one years later is still in my top five albums of all time. So tonight Def Leppard are back in Australia to perform the album in full for us and I for one couldn't be happier.
Now, it was always going to be a hard sell for Dallas Crane tonight who filling in for the Scorpions due to illness and as they walk on to almost silence you can't blame these guys but what can you do. What they are doing though is they're doing a pretty damn good job warming up the crowd and that's what they're here to do. A cover of Led Zeppelin's 'Rock and Roll' even with some technical issues was cool and as they keep rockin' through their set, I mean like I said a tough sell tonight but they did a bloody good job. Closing the set with some AC/DC and 'Let There Be Rock' and OK there's a whole lot of Bon Scott being channelled here. Kudos to the last minute call up and even though a lot of disappointed Scorpions fans spent Dallas Crane's set in the foyer, we can all agree that we're ready for Def Leppard.
As Def Leppard's version of 'Personal Jesus' plays as the countdown runs down on the video screen we're almost there. Time to get Hysterical…
As Phil Collen is lit at the front of the stage and hits those opening notes of 'Women' the mighty Def Leppard stand before us to begin playing one of the biggest rock albums in the world for us here in Sydney which is of course 'Hysteria'. As the opener this is perfect for the show and album, and it isn't one that gets played a lot usually so this is already a treat. Phil and Vivian trade solos and this trademark Def Lep sound is ringing very loudly through the ICC. As it faded we head straight into 'Rocket' and the place goes crazy as Rick Allen drives the beat in. Oh man the dual guitars during the countdown commencing wow. Hang on… "ROCKET, YEAH!" Had to do it just once. Damn this is so good. It just keeps getting better and it's almost a spoiler knowing what comes next but also exciting knowing what's coming next if you know what I mean. 'Animal' is one of my fave Def Lep songs and I never tire of hearing it and tonight was probably the best I've heard them do it. Let's see if they get the pause right… yep, perfect. To then go straight into arguably one of the biggest power ballads ever is the best. 'Love Bites' a dark stage the band only illuminated by spotlights and amazing laser lights filling the arena give this one an atmosphere. Vocally this was smashed out of the park by Joe and those amazing backing vocals. Watch out… love bites.
"Step inside. Walk this way. You and me babe HEY HEY!!" When a band plays probably their biggest hit five songs in you know you're onto a good thing. 'Pour Some Sugar On Me' epitomizes the late 80's and has become an institution. Watching the way people are reacting to this is the best, they love it. Absolutely love it. Joe stops to address the crowd and welcomes us to Hysteria 2018. OK time for my favourite, as Viv walks to the front of the catwalk and hits that riff from 'Armageddon it' I'm happy. This song is such a groove and that Bridge gets me every time. What a massive song!! As a picture of Steve Clark adorns the video wall, the intro of 'Gods of War' plays as does a video from yesteryear. As we come back live and the two Rick's drive this in before the twin guitars hit that riff of 'Gods Of War' and it is simply massive. This is one epic song. The outro allows Joe to go and have a breather, or watch 'Titanic' whichever he can do in the three hour end to this one. I kid. Man that's impressive.
I think this is the first time I've heard 'Don't Shoot Shotgun' live and it sounds killer, it's such a big sound for a five piece. The way it should be. Definitely haven't heard 'Run Riot' before. This is gonna rule. It's a big song late into the album and so good live. They didn't miss a beat or a note. Wow. It's now time for the album's namesake 'Hysteria' and the vision playing behind the band is hard to take your eye off although I had to as the guitar solo by both Phil and Viv was harmoniously perfect. They throw in some 'Heroes' at the end and that just may be the song of the night. Just amazing. Hysteria continues with 'Excitable' and it's kinda special hearing these songs live for the first time for me. And the album closes out with 'Love and Affection' which I've always loved. Who am I kidding? I love the whole damn album. This one as all of them just feel so much fuller live. As the last note rings out that was Hysteria 2018 and boy that was something!!
The band leave the stage for a break and only to return and give us some impromptu AC/DC which was fun but back into the Lep catalogue and going back to 1981 and 'High and Dry' as we 'Let It Go' and it still sounds so good this many years on. It's that trademark Def Lep sound that is just the best. As the guy who has let himself go and obviously needs to get to the gym more, Phil Collen shows us how good he is yet again he absolutely slays that outro. Yes!!! Power ballad heaven!! 'When Love And Hate Collide' is even more powerful tonight. I'm stoked this one made it into the set! I didn't really expect that one so that was a pleasant surprise. These guys truly are the masters of the power ballad.
"Do you want to get rocked?" Is the question and the answer is resounding yes! 'Let's Get Rocked' takes us back to 1992 and this fun sing along keeps the momentum going and the crowd happy. Rick Allen as always introduces a little ditty called 'Rock Of Ages' the other question of the night is "what do you want?" And the answer is that we all want ROCK AND ROLL and that's exactly what we've been getting tonight. Viv and Phil take to the catwalk again and intro 'Photograph' and I just want this to go on all night!! This was really the only way that Def Leppard could close this set tonight, a signature song for Def Leppard and one they still deliver like it's the first time they played it.
Tonight's show was a set that just felt so familiar and nostalgic and for that first sixty five odd minutes I was eleven again. That's what music for me is all about, I was taken back to that time I heard 'Hysteria' for the first time, it was magic. I have to say also that I've seen the band a number of times and this was by far the best I've seen them. Their playing is just perfect, and Joe's voice is sounding as good as ever. Just when I was already impressed with Def Leppard they one up themselves.
"Long live Rock and Roll."
Essential Information
Venue: ICC – Sydney
Date: November 10, 2018
Presented by: Live Nation
Website: http://www.defleppard.com
Set List:
Women
Rocket
Animal
Love Bites
Pour Some Sugar On Me
Armageddon It
Gods of War
Don't Shoot Shotgun
Run Riot
Hysteria
Excitable
Love and Affection
Let It Go
When Love and Hate Collide
Let's Get Rocked
Rock of Ages
Photograph