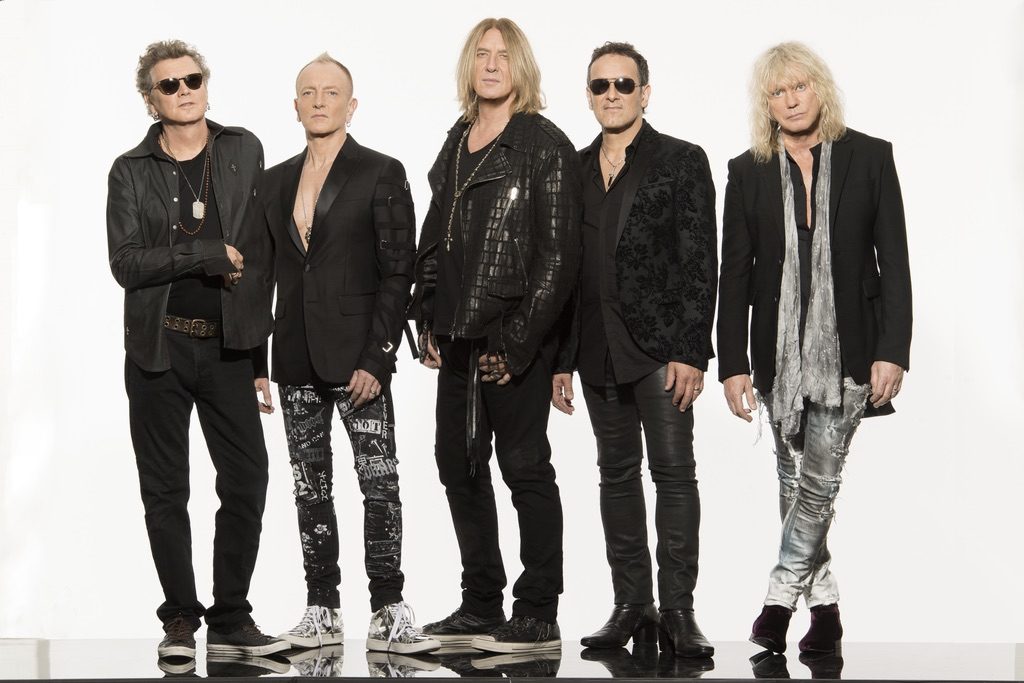 "So we all feel like we kind of deserve this and we've earned it to get back to where we are now and we really feel like we're one of the more competent bands on the circuit you know, and we still have for all intents and purposes an originality to the band…"
From Release: Rock icons, DEF LEPPARD, have extended their 70-plus US and UK tour to run riot Down Under, finally playing their landmark, longest recording in full – 1987's seminal Hysteria LIVE! Four years in the making, Hysteria is the ground breaking, 12-track album that saw Def Leppard overcome the adversity of drummer Rick Allen's car crash injury and conquer the world. An enduring legacy dripping with rock anthems such as "Animal", "Pour Some Sugar On Me", "Hysteria", "Armageddon It", "Love Bites", "Woman" and "Rocket". Igniting this epic piece of rock music history, Def Leppard will perform Hysteria in full alongside other songs from their 100-million-plus selling catalogue.
In a tour bus in an underground parking garage in Portland, Vivian Campbell gave us a call to talk about Def Leppard's return to Australia, the legacy of 'Hysteria' and the band, new music, and more…
Now we're here because you're headed back to see us in Australia and not only that you'll be playing 'Hysteria' in full which is going to be spectacular, but aside from that how are these shows going to shape up set wise?
You know that's a good question, we haven't actually finalised that yet, we've had a couple of preliminary discussions about it, we need to figure out a way as 'Hysteria' itself is only I don't know I want to say like 47 minutes of music or something like that so we need to bulk out the show on either side of that. The only other time we did the 'Hysteria' set was in Las Vegas in 2013 and in that instance we actually were our own opening act and we made a bit of a visual spectacle of it you know, we went out and opened, we played much more obscure music but we also kind of set up in a way that was like an old school opening band where we didn't have production and such and then there was a big curtain that we played in front of and then we had like a video presentation for a few minutes then the curtain revealed the big stage set and there we were performing 'Hysteria'. Having said that I don't think we'll be able to do something like that in Australia because we have the Scorpions opening for us and I think if we kind of minimalize our show after the Scorpions it's not going to be good for us *laughs* but we've still got to work it out. Having said that between one thing or another we'll probably only get to play maybe five or six other songs in advance of the 'Hysteria' album and the possibly a couple of songs as an encore on the back side of it, but the final production details are still a work in progress.
'Hysteria' was one of the biggest albums in the world after its release which was of course released prior to you joining the band, but looking back as someone outside of the band what were your impressions when you first heard 'Hysteria'?
'Hysteria' was one of the very first albums that I owned on CD and it really was an album that was kind of built for that you know, it was engineered in that way because there's so much sonic depth to it that it really fits the digital format and was really a CD for the digital age. I was always a Def Leppard fan, I was a little bit taken aback at first when I first heard it because as a guitar player and a guitar fan especially I felt it was a little guitar light but it's only when you listen to more and more you realise there's actually a hell of a lot of guitars on there and the reason why I think it first appeared or sounded guitar light to me was because in order to put those many layers of guitar into a song you really have to sort of filter the sounds, they couldn't be as thick as you'd normally expect like as thick as say the guitar sounds on 'High and Dry' or the 'Pyromania' album, they kind of had to be a little bit more finessed I suppose. It was really a cleverly produced record by Mutt and also just an incredibly well written record, I mean there's so much depth in the songs, I remember hearing 'Gods of War' in particular for the first time and I thought I'd gotten to the first chorus only to realise that there's actually another part, it's almost like the song had two choruses. So it's just a milestone record, as a fan I actually bought it twice, I bought it on cassette, I pretty much wore out the cassette and I went and bought the CD so it's quite the epic record for sure.
You came into band after in 1992 after the still really sad passing of Steve Clark, even after over 25 years do you still feel like at times you have those big shoes to fill even though you have no reason to?
Yeah I mean Steve's legacy lives large with Def Leppard, I mean he was very, very much a very, very important part of this band both creatively and in terms of performance, he was probably the most visual performer of the band and he was also just such an integral part of the writing process, he really was very, very influenced by Jimmy Page and wrote riffs that were of the elk they were really kind of unusual and highly creative. So I do feel *laughs* his legacy is there and it's been close to twenty seven years that I've been the new guy but I'll always feel that I'm sure because we still play, and the majority of the music that Def Leppard plays to this day is legacy music that Steve wrote you know, those were the really big records.
You all always look like you're truly having fun up on stage, what do you enjoy the most about being part of Def Leppard?
You know it beats having a real job, we don't take this for granted at all, we come from a great place of gratitude when we perform and that just grows and grows for us every year and this past year in particular our audience numbers are growing, I mean we're selling out shows, we're selling out stadiums here in North America. We just played AT&T park in San Francisco to 36,000 people and the following night we had about 34,000 in San Diego, we've sold out Wrigley Field and Fenway Park and Coors field, all these big ol' baseball stadiums as well as arenas. So we're having multiple sell out shows, we're seeing our audiences growing generationally, it's not just our generation coming to see Def Leppard shows anymore it's people who are young enough to be our children, I'd say thirty to forty percent of the audience over the last year or two are young enough to be our children. With that comes a renewed energy, if the audience is younger and energetic and we really feed off our audience a lot, whatever our audience gives us we give it back tenfold, so that's a very, very important part of the show for us and we really are playing better than ever and singing better than ever and I would probably say enjoying it more than ever because we still have to pinch ourselves when we're up there and we realise that we're in our mid to late fifties and Phil is sixty and he's the healthiest guy in the band *laughs*, and were up here playing for people that are young enough to be our children and increasingly larger numbers year after year and it's been like this real resurgence with Def Leppard and it's been a long time coming to be honest because when I did join the band twenty seven years ago we were just going into the grunge era and it was a dark time for Def Leppard, the mid 90's and the early 2000's and we were still out there touring and playing shows. So we all feel like we kind of deserve this and we've earned it to get back to where we are now and we really feel like we're one of the more competent bands on the circuit you know, and we still have for all intents and purposes an originality to the band, I mean if Steve were alive he'd still be in this band and you wouldn't be talking to me, but everyone else compared to so many other bands with members leaving or passing away or whatever there's a strong element of credibility to Def Leppard and we feel we've earned it but like I said we don't take it for granted, we still put the effort in, there's a very, very strong work ethic in Def Leppard and there always has been.
You talk about the grunge era, I'm one of the ones that loves 'Slang' I think it's one of the best things you've done…
Yeah *laughs* I know, it was a strange time you know? That happens in music you go through these cycles but if you get through it you come out the other side. We kind of feel like we're sort of getting into the stride now of being a classic band, when I joined the band, Joe was the guy who brought me in and he was the only one I knew prior to joining Def Leppard. Joe set me aside and said to me, I really want this band to be one of the great British rock institutions like Queen, The Who, Zeppelin, whatever, Joe always wanted Def Leppard to be a band of that stature and we're working towards it, you know.
There are certain bands that remain from the 80's metal era that can still pack out arenas and stadiums and Def Leppard is most definitely one of them, in terms of a legacy what do you think it is that Def Leppard has to still be one of the biggest bands going from that era and onwards?
It's all about the music and it always has been, it always will be. You can see a lot of the classic bands; that even with multiple line-up changes and even in some cases where the lead singer's no longer there the band still manage to go out and do it because it's the credibility of the music and the fact that the songs are so ingrained in the culture. So there's not one of the five of us that for one minute thinks that any of us *laughs* in any number is anywhere near as important as the music, we know it's about that songs and that's what will live on and even after we're all gone the songs will still live on.
It's been three years since the last Def Lep album, anything you can share with us in terms of new music or upcoming awesomeness?
There will be a new track coming out, there is a repacking of sorts of a Greatest Hits coming out at the end of this year and there will be a new song on that. As far as getting back in the studio, it's quite possible me might begin the process  next year because we won't be touring quite as intensely next year, this has been a very, very big touring year for us so we will take our foot off the pedal next year and do a little bit less. That would afford us the opportunity to write and record new music, I mean we're always writing individually it's just a question of when we put our heads together and actually decide what sort of an album we're gonna make and when and how we're gonna make it.
Over the years it's very easy to say what's changed but what would you say is the one thing that's stayed the same about Def Leppard?
An awful lot has stayed the same with Leppard, having been in a couple of other bands prior to joining the band I had different experiences so I've seen both sides of the equation and even back then all those years ago when I joined I always thought Def Leppard was a very strange band compared to all the others, just like I said, the collective sensibility about the band, the collective ego, the work ethic, these were things that I hadn't witnessed with Dio or with Whitesnake, and I don't think I've ever witnessed in any other band that I've been around, it's just a very centralised, very focused, very driven collective ambition that has kind of always been there, and is as strong if not stronger today than it was twenty seven years ago when I first witnessed it, it's just quite a very, very unique institution *laughs* if you like.
Lastly let's look ahead to the future, finish this sentence for me, in 2019 Def Leppard will…
We will continue to grow into playing stadiums, that's kind of where we're at right now, we're transitioning and we feel that's going to continue into 2019.
DEF LEPPARD w special guests SCORPIONS Australia / NZ tour:
PERTH ARENA
FRIDAY NOVEMBER 2
ADELAIDE ENTERTAINMENT CENTRE
SUNDAY NOVEMBER 4
BRISBANE ENTERTAINMENT CENTRE
TUESDAY NOVEMBER 6
ROD LAVER ARENA, MELBOURNE
THURSDAY NOVEMBER 8
ICC SYDNEY THEATRE, SYDNEY
SATURDAY NOVEMBER 10
SPARK ARENA, AUCKLAND
MONDAY NOVEMBER 12
For complete tour and ticket information, visit: www.livenation.com.au
Essential Information
From: Sheffield, UK
Band members: Joe Elliott – lead vocals, Rick Savage – bass guitar, Rick Allen – drums, percussion, Phil Collen – guitars, Vivian Campbell – guitars
Website: http://www.defleppard.com