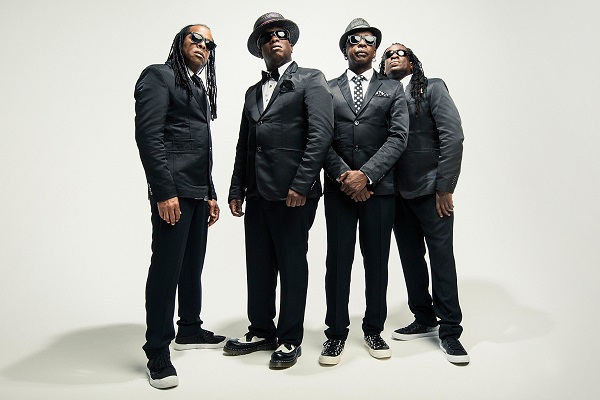 "We've had gigs, we're human beings, the band took a hiatus or broke up for a while and done gigs where we're sick of each other but we recently felt in the last few years and reconnected as to how special it is to even be alive, how special it is to share these moments…"
From Release: The ground-breaking American rock band from New York City, formed in 1984. Led by guitarist Vernon Reid, the bands lineup solidified in the mid-80's w/ Corey Glover (vocals), Will Calhoun (drums) and Muzz Skillings (bass). Stylistically, the band's music is a creative fusion influenced by free jazz, funk, hard rock, Hendrix tinged classic rock and heavy metal. Skillings left the band in the summer of 1992, replaced by session veteran and Sugarhill Records bass player Doug Wimbish. The band's debut album, 'Vivid' was released in 1988 on Epic Records. The album reached #6 on the Billboard 200 Albums chart and was later certified double platinum by the RIAA. It featured Cult of Personality, a #13 hit on the Billboard 200 Singles chart. Cult of Personality went on to earn the band their first Grammy Award for Best Hard Rock Performance. With Cult of Personality's thunderous opening riff, followed by a crushing onslaught of drums and bass behind a volcanic Corey Glover vocal, LIVING COLOUR's breakthrough song kicked in the airwaves during the of 1988 with a fresh, aggressive sound.
While he was at home we gave Vernon Reid a call to talk about the upcoming return of Living Colour to Australia, album anniversaries, some guitarists to check out, a great story about the making of 'Stain', and much more.
Thank you for your time today, Vernon, of course you're heading back to see us in December, how are you going to go about shaping a set list for these shows?
Well, I think we're going to play some 'Vivid' music, it's tough because we're not really doing an album show per se where we play everything off it, but we're gonna play some things off the album for sure, then it's also the 28th anniversary of 'Time's Up', so it's gonna be I think a mixed bag, yeah there's gonna be 'Vivid' music because that's kind of the focus. We also have the album 'Shade' we'd like to play a few songs from 'Shade' so it'll be sort of an omnibus with a focus on 'Vivid. I want to play some songs that we don't normally play all the time, like a song like 'Broken Hearts' that we don't play all the time, because we play 'Glamour Boys', we play 'Cult' all the time but it would be good to play some things that we don't play all that often, like 'Which Way To America' and 'Broken Hearts' and so that's what I think is going to guide some of the decisions.
You've made it back to Australia a number of times over the last four years which is making up for the lengthy time you didn't visit previously, how has it been reconnecting with the Australian audiences?
It's been really, really fun. I think the Aussie's are very up for it, they're up for a sing along, the last time we were there one of the things that was very powerful about the last time we were in Australia was the passing of Chris Cornell, I was blindsided, I think everyone that knew Chris and loves the band Soundgarden was really blindsided by that and we played 'Blow Up The Outside World' like the day after we heard the news and it was a very emotional thing for everyone involved. So it's one of those things that when you go through something and you feel it collectively because everyone in the room loves rock and roll, that's why you're here, that's why you're at the gig and that's why we're on stage, and to lose someone that's so great, to lose someone so powerful, I mean Soundgarden is my favourite band, my personal favourite band, so it felt like a very powerful sharing of grief and to have that happen in Australia I mean it really meant something, it really meant something and we've felt a kind of connection with Australian audiences every time we've come but that was very special, so we look forward to coming back and playing some music for you folks.
Seeing you guys live is such a pleasure as the musicianship between the four of you is something to really behold. What is it that just clicks and works for you as a band?
Well I would say it's a shared history, shared sense of purpose, a lot of stories I mean going back to the earliest gigs and things that happened, I mean we signed our record contract in the back of CBGB's and CBGB's was the place where the band made it happen. You know we went through a lot of different things, even with Doug being the second bass player, people that know the band they know Muzz Skillings but Doug Wimbish was a friend of mine, was a friend of ours from the earliest times in the band and actually it's a long twisted history and when you share long twisted histories with people, it's special. The other thing is we haven't given up on the possibility of something happening very special with the music and that's the thing, it's not old hat to play the riff of 'Cult of Personality', it really isn't and I'm never bored with that song, I'm not bored with it and because the song has such a resonance and has meant so much to so many different people and all of our music has had that effect I mean it's great to play and we have fun, I mean you have as much fun as you're prepared to have with people. We've had gigs, we're human beings, the band took a hiatus or broke up for a while and done gigs where we're sick of each other but we recently felt in the last few years and reconnected as to how special it is to even be alive, how special it is to share these moments, so yeah.
With a new album 'Shade' which has been out now for a year, how has the reception been since its release?
It's been really good, it's been really, really pretty good I mean I think people are relived that the album was good *laughs* we weren't trying to go backwards and reclaim things we did in the past, we're moving forward, I mean one of the great things about 'Shade' is that 'Shade' is that none of those songs are reactions to Trump but the songs were written when Obama was still in office but the songs were right on time for Trump because the problems that we see, you know President's come and go but the issues we have between these others as American's they never really go away.
It was a long time between albums for the band, has this lit a fire under you and can we expect more music sooner rather than later now?
Yeah we are talking about an EP and we have a frame and I'm not gonna talk so much about what the idea is but there is an idea about doing an EP kind of release out there and sort of tracks maybe leading to an album or maybe tracks that stand on their own but that's something that has really come.
Let's talk album anniversaries as 'Vivid' turned 30 this year, looking back what do you remember about releasing your debut album?
I remember that when we listened to the playback it felt like we were sending something into space, there was really no idea what would happen. Even working with Mick Jagger and recording it in studios it was like we were doing something very different from what was happening at the time and I had a strong belief that it could happen but there was no guarantee that it would happen.
And it happened…
And weirdly enough it did happen and that's why we're talking now.
Five years later 'Stain' was released and has now turned 25, are there plans at all for a special edition release with some of the alternate versions of the songs with your different solos?
You know what we just did a vinyl release of 'Stain' and it would be great to include the alternate solos because that was such a crazy gag, it was myself, our producer Ron St Germain and our A&R man Mike Caplan. I was in a foul sort of mood because we did guitar take after guitar take after guitar take and it was a crazy time, it was the beginnings of the divorce from my first wife were imminent and I was in a bad way and I said "Is anybody listening to any of this?" and I said "You know what check this out, let's see if anybody notices, let's put some different solos on these different tracks *laughs*" and we didn't tell the band, and Ron is kind of an impish dude and was like "OK let's do it". So we picked these solos and went to Mike and went "would it be possible to put different solos on the same album?" and the thing about it is Sony had two different pressing plants, there's a pressing plant on the East Coast and there's a pressing plant on the West Coast, so we sent one master to the East Coast pressing plant and we sent one master to the West Coast pressing plant and we didn't say anything about it, we just waited. Then what happened was that we're at a gig and people said "hey man, was there a different solo on this song because I went to my friend's house and the solo is different" and then it really started to catch on and fans were like "Yo you got this version of the album?" and then Sony was like "KNOCK IT OFF!" *laughs* it was pretty fun! It would be good to pull all of those things together at one time, that would be good.
As far as I'm concerned especially back in 1988 no one sounded like you, your playing has been emulated and you've been an influence to many and you're still one of the best out there, but who do you see as a stand out guitar player these days?
Oh my god, a stand out guitar player these days, let me think… you know who I love to pieces, Kirk Douglas of The Roots, Captain Kirk Douglas, the guitar player from the Roots I think he's pretty outstanding. Dan Whitley who is Chris Whitley's brother, The Roots kind of magician, Chris Whitley has a brother named Dan and Dan Whitley is out of control, a really great guitar player and people are not as hip to him as they should be, I think it's crazy. Alex Skolnick he's obviously the guitarist for Testament, he's a beast and I love him. I would say another guitar player is Andee Blacksugar, he's an independent artist and he's currently the guitar player for KMFDM and he is sick with it, like he has chops but such a great feel. Obviously Bumblefoot, Ron Thal, I want to give a shout out to Kat Dyson a fever guitar player that played with Chaka Khan and played with a lot of people and she's got a fantastic tone. I'm going to be producing a record for the guitarist Felicia Collins and she has been playing in the band for Late Night with David Letterman for a long time, and she is a remarkable player and an incredible singer. So those are some of the guitar players that I really like, there's a lot of them, I was just on a project with the incredible Stanley Jordan and man just ridiculous, RIDICULOUS! So those are a few of the people, the guitarists that I really enjoy and look up to. Malcolm Brickhouse is a really young dude coming up, and he's the guitar player for 'Unlocking The Truth'. I'll stop right there, I can just go on and on about guitar players all day.
Lastly let's look ahead to the future, finish this sentence for me, by the end of 2018 Living Colour will…
By the end of 2018 we will be looking firmly towards the future and getting underway to putting out new music, I mean there's still some life in 'Shade' so we want to till get some stuff out of that so yeah I think we'll be looking forward.
LIVING COLOUR Australian Tour Dates:
Saturday 15th December – Perth – Astor Theatre
Monday 17th December – Adelaide – The Gov
Wednesday 19th December – Melbourne – 170 Russell
Thursday 20th December – Brisbane – Triffid
Friday 21st December – Byron Bay – The Northern
Saturday 22nd December – Sydney – Metro Theatre
Tickets on Sale NOW via: https://metropolistouring.com/living-colour-2018/
Essential Information
From: New York City, NY, USA
Band members:  Vernon Reid – Guitars, Corey Glover – Vocals, Will Calhoun – Drums, Doug Wimbish – Bass
Website:  http://www.livingcolour.com
Latest Release: Shade (2017)