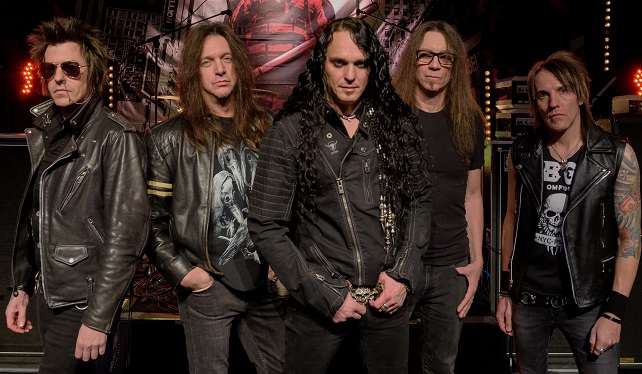 Tonight I say hey man, there's something you oughta know and I tell ya live at the Manning Bar, SKID ROW!
Warming up the crowd tonight Dept. of Gloom take their place on the stage and in only seeing this band once before I was already hooked. These songs are just straight up catchy rock and roll tunes. I love their sound and what they're doing and this will be a fun ride to watch.
Bad Moon Born are up next and they have become a staple of the live scene in Sydney and I'm being honest when I say this, they get better every time I see them. They have a formula and such a great sound and what they're doing just works. They're a tight band and they have this shit down. It's always a big ask when a band tries to cover Led Zep but they smash it out of the park. If you haven't had the chance to catch these guys or only decide to turn up for the main bands, do yourselves a favour and next time these guys are on a bill, watch them.
OK this'll be interesting. This will be the first time I'm hearing Skid Row with their new singer ZP Theart. As they walk on stage to The Ramones and with a 'Hey Ho Let's Go' sirens ring out and the opening of 'Slave To The Grind' hits the band explode onto the stage and damn they have this down. Yeah I'm sold, ZP sounds great! He nails the screams, nails the notes and this is gonna be good. Up next is 'Sweet Little Sister' and it just sounds so good and they are not fuckin' around.
As the bass riff of 'Piece Of Me' rings out and the guitar kicking in it's my childhood being played in front of me. The twin guitar assault of Scotti and Snake is the basis of this and with the driving bass of Rachel you can actually get past the fact that it's not how it was, in fact it's almost better. 'Living On A Chain Gang' is a great choice for the set and keeps the groove going. Oh yeah 'Big Guns' ripped the place a new one but '18 and Life' is one that you could tell many here were waiting for. It was belted out with passion and heart and with justice to the original. Damn that's a good song. 'Makin' a Mess' continues the onslaught and I've always been a fan of the breakdown followed by a blistering solo by Scotti Hill. 'Medicine Jar' from the criminally underrated 'Subhuman Race' gets a run and that was heavy!
Rachel takes to the mic after thanking us for everything it of course takes the set into 'Psychotherapy' and it sounds just as good if not better than it did when I heard it live first back in 1993. An acoustic makes its way to the front of the stage and as Snake and Rachel intro 'Quicksand Jesus' this one has always been a favourite and hearing ZP sing it was awesome. He has the range for it and it's a worthy addition to the set plus with Snake's kick ass outro solo they smashed this one out of the park.
The following twelve and a half mins of 'Monkey Business' was epic. A mid song guitar dual with Scotti and Snake was awesome and with a little 'Cowboys from Hell' thrown it was sweet. ZP hit the notes big time on this and if you weren't sold before then this one would've tipped you over the line for sure. The band leaves the stage after that song of epic proportions for a breather and now the acoustic is back out front and it's time for 'I Remember You' wow. Nailed it, that song is such a big song and with ZP in tow now he delivered it the way it should be heard. Special mention to Scotti Hill's guitar solo in this one too as the emotion still shines through even after almost thirty years.  'We Are The Damned' follows which another newish one. Trading solos was a nice touch and I didn't say it before but Snake is absolutely on fire tonight, his playing has somehow gotten even better from when I've seen them numerous times in the past.
It's midnight, the lights have come on, and surely they won't cut them off? Not with one to go?! Oh man that was lucky, we get the closer and it can only be one song, the one where they call us problem child, and we spend our lives on trial, and we walk and endless mile, yeah that one where we are the 'Youth Gone Wild'. It's a crowd pleaser and as the final notes rang out and the band take their worthy cheers you could see how happy people were, they just got one kick ass rock show and yeah a new singer can be a tough thing to grasp and people may think the thing missing from Skid Row is the voice that left twenty two or so years ago but I can tell you, being here tonight, there was nothing missing for me. This is the best I've heard the band sound in years.
Essential Information
Venue: The Manning Bar – Sydney
Date: October 20, 2018
Presented by: Silverback Touring
Website: http://www.skidrow.com
Set List:
Slave To The Grind
Sweet Little Sister
Piece Of Me
Living On A Chain Gang
Big Guns
18 And Life
Makin' A Mess
Medicine Jar
Psychotherapy
Quicksand Jesus
Monkey Business
I Remember You
We Are The Damned
Youth Gone Wild