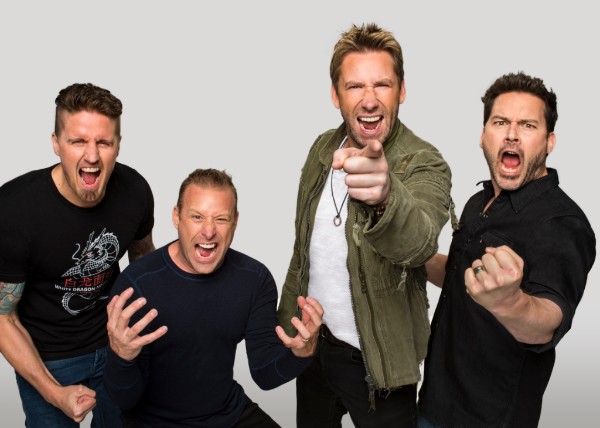 "Well it's really, really important to us to be impactful and leave people feeling like they saw a great rock show, if you've seen them all you know that the band can play, you know that the band can sing and the show is going to be something that'll leave a mark on you…"
From Release: Nickelback return to Australia with their  biggest and loudest production yet, a high octane show of tracks from the band's enduring nine-album body of work such as all-time classics, 'How You Remind Me', 'Far Away', 'Burn it To the Ground', 'Gotta Be Somebody' and more recent hits from their current album, Feed The Machine, such as 'Song On Fire' and 'Must be Nice'.Testament to their everlasting energy, Nickelback boast twelve consecutive sold-out international tours, performing to more than eight million diehard fans.
Mike Kroeger of Nickelback gave us a call just in time to be my personal 600th interview for the site to talk about Nickelback's forthcoming return to Australia in 2019, their latest album 'Feed The Machine', their live show, and much more…
Thanks for your time today, Mike, it's great to chat to you.
Oh no I'm happy to be to talking to you about our upcoming visit, I always look forward to doing this because I've done the Australian phone media for well, years and it's really cool to be announcing that we're going to be coming back down.
Of course as you just said you're heading back to see us next year, now as you continue to release albums what's the process like and how hard is it to put together a set list these days?
It's not easy to put a set list together these days unfortunately I don't really think we're of the mind of Bruce Springsteen where we go up there and play for four hours or whatever. We've all found ourselves going to concerts of artists who we really love and then we just get really kinda over served so to speak. I think after an hour and a half or two hours you really start to fatigue people *laughs* so we try to keep it concentrated and compact into that timeframe and as  a result we have to throw out songs that were, well, number 1 hits in many countries *laughs* you can't get it all in there, so it is difficult, it's very difficult, but what we try to do is do a little bit of preliminary research about what songs worked everywhere because there's some songs that were a big deal in one country and never even noticed in other countries so you do your regional research and that helps us out quite a bit. We actually default back to that because it's so hard to decide otherwise.
Now, I've seen you every time you've been to Australia heading back to 2001 when you played the Metro Theatre here in Sydney…
Awesome, awesome!
Since then obviously the gigs got bigger, how have you personally seen your popularity grow in Australia since that first visit?
Well you know Australia has always been a welcome place for us, from the very beginning OZ has opened its arms to us and we've really enjoyed that hospitality and that welcomeness in Australia, It has gotten bigger and I've heard talk that this album, the 'Feed The Machine' album actually sold more in Australia than it did in Canada and we had like our biggest debut ever in Australia with this album which is kinda crazy, the ninth album is the biggest and makes the biggest splash? It's fantastic.
Do you have a favourite memory from one of your many trips down here?
So man, so many, it is a little bit hazy at times because South Australia has awesome wine and we have had a lot of it *laughs* but everything about the country, I couldn't pick one place or one instance, it's just been fantastic from going shark diving off the south coast, to going to see the surf on the west coast, going to manly, it's just really great, really, really great.
Back to the live show, as your live show is how I sell people on you guys, it's a true rock and roll show, what is it about the live aspect of this band that you enjoy the most?
Well it's really, really important to us to be impactful and leave people feeling like they saw a great rock show, if you've seen them all you know that the band can play, you know that the band can sing and the show is going to be something that'll leave a mark on you, and that's kinda how we want it to be because it comes down to a really, really simple concept which is we just want everybody to feel like they got a good deal, you know they came to the show and they left happy that they came because how many concerts have you been to where you walk out you get in your car, drive home and go to be and you wake up the next day and you can't remember a damn thing about it because nothing that impressive happened. We want to leave a mark; we want people to go home with their ears ringing and happy and to remember the show being good.
I'm a big fan of pyro and fire, can we expect these old favourites to come along with you to Australia?
Well we haven't been using the fire for quite some time and there was a little bit of concern that when we turned off the pyro that there would be some kind of outcry or whatever, and to be honest the only people that have mentioned it is the journalists, really, because I think it's one of the questions that people can always ask us, like they'll always ask KISS about it, it's one of those sorta easy targets, but no we haven't used it for a while. No, we're not talking about using it in Australia but I wouldn't rule it out, we have been in just recent weeks talking about perhaps bring back those special effects.
'Feed The Machine' has been out now for over a year, nine albums in and the cycle has been amazing for this one, what do you put that down to?
You know that as it applies to Australia I think that Australia is a very distinct place and certain things I think just react to people honestly in Australia and they love them some rock, they love rock and they love to rock and this album being a focused hard rock album I think that's what resonated. Just like I think there's other anomalies, like look at what Pink does in Australia, I mean it's unprecedented, it's crazy what she does in Australia and that's just because her vibe reacted with the people, they heard, saw, experienced and went holy shit I love this and she's a perfect fit for Australia and it looks like hard rock is too because when we released this album which is predominantly rock and heavy hard rock that we had a great outing, it really went well.
You've now been doing this for over twenty years, so in that time, what's the biggest thing you've learned from being in a band you didn't expect was a part of it when you started?
Probably the thing that we never really thought of was getting older as band *laughs* you know what I mean? There's just different things that come into play for you as you get older that change things up, like you evolve, people have to evolve I think, you must, if you're in a suspended state of animation that's not where you want to be, and over the course of as you said over twenty years there's a significant amount of evolution that takes place and you've gotta figure out how to fit that into what you're doing and you know by the same token that you can't necessarily act like you're still twenty and going nuts when you're in your forties, you also cant evolve so much that you evolve right out of it *laughs*.
Other side of that, over time it's easy to say what's change within a band but what would you say is the one thing that's stayed the same in your time in Nickelback?
You know what's stayed that same and I've never been asked that before, it's a great question and I have an answer for you, what's stayed the same is that when we're on stage playing live that is the happiest ninety to a hundred and twenty minutes of the day, no question. Any interpersonal details or whatever they all go away, when we're playing live it's happy, it's fun, it's what we feel like we're meant to do and it's the greatest and that's the thing that has stayed the same the whole time is when we play live we have a great time playing music.
And it shows and that's why I keep coming back, you guys are phenomenal live…
Thanks very much, man, appreciate that.
You've done a lot over your career but what's on your bucket list of things to do as a band that you haven't yet had the chance to do?
Bucket list… hmm… geez I don't know, because there are some bucket list things that we have already done, playing Madison Square Garden and things like that are really cool, and getting to see all these countries that we would never visit just to play music for people it's incredible. Bucket list? I don't know, I think I can safely say to you that if Chad woke up tomorrow and his vocal chords didn't work anymore which would probably get a lot of coverage in social media, some people would be stating they were really happy with that, but I think that we would all be able to be at peace with it and know that we did it, that we had a great time, that we had fun. I think as far as bucket list goes I can't think, I feel so blessed and lucky to have seen and done the things that I've seen and done and that we as a band have seen and done, I couldn't ask for more, it's been an incredible life experience.
Lastly, let's predict the future, so if you can finish this sentence for me, in 2019, Nickelback are going to…
try to figure out to figure what to do in 2019 *laughs a lot* that's one thing that I can tell you about Nickelback is we are not good at long term planning and when I say long term I mean like three months *laughs*. So the fact that I know that we're coming to Australia in February in our world is kind of unbelievable and not common. So in 2019 we might… who knows, I don't I have no idea, I honestly have no idea.
On a personal note you're my 600th interview so thanks for being a milestone for me!
Wow! You've done some things, holy shit, that's a lot of interviews, man, you must be good at it.
NICKELBACK
Feed The Machine Tour – Australia 2019
– All Ages Shows –
BRISBANE ENTERTAINMENT CENTRE
WEDNESDAY FEBRUARY 13
QUDOS BANK ARENA, SYDNEY
FRIDAY FEBRUARY 15
ROD LAVER ARENA, MELBOURNE
SATURDAY FEBRUARY 16
TICKETS ON SALE 9AM THURSDAY OCTOBER 11

For complete tour, ticket and VIP Experience information, visit: 
nickelback.com
badwolvesnation.com
livenation.com.au
Essential Information
From: Vancouver, Canada
Band members: Chad Kroeger – lead vocals/guitars, Ryan Peake – guitars/backing vocals, Mike Kroeger – bass, Daniel Adair – drums
Website:  https://www.nickelback.com
Latest release: Feed The Machine (Out Now – Warner Music Australia)