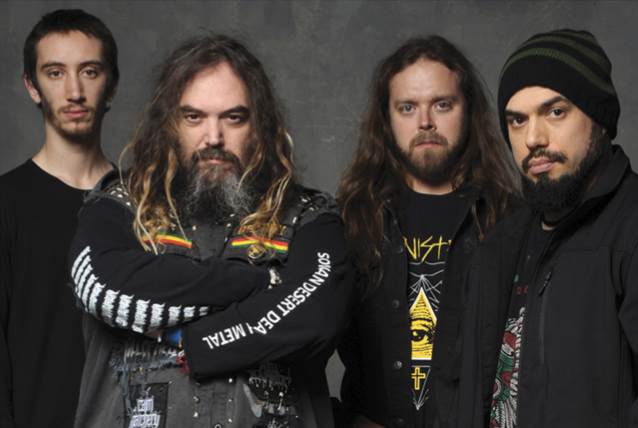 "…I think we're all very connected to rituals whether it be inside your own life, or society, or in metal, there's a lot of rituals in metal I just found it a word I was completely attracted to this word and I thought it would be great."
Two decades into their storied career, SOULFLY continue to engender near cultish zeal with each subsequent album and tour. In that sense, the group's eleventh full-length, »Ritual« [Nuclear Blast], lives up to the promise of its name with a metallic ceremony of the highest order. The iconic gold-certified quartet— Max Cavalera [vocals, guitar], Marc Rizzo [lead guitar], Zyon Cavalera [drums], and Mike Leon [bass]—cast their word in bludgeoning riffs, thunderous percussion, and menacing growls. The title proves apropos to say the least.
While he was at home in Phoenix, Arizona we gave Max Cavalera a call to talk about the new Soulfly album 'Ritual, its creation, what it represents, evolution, saxophones, and much more…
Always good to speak to you, Max, it's been just over a year since we last chatted, so let's catch up, how has the last year been for you?
Been really good, man, really busy, a lot of touring, we actually have done a lot of The Return To Roots, a lot of Soulfly touring with 'Nailbomb', we finished the Cavalera record, finished the new Soulfly, just busy, busy, busy, taking care of metal you know but it's been really good.
'Ritual' is the bands eleventh album, what if anything did you do differently with this album compared to any of your previous releases?
Yeah I think the fact that we decided to take a look back in our career and kind of like revisit some of the early moments of Soulfly especially in the tribal department you know the tribal groove of the early stuff, 'Soulfly 1' and 'Prophecy' especially. We recorded with the Navajos and kind of similar in a way that we did with the Xavante on 'Roots', and that came out amazing with the chants and I think record itself is quite explosive in many ways it's got all the elements that make Soulfly what Soulfly is today, the groove, the power, and the death metal / thrash metal elements you know. We even went on an adventure a bit with 'Feedback' which is a bit of a Motorhead kind of a tribute kind of song, so yeah it was a fun record to make which I think is going to be even more fun to play live.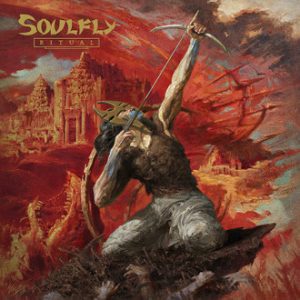 It's such a strong word, what does 'Ritual' represent to you in terms of this album?
Rituals are written on our DNA in humans, I think we're all very connected to rituals whether it be inside your own life, or society, or in metal, there's a lot of rituals in metal I just found it a word I was completely attracted to this word and I thought it would be great.  It's really open, I mean with the album cover we could've done a thousand different things, we could've had a voodoo ritual, could've had an African ritual, could've had Aleister Crowley, it was totally an open thing and we kind of left that open. I settled for a tribal warrior shooting a bow and arrow at the sky, very symbolic with some really nice colours it was the same artist that did 'Archangel', Eliran Kantor but the name itself I like to leave it open it's anybody's interpretation, whatever they want a ritual to be for them it will be I'm not here to tell them what the ritual is, I don't even know you know *laughs*.
This is your first time working with Josh Wilbur as a producer, what did he bring to the album and the band that has made 'Ritual' what it has become?
Well Josh is great because apart from being a great producer, a Grammy winning producer like made some of my favourite records over the years, Gojira and Lamb of God, Megadeth and so on, but he came in as a fan which is really interesting, I never really had a producer come in as a big fan of my work like that. Most of the producers I work with they're more like professional they're not really huge fans, they like my stuff but they're not admittedly fanboys and Josh was a total fanboy from the beginning like 'Worship', 'Chaos', 'Roots' and 'Soulfly 1' and was trying to make this record as I'd like to hear, as a fan. That's kind of cool because he's taken the side of the fans and making the album that the fans wanted to hear rather than the kind of album that I wanted to hear and by doing that I think he was pushing for one thing, I was pushing for something a little different and both of us each one pushing for a different thing gave the album this kind of feeling that is quite different from everything else we've ever done.
Speaking of different, I loved the piece Soulfly XI, very unexpected, can you tell us a bit about that piece as I never would've put Soulfly and saxophone in the same sentence, ever!
Yeah the other day some guy was doing a review of the album that said we entered a list of bands that use saxophone and it didn't ruin the song by using the saxophone which I thought was quite cool *laughs*. No, I mean Soulfly songs are a challenge, man, I've been doing this since the first record they are almost like this moment a landscape like cinematic kind of movie kind of music, very moody and I wanted something different for this one and I thought a saxophone would be the best thing. I already had the melody all done of the song and I was talking to Josh and I told him it's missing something, if we could put anything on top of this, if we could put a saxophone on top of this then I think it will be great, then I think it will be awesome. He went on and got the guy from The Pretty Reckless who is his friend to play saxophone and I really like how it turned out, it's a quite nice ending of a record.
Like you said before with the tribal elements and the brutality it's really a nice way to fade the album out…
Yeah it's cool man, I think it gives the album more depth too. A lot of times it's hard to close records the right way, the right way to close a record has always been a difficult thing even for me and a lot of my stuff's been kind of like it didn't feel like the right closing, and this one does feel like it's kind of cool, it's kind of nice. Ten tracks of real heavy stuff going on then you've got this track that's really nice and mellow so I think it's kind of cool.
Twenty years into Soulfly, what do you feel has been the biggest evolution in the way the band works?
I think the biggest evolution has been maintaining and continuing no matter what, no matter what happens in music, no matter what happens in the world, the internet, new phases, new trends come and go, we continue playing and active, putting out records all the time, like touring all the time, being relevant all the time and that's probably something I'm most proud of about Soulfly is that is that it's really kind of like a machine, it's a tribal machine.
What does being in Soulfly allow you to do that you haven't been able to do with any of your other bands?
Well this kind of stuff, like the Soulfly song is one of them, my own curiosity into the mixing of styles, combining death metal / thrash metal with tribal stuff and groove and I don't know, I've done it before but never quite like on this record like the older styles really match together on this record big time. I think that's one kind of a blessing that Soulfly has that we can do that and we don't really turn fans away by doing that, some bands have a problem growing, fans don't want them to grow, they don't want to hear other stuff they just want the same thing all the time and it's not like that with Soulfly, our fans actually appreciate when we try to do something different.
You're a frequent visitor to Australia which we love, are there any plans for Soulfly to come back and see us soon?
I sure hope so, man, next year is open for us, we're going to start our 'Ritual' world tour, there's nothing official yet but I would really love to have Australia be a part of it and in fact I would love to come and play more than we ever did like really go to all the different parts and even parts that nobody even goes and hopefully even New Zealand and Tasmania and stuff like that would be great I would love to do that, so I'm hoping that next year we can do more of that.
Because the reception you got on the Roots tour was amazing!
Thanks you man, that was really great, I also loved the Killer Be Killed which is the only shows we ever did was the Australian tour, and so Australia has always been great for me, great fans, great people and I love it and I can't wait to be back.
Lastly as always let's look ahead to the future, finish this sentence for me, in 2019 Soulfly are going to…
Rule the world *laughs*.
Essential Information
From: Phoenix, Arizona, USA
Band members:  Max Cavalera – vocals, guitar, Marc Rizzo – lead guitar, Zyon Cavalera – drums, Mike Leon – bass
Website:  http://www.soulfly.com
Forthcoming Release: Ritual (Out October 19 – Nuclear Blast)