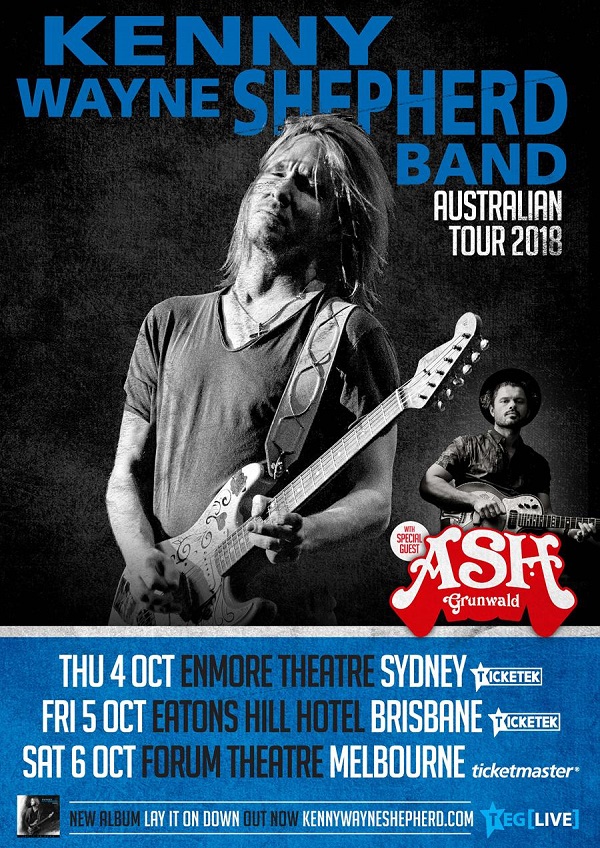 Lights go down and it's all about the blues, baby. Kenny Wayne Shepherd and his band return to Australia after many years away and as take the stage they're straight into it with 'Somehow, Somewhere, Someway', and with a solo that just looked effortless this band are on fire and some quality tambourine bashing make this the start you'd want from this blues explosion. Before the cheers of the crowd ended KWS hits the riff for 'True Lies' and I have to give a special mention to vocalist Noah Hunt here as his pipes are killer. I'll probably get sick of saying this but another brilliant solo from Kenny Wayne just showcases the talent in that man.
Noah straps on a guitar as KWS takes lead vocals for 'The House Is Rockin' and they tear it up with this old school rocker. Taking it back to 2011 with 'The Heat Of The Sun' they slow it down and damn, this sounds amazing in here. That groove and tone especially in the solo is perfection and the minimalistic style solo allows each note to shine through. The song resumes but it's not long before a lengthy outro solo which was just all love and didn't miss a note. To his newest album with 'Diamonds and Gold' which again sees Kenny take lead vocals, and this catchy little ditty with its killer guitar tone make this. Taking it back to their debut album and with the song that introduced him to the world we get 'Deja Voodoo' with kick ass blues intro and man again vocally Noah kills it. This man can sing the blues and be proves it as they get even bluesier if that were even possible with some 'Shame Shame Shame' with a piano solo thrown in for good measure this one is as smooth as silk. This one turned into an all out blues jam as you'd expect.
We return to the new album with 'Nothing But The Night' and this one is the most commercial of the night with a catchy chorus and kick ass groove and might be my favorite one yet. Some Texas blues and we're 'Down For Love' with Kenny on lead vocals again and you guessed it, solo achievement level 100, complete. Have to mention the tightness of the band here, those stop beats were perfect. 'You Done Lost Your Good Thing Now' is blues at its finest as the band get to jam and just showcase their playing talent with the aforementioned blues. Special mention to the guy behind me truly getting into it. Bloody hell Kenny took this one to another level and his guitar tone is truly outstanding. Some 12 bar blues for 'Shotgun Blues' makes sense and the crowd clapped along then 'I'm A King Bee' closes out the first part of the set with the perfect blues ending.
The band returns pretty quickly and it's time for the one that everyone here knows. It's time for 'Blue On Black' and that was awesome to hear it live and hear everyone sing along even with an odd guitar effect running over Kenny's guitar. Closing the show with some Hendrix by the way of 'Voodoo Child' complete with some showing off by Kenny as he didn't miss a note even when the guitar was behind his head. Show off (just jealous).
The crowd cheers, the band are all smiles and this has been a night of blues guitar brilliance, Kenny Wayne Shepherd and his band are nothing short of spectacular. Whether it's Louisiana, USA or Sydney, Australia, the blues baby, international.
Essential Information
Venue: The Enmore Theatre – Sydney
Date: October 4, 2018
Presented by: TEG Live
Website: http://www.kennywayneshepherd.net
Set List:
Somehow, Somewhere Someway
True Lies
The House Is Rockin'
The Heat Of The Sun
Diamonds And Gold
Deja Voodoo
Shame Shame Shame
Nothing But The Night
Down For Love
You Done Lost Your Good Thing Now
Shotgun Blues
I'm A King Bee
Blue On Black
Voodoo Child