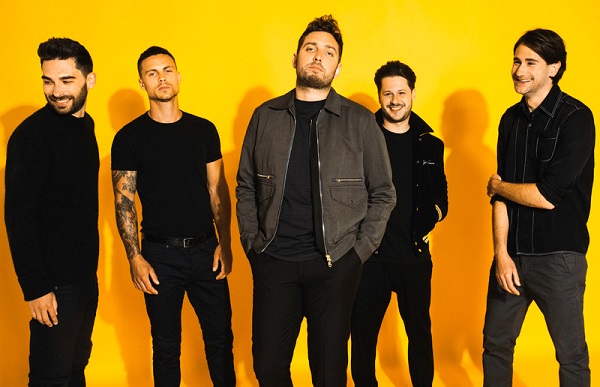 "…we needed to do something fresh for ourselves and we needed to reinvent ourselves a little bit, six records in can't keep doing stuff that feels the same, because as I said then you just become a band that just sort of bit by bit blows into obscurity…"
From Release: The band have notched up a list of considerable achievements since forming in 2004 as teenagers in Weybridge, Surrey, including four UK Gold Records, four Top 10 albums in the UK including Number 1 album Cavalier Youth, three sold out arena shows, sold out UK headline arena tours, an unparalleled 15 consecutive A-List singles on BBC Radio One, multiple sold-out US headline tours and a Number 1 rock song in UK & Australia and Top 5 Rock Radio track in North America in Room To Breathe. With VI, You Me At Six are stepping out of their comfort zone and are about to change the way you think about them. Prepare to have your expectations shifted as 2018 marks a brand new chapter for one of the UK's biggest guitar bands.
At home in London, Josh gave us a call to talk about You Me At Six's new album 'VI', their updated sound, touring Australia, advice, and much more…
Mate, always a pleasure to chat and to catch up, it's been just over twelve months since we last chatted, so as always let's catch up, how has the last year treated you?
It's been cool. It's been one of those sort of so many changes within our camp, new management, new label, I think we've sort of like fleshed out the whole squad so to speak, it's the whole new thing. It's been an incredible year for the band in terms of putting this record together, coming back and having the new songs be received so brilliantly it's been wicked. All feels really good.
For an album that's a little different for you guys, what was the process like putting this album together compared to previous albums?
I think the main thing would be that we really sort of started the record on the road which we've never really done before; we started writing the whole thing whilst we were touring 'Night People'. So that's been obviously an interesting thing and that's been because we also integrated the fact that we now write the majority of our music on our lap tops, sort of before we get into the actual studio we'll do a lot of work writing it through there and sending back and forth demos that way. Max and I often wrote with a man called Eg White who became very integral to this record, prolific song writer, but we went to write with him to suss out where we were at so why not try and learn some stuff and that's when those sessions became some pretty important songs on the record such as 'Fast Forward' and 'Back Again' and '3AM'. It's just been a new experience the recording, back recording it in England, living in the studio and being in the middle of nowhere without any distractions and just being three pubs in a ten-mile radius versus living in Hollywood, you know? Far more focused, far less distraction and we just really sort of harboured that and really just wanted to sort of focus on making sure that we delivered something that was just different and had people's attention.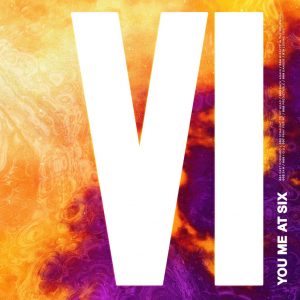 Was it important for you a as band to try something fresh?
Yeah I kinda felt if we didn't that we could be sort of in a space where we sort of start fading away. Like if you're not gonna do something different, if you're not gonna mix it up then that thing that you may not push on, it was important that we did that, that we were really starting to find our feet in a new time for the band. In general, man, we needed to do something fresh for ourselves and we needed to reinvent ourselves a little bit, six records in can't keep doing stuff that feels the same, because as I said then you just become a band that just sort of bit by bit blows into obscurity, like you're not pushing anything, no one is sitting there saying "oh have you heard the new You Me At Six record?" and they say "Oh yeah I heard it once" they listen to it one time because they've done the same shit they've done before. So we wanted to maintain the identity in what we believe to be good at so to speak, but we're amazed constantly by the fact that we really needed to embrace these other sounds that we have within our band that we want to push forward as we've done with this one.
As the band grows and continues what are you finding to be second nature now that may have been a hindrance in the beginning?
We found that we have records like 'Sinners' where every song was like its own island, we found at the time that maybe that's not a good idea because maybe are you a band that sounds like 'Bite My Tongue' or are you a band that sounds like 'Crash'? What band are you? And that was the only hindrance at the time, but I think in the world we're living in now and the way that we're consuming music through streaming services and the like I think actually your band sort of almost reinventing itself on a song by song basis is almost imperative in terms of keeping people's attention. If you get a record and you've heard three or four songs and you think yep, that's what that record sounds like then you potentially miss out on people listening to the rest of the record, I don't think people listen to music the way that they used to. So we wanted to make sure that there was a real vastness to the record that there are songs that are sort of quintessential You Me At Six rock sounding songs then also us embracing the other sort of styles that we love and that we want to incorporate into our sound.
And also doing amazing choreography in videos…
Something like that yeah *laughs*
Of course Australia is a second home for you, any idea on when we can see you back?
We're actually looking at some dates in April at the moment so we're just trying to find the touring, you know for us Australia it doesn't matter how many times we come back or whatever, every time we do I still get that kind of excited feeling at the airport because I know what I'm gonna get, I mean last time was way too short, we literally flew in we were on the ground for 72 hours and then flew home if anything it was kind of chaotic. I just love coming to Australia, I shows are going to be fuckin' sick, I know that in general we're gonna have a great time socially, every time we come back we go somewhere and one of our friends takes us somewhere new or to a new spot that's kicking off. For me Groovin' The Moo is still one of my fondest experiences of Australia, maybe because I got to see more rural Australia and also because we were there for so much longer, we were there for twelve days and you really felt like it, we did three headline shows and had so much fun and it was successful. So yeah, just really looking forward to coming back, and the Aussies know their music and they have a real appreciation for it so it's almost as soon as we sort of arrange the tour in England somebody will raise the question to management pretty instantaneously and say right, we've got our main markets down in terms of what we're doing with that, and when are we going to Australia? It's always the next one in line, ahead of America and ahead of Europe. So I think we're just holding off as we might be coming out with another band we're just waiting to see how that situation might materialise but if we do it will definitely be very exciting. If not we'll probably come out and headline, we're just working out what the right move is.
Looking back to your beginnings was there one piece of advice you received when you first started that you still go back to to this day?
I just remember somebody from New Found Glory said like don't focus your energy on people's opinions that you can never change, focus on your fan base and nurturing that, respecting that and what you put in to that and the energy and the love and the focus that you put into the positive stuff within your band is what you'll get out of it. A piece of advice my Dad gave me was that whatever you do, when things are going well don't get carried away in the highs and in the same time when things are going bad don't get carried away in the lows, keep perspective on everything because nothing stays the same forever bot the negative and the positive. So I think sometimes there were times when I needed to really dig deep, I think we all did it collectively and at different points but don't let the shit times define whether or not the good times are as good as they can be or vice versa. Yeah, it's just important man, everything in moderation in life and that goes with emotions as well, you're gonna accept that you have good periods and bad periods and it's not about falling away or getting carried away in either or, so it's just important to have some sort of perspective on this thing called life.
Lastly let's look ahead to the future, finish this for me, in 2019 You Me At Six will…
Be playing in Australia, probably. *laughs* I don't know, that's the other thing I've realised is trying to determine too much about what's gonna happen, and where and where things are gonna go is unfortunately out of our control so we just have to focus on what we can control and what we can control right now is continuing to be creative, making sure we're working hard to be ready for our touring and we've set ourselves targets and we want more releases to come, and new music to come out so we're already working towards that and that's something to look forward to music wise as well for next year, so we'll see.
Essential Information
From: Surrey, England
Band Members: Josh Franceschi – lead vocals, Max Helyer – rhythm guitar, backing vocals, Chris Miller – lead guitar, Matt Barnes – bass guitar, Dan Flint – drums, percussion.
Website: http://www.youmeatsix.co.uk
Forthcoming Release: VI (October 5 – Underdog Records / Cooking Vinyl Australia)