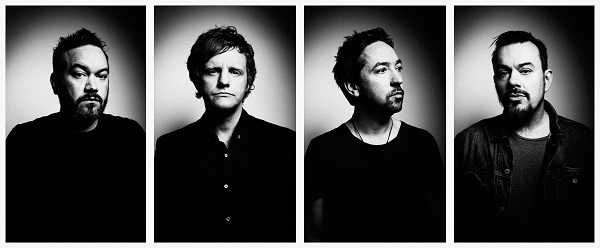 "There's something to be said for playing with the same four guys for thirty years, there's a sort of element of tightness that you can only get from that familiarity between those four characters…"
From Release: Picture this… 1988, Bob Hawke is Prime Minister, Australia dumps $600 million bucks of tax payer cash on Expo 88, Home and Away hits our tellies for the first time, triple j launch the Hottest 100, Nintendo release the Game Boy, free University education is no longer an option, and over in Wellington NZ, the Southernmost capital city in the world, Jon Toogood and Tom Larkin are busily creating a heavy rock band…. A monstrous band that would end up becoming one of New Zealand's most loved, respected and successful exports….. KIA ORA SHIHAD!
Fast forward to 2018… Shihad have released nine studio albums (five of which went to #1 in NZ). They survived a name change propelled by Jihad becoming a staple negative reference in the global vernacular thanks to 9/11 (Shihad became Pacifier, and returned to Shihad), personal triumphs and tragedies, travelled all over the world with endless tours, selling out headline shows and sharing stages at major local and international festivals.
Shihad front man Jon Toogood gave us a call while in his home town of Melbourne to talk about thirty years of Shihad, the tour supporting that momentous occasion, amazing memories of releasing 'The General Electric' which turns twenty this year, what's next for the band, and much more!
Firstly, congratulations of thirty years of rockin', man…
Yeah it's pretty crazy, dude, yeah that sort of happened real fast.
Did you think when putting it together back in 1988 that thirty years on Shihad would still be a force?
Not at all, I remember when we were really young we made a plan to be the biggest band in the world by the year 2000, obviously that didn't happen but we did learn some stuff along the way and became quite a grunty live band and made some cool records and stuff, and yeah every year I know it's like we seem to find ways around writing hard guitar music that we haven't tried before and we really enjoy playing with each other and managed to stay creative which is really good.
In support of this momentous occasion you're heading out on the road, how will you be putting thirty years of the band into these shows?
Well as well as being the thirty years it's also the twentieth anniversary of 'The General Electric' so I do think we're gonna have to play the main bulk of that record and then basically go through our favourite songs of pretty much every release I'd say. It'll be a pretty intense workout.
So roughly a four hour set then?
*laughs* Yeah nah… honestly because I'm 47 now, as soon as I hear the first note of a show I'm pretty much back to where I was when I was 18 years old, so yeah my body couldn't deal with four hours, hey *laughs* not a chance, the shows are just as intense as they ever were.
So can we expect climbing and jumping off speaker stacks?
Well, if the mood takes me, like I tend to actually enjoy playing better now rather than doing that, in saying that it just depends on the moment *laughs*.
In playing shows for years and always killing it live, what do you enjoy most about the live aspect of the band?
There's something to be said for playing with the same four guys for thirty years, there's a sort of element of tightness that you can only get from that familiarity between those four characters it's just this unspoken I know where he's gonna be, I know where that's gonna be, you have that trust and that sort of bulletproof edge that comes from playing that long with the same characters. We make a big noise, we do hard music really well, it's our natural sort of thing, but I do like especially with this sort of set I do like the physicality of it, I like the fact that it's a challenge and then it forces me to be in the present moment, like you have to be completely there to pull off this stuff I do like that because I'm a typical artist and my mind tends to wander if I'm not nailed down and that's why I think I was attracted to playing music like this in the first place because you can't afford to be anywhere else but in the present moment you know to pull it off.
You'll did mention you'll also be celebrating twenty years since the release of 'The General Electric' and with it coming on vinyl, but let's look back, what do you remember about releasing this massive album for you?
All I remember was we'd just done 'The Fish album' and that was our first album before sort of set us up because initially our first few records were all about just riffs and stuff like that and we're just basically creating ammunition for mosh pits and stuff like that really and big PA's and weren't really concerned about writing songs and then on 'The Fish album' I went what's it like to write songs? It was a bit hit and miss that record but at the same time  it's got songs like 'Home Again' on it which have become sort of like classic New Zealand songs and stuff like that but that's just through experimentation. Then  after that was like cool, it's our time for writing songs but we sort of forgot that live were this massive wall of sound and we needed to make a record that sort of encounters both those things, I think we just focused and were really determined to pull that off. Then just through twist of fate initially we signed with warner Brothers Australia and they said as part of the deal you have to make a commitment to this territory ie move over, so we all moved over and chose Melbourne as our home base because it was the most like New Zealand, and because we all lived in the same house we didn't really have anything else so it was just music every day, focus, focus, music, music, write, write, write. Then through some contacts we made we hooked up with Garth Richardson, the producer of The General Electric and he was the guy that did Red Hot Chili Peppers 'Mother's Milk' which we loved and then Rage Against The Machine's first album that we also loved, so it was like he flew down from Canada when he heard the demos we'd done and went "OK let's make a huge rock record" and it was like Ok fuckin' let's do it.
So we all cruised over to Vancouver and just focused like hell and worked really hard on songs and then basically recorded in all these dream studios, the same studios where Motley Crue recorded 'Dr Feelgood' which we thought sounded huge at the time, just lived our rock and roll fantasies basically *laughs*. Then I remember mixing with Randy Staub who did Metallica's Black album and was a friend of Garth's and we were mixing at Bryan Adams' studios and AC/DC were tracking their what became 'Stiff Upper Lip' or 'Ballbreaker' I can't remember which one it was but they were downstairs in the same studio tracking while we were upstairs mixing 'The General Electric'. I just remember every day was like bumping into Malcolm Young or Brian Johnson saying "hey I made some Irish stew do you want some?" just thinking fuck life's good *laughs* there's like my favourite band in the world, I'm upstairs mixing a record I love with a guy who did Metallica's Black album and there's AC/DC offering us Irish stew and asking us how the mixing is going. I just remember thinking yeah this is what I want *laughs*. I just remember we sent back the first mixes back to the record company and them going shit this is a behemoth but again at that point in Australia we were still driving around in a canary yellow ford falcon station wagon up and down the country and playing pub gigs rubbing out the part on the posters of whoever wrote in brackets it would always be Shihad (NZ) and we'd always rub out the (NZ) because we just wanted to be known as a band not a New Zealand band we wanted to be a band from anywhere so we rubbed that out, go and play anywhere that would take us. But around that time we had that record and then we were offered The Big Day Out but we were only going to be on one of the side stages and then I remember Jay from Frenzal Rhomb breaking his arm about a week before the first Big Day Out of that year and they had to pull out and they were on main stage, first band on admittedly, or second band on, and we were given their slot and we just went OK here's our chance got this great record and I remember spending most of the time crowd surfing *laughs* and doing anything I could to make people just go 'oh this band's the shit' basically and we had the material to back it up.
Now nine albums in as a band, and four years since your last, what's next musically for the band?
We've already got a huge body of work sitting around, for me 'FVEY' is one of the records I'm most proud of which is really strange for this far into a band's career to potentially write a record that's quite relevant and quite potent, and it was pretty weighty politically, pretty angry record and if anything I think the world's in even worse shape than it was when I wrote that record. So we've got a whole bunch of music, it's heavier than even that was, I'm just trying to not repeat myself lyrically so I'm waiting for the inspiration to not do that because if anything I'm even more angry about the way the world is *laughs* but it is going to be one heavy motherfucker basically.
So it's sometimes easy to say what's changed in your time in a band but what would you say is the one thing that's stayed the same in your time together in Shihad?
I think we've got a real attention to detail when it comes to the live show, we were lucky enough back in the say to support AC/DC even when we had a speed metal EP we were asked to support them on the 'Razor's Edge' tour in New Zealand, seeing that up close and going oh shit, right, that's the benchmark for a live show, that's how much work you have to put in. Then seeing Fugazi the was another band from Washington DC that we saw and went oh right you don't need big light shows you just need passion and the truth, and then coming over and we supported The Mark of Cain from Adelaide they were really good. The next time we came to Australia we supported Midnight Oil on their greatest hits album and just watching Peter Garrett as a front man just giving everything, We were really lucky to see all these bands that could actually fuckin' turn it on, like really turn it on and go OK, we've gotta work much harder than we're working and we had a really good work ethic, whatever it took to be that band it was a band that people would bleed to come and see again. That meant sacrificing a whole bunch of time with the family and missed social life but we were cool with that because we were passionate about that and we still are. I think once you've played a great show, a show that actually makes people buzz and forget about all their problems and makes you forget about all your problems as well, I think it's really hard to step back from that and  we were always pushing to make sure that happens and that's never changed. It's sacred our time on stage, whenever we're together now especially now that we've all got kids and other things going on in our lives, when we come together it's like this has got to be good so we fuckin' give it everything.
After thirty years what's on your bucket list of things to do as a band that you haven't yet had the chance to do?
Well we haven't supported The Stones and I don't think that's going to happen *laughs* that would've been good but the last time they were in New Zealand they brought who's that fuckin' awful band from Canada that's huge, that one with millions and zillions of records? Oh, Nickelback, they brought Nickelback so we just didn't get a look in *laughs* but it's one thing I would've loved to have done. I mean we supported Black Sabbath that was pretty good, we supported AC/DC a few times that's definitely bucket list stuff for me. Oh, supported Metallica, pretty happy with that, haven't done Slayer but we're probably a little soft for Slayer *laughs*.
Lastly let's predict the future, finish this sentence for me. In 2019 Shihad will…
Have a new album that's heavier than anything they've ever done before *laughs*.
One more thing, on a personal note, I wanted to say thank you for your amazing track 'One Will Hear The Other' which is one of my favourite songs.
Oh awesome, bro, I really like that, that's really cool because that definitely divided fans that one if you were into the heavier stuff that was a wussy pop song, but for me it was like just a rush of rock and roll that song, I really like what it's doing melodically and I never structured a song like that, it just hits and doesn't let up I'm really glad you like that song, we love that song ourselves.
Feel free to throw it into the Sydney set list when you play here please.
For sure, bro, I'd be right into it.
SHIHAD 30th ANNIVERSAY TOUR
Fri 16 Nov – Rosemount Hotel – PERTH, WA – Tickets
Sat 17 Nov – Metropolis – FREMANTLE, WA – Tickets
Sun 18 Nov – Fowlers – ADELAIDE, SA – Tickets
Fri 23 Nov – The Triffid – BRISBANE, QLD – Tickets
Sat 24 Nov – The Metro – SYDNEY, NSW – Tickets
Fri 30 Nov – 170 Russell – MELBOURNE, VIC – Tickets
Also appearing at: 
Sat 1 Dec – Hotter Than Hell – TOWNSVILLE, QLD 
Sat 19 Jan – Hotter Than Hell – GLADSTONE, QLD 
Sat 26 Jan – Hotter Than Hell – TOOWOOMBA, QLD 
Sun 27 Jan – Hotter Than Hell – GOLD COAST, QLD 
Sat 16 Feb – Hotter Than Hell – IPSWICH, QLD 
Essential Information
From: New Zealand
Band members:  Jon Toogood – Vocals / Guitar, Tom Larkin – Drums, Phil Knight – Guitar, Karl Kippenberger – Bass
Website:  http://www.shihad.com
Forthcoming Release: Vinyl release of 'The General Electric' (October 12 – Warner Music – Preorder here)