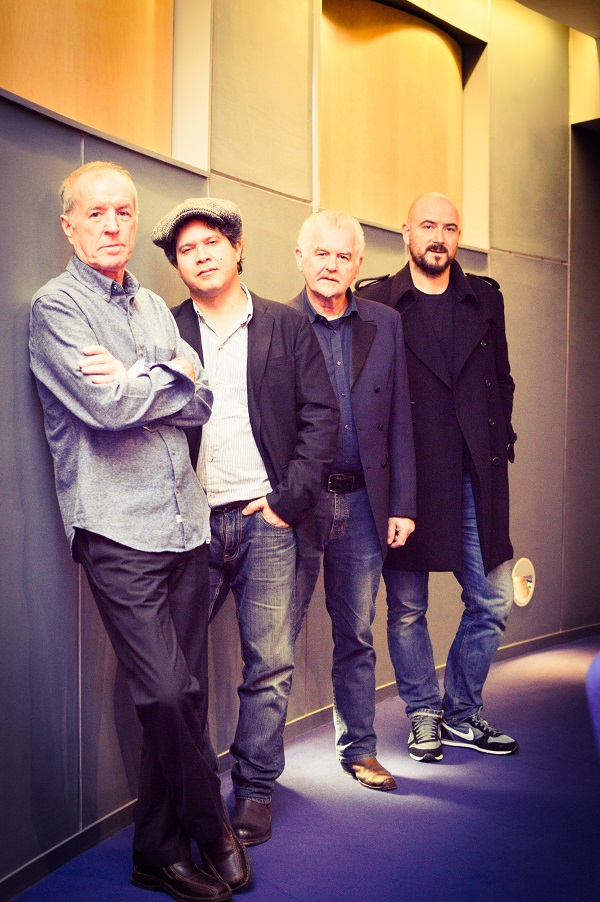 "I've got to say this quite honestly, everything we've done I've thought there's nothing wrong with that, I still love to do it, I still love playing these songs."
From Release: THE ANIMALS are one of the most influential and admired bands to emerge from the British Invasion. THE ANIMALS will return to Australian stages this November, bringing with them more than 50 years of iconic rhythm and blues rock. Founding member and drummer John Steel will be joined by Mick Gallagher, the bands original keyboardist, Danny Handley on guitar and vocals and Roberto Ruiz on bass and vocals, as they perform all the classic hits including We Gotta Get Out Of This Place, ranked #223 on Rolling Stones 500 Greatest Songs Of All Time list, international fan-favourite Don't Let Me Be Misunderstood and Boom Boom, a stand out feature on the soundtrack from James Bond's Skyfall. Over the course of their critically acclaimed career, The Animals celebrated 9 top 50 hits on the Australian charts, reaching #2 with their timeless classic 'The House Of The Rising Sun'. The single, which featured on the groups Hall Of Fame-inducted debut album, topped the charts in the US, Canada and UK.
At home in Northumberland we gave John Steel of The Animals a call to talk about the return of The Animals to Australia, their fifty year catalogue, the possibility of new music, being around with some of the biggest bands in the world, and more…
We're of course here because you're heading back to Australia, and with a catalogue spanning over fifty years is it tough putting a set list together for shows that aren't around four hours long?
Four hours? *laughs* I wish *laughs* We do around ninety minutes which is a fair old set, and we pack it out, we don't sort of stand around talking all the time so we get plenty of numbers in but yeah it's quite good doing a set because we obviously have to play the big hits but we've got a nice catalogue of good stuff that we kind of circulate around at you know and keep the thing fresh. It's not a big problem putting a set together.
Is it hard choosing the songs out of such a large catalogue though?
Well Danny our front man is a great singer and a hell of a guitarist but he's also a good judge of audiences and we get kind of different audiences so he has a good nose for putting songs in and leaving songs out that suit the kind of crowd we've got you know.
Over half a century have you seen your audiences become generational as your fans grow up with you and introduce their children to your music?
Oh very much so, yeah, obviously we get the older fans from way back but we get a lot of young people, actually we get the sons and daughters of the people who were our fans *laughs* and then we get the next generation then as well you know *laughs* it's a really nice mix. I think one of the strengths of The Animals was the repertoire, the catalogue is strong and still stands up so well, there's some really, really good songs and they kind of have a resonance with any generation because 'We've Gotta Get Out Of This Place', 'It's My Life', 'Don't Let Me Be Misunderstood' *laughs* they're all about they can reach any generation because the lyrics can mean something to everybody.
I know you guys didn't write it but one of the first songs I learned on guitar over thirty years ago was your version of 'The House Of The Rising Sun' and it's stuck with me to this day and I still love it.
Yeah that's a story that I've heard so many times, it's just one of those things. The number of times some young guy comes up and says the first song I ever learned on the guitar was 'The House Of The Rising Sun' there must be millions out there *laughs*. It's really something to be proud of I think that that song means so much to so many people.
Do you have a favourite memory from one of your previous Australian tours you can share with us?
We just enjoy playing in Australia, everywhere we go everybody's really friendly to us and the food's great, the wine's great, the climate's really nice for us *laughs* especially when we get over there in November, and it's winter coming on here.
Has there ever been discussion about new music from The Animals?
New music, yeah sort of… we've done a few things over the years but I don't know, we make CD's and sell them at gigs and things and people look through them and they always go for the ones that have got 'House Of The Rising Sun' or 'We've Got To Get Out Of This Place' on them and it just seems like all the crowds whatever generation want to hear what we did back in the 60's. The Animals we were never a song writing band in any serious sense not like The Beatles or The Stones or The Kinks, so we always did good cover versions of other people's songs, the biggest hits were all covers, so we've never had this need to be producing new material all the time so it's not a problem I worry about I'm quite happy with the stuff we do.
Hang on, you just made me think, you would've been kicking around with The Beatles and The Stones back in the day…
Oh yeah sure, I mean we all did, there was a lot of TV shows and radio shows in the UK at the time and every time you had a single out you'd be in the same studio and bump into The Beatles, The Stones, Spencer David Band, everybody was plugging their latest single. There was a big circle of clubs in London at the time which almost exclusively catered to rock bands so any night of the week you could finish a gig out of town drive back into London and head into a club at two o'clock in the morning and see masses of different guys from the bands. I remember one night we took an American PR man from our label in The States into The Scotch of St James club and he just looked around and there's like The Beatles, The Stones, The Kinks all mingling together talking and drinking and having a good time and he looked and said *laughs* he said to me "you know if this club was in the middle of New York City the kids would be tearing at it brick by brick to get in here" *laughs* he just couldn't believe it, it was just one of the things we had then.
You've had an amazing career so far, but is there one thing you haven't had the opportunity to do, or a place you haven't toured that you still want to?
Hmm… never been out in space *laughs* really I'm a bit stumped with that one, I really can't bring anything to mind that I desperately want to do before I shuffle off the mortal coil, I've had a very pleasant life and I feel very lucky to do what I do, I really just like getting out on the road and having a good time with the band because on the road with a  band the band does good, we get on well together, we get up on stage we do a good show and we come off feeling good and what could be better than that?
Over time it's easy to say what's changed but what would you say is the one thing that's stayed the same in your time in The Animals?
The material I think, the fortunate choice we had in the music we recorded it's really stood up well, really well,  the songs we played I call the grown up songs like I say 'We've Gotta Get Out Of This Place' and 'It's My Life' they all have a dark edge to them and there's nothing that we play that I think I wish we hadn't done that or there's nothing I feel embarrassed about when I hear it because I've got to say this quite honestly, everything we've done I've thought there's nothing wrong with that, I still love to do it, I still love playing these songs.
Music and the industry is a much, much different place than it was when you started making music, so what do you see as the best change and the worst change to happen to music you've witnessed over the years?
I think the best change in some ways is  that it's a tough game to break big in in some respect, for us back then it was easy once The Beatles… when we started out we were just fans and we were just playing stuff we liked and it was mostly American stuff, America ruled the charts and British hits were all just covers of American hits, but all of a sudden namely by The Beatles the whole thing was reversed around and suddenly the British bands were playing stuff and touring America and blowing the crowds away and that was a great time for us, and everybody want to sign a group up, the record companies were falling over themselves to sign up bands once The Beatles had shown everybody the way. So then it was kind of easy. Nowadays it's a lot more difficult, there's so many streams of music, but at the same time a young guy or girl can get some technical equipment, very sophisticated equipment in a bedroom and knock out an album, if it's good music they've got a chance and they don't have to go via the record companies anymore they can do it streaming and all on the internet now, so if they've got the right knowhow and the right savvy and some good songs, you've gotta have the good music haven't you *laughs* but they've got more ways of getting it out there and like I say they don't have to go to the record companies and say please can you make me a star *laughs*.
Lastly, let's look ahead to the future, so finish this sentence for us, in 2019 The Animals will…
Still be going I hope *laughs* the thing is, Troy I'm 77 now and I can only look one year or so ahead at a time, you know touching my head here I'm saying touch wood I feel great, I'm fit and I can still do the thing, I play well. When I can't do it to my own satisfaction I'll give it up, but until that time come I'll just keep on playing but I can only look a year ahead at a time, so in 2019 I hope I'm still doing it.
The Animals Australian Tour Dates:
October / November 2018
Wednesday 31st – Wollongong – Centro CBD
Thursday 1st – Canberra – Southern Cross Club
Friday 2nd – Miranda – Miranda Hotel
Saturday 3rd – Revesby – Revesby Workers
Sunday 4th – Sydney – Factory Theatre
Wednesday 7th – Rozelle – The Bridge Hotel
Thursday 8th – Adelaide – The Gov
Friday 9th – Adelaide – The Gov
Saturday 10th – Melbourne – Memo Music Hall
Sunday 11th – Melbourne – Corner Hotel (Matinee)
Tuesday 13th – Shoalbay – Shoalbay Country Club
Thursday 15th – Sawtell – Sawtell RSL
Friday 16th – Gold Coast – Twin Towns
Saturday 17th – Brisbane – Hamilton Hotel
Tickets from: https://metropolistouring.com/tours/the-animals-2018/
Essential Information
From: London, England
Band members:  John Steel – Drums, Mick Gallagher – Keyboards, Danny Handley – Guitar / Vocals, Roberto Ruiz – Bass / Vocals
Website:  http://www.theanimalswebsite.com