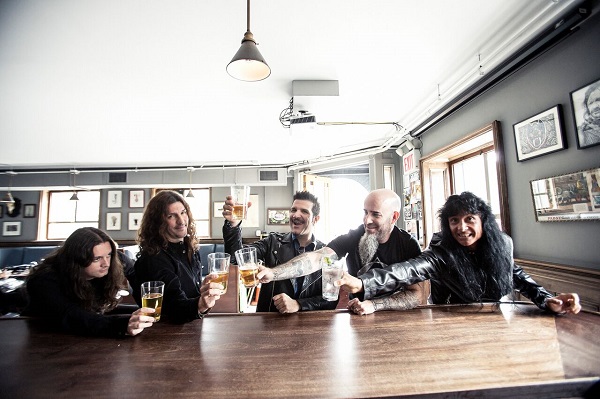 "I want to be exhausted when I come off that stage, otherwise I feel like I've cheated, I don't want to cheat anybody, I have to be exhausted and I think that's what the band does and I'm very proud to say that too."
From Release: It's rare that a career gets a second shot, let alone a whole second act, but then Anthrax isn't your average band. Formed in New York in 1981, the group that would go on to sell over ten million records and become the living embodiment of America's hi-top wearing, riff-spitting, ear-thrashing answer to the New Wave Of British Heavy Metal has undergone not one, but two complete eras – but that isn't their real achievement. More than the group who let a fledgling Metallica crash on their studio floor in 1983, who became a lightning rod for geekdom by immortalizing Judge Dredd with "I Am The Law" in 1987, who enthusiastically raised a middle finger to the critics and unimaginative fans alike by collaborating with rappers Public Enemy in 1991, and who – in 2011 with the release of 'Worship Music' – proved that classic albums aren't a bygone concept, the story of Anthrax is one of gritty determination in the face of outrageous odds, and one of the Big Four alongside Slayer, Megadeth, and Metallica!
At home, a rare place to be for him so he tells us, we gave Frank Bello a call to talk about the return of Anthrax to Australia for Download Festival in 2019, new music, their thirty plus year career, we nerd up talking Avengers, and much more…
It's been just over five years since we last chatted, so let's catch up, how have the last five years been for you?
On tour *laughs* to be really honest with you, but the record came out three years ago, almost three years ago and I'm excited, and happy to say this and humbled and all the good stuff that comes with it, I'm very excited to be where we're at right now to be touring the same record going on almost the third year and when we get to you guys it will be the third and half year. So it's been great and I couldn't be more excited about what's going on with the band and the acceptance and the rejuvenation and it's just a whole new fan base since we did the Big 4 it's a whole new fan base which is great for us and really gave us a shot in the arm about making a whole new generation see us along with our own core audience that we're thankful for. So it's been a great run and currently we're on this Slayer farewell tour facing the biggest houses in America and selling them out, if they're not sold out they're packed to the gills every night. So we're going to Europe and we just did two legs of that in America, we start off in November again in all of Europe, it's been a great run
We're here because Anthrax are headed back to Australia for Download festival, it's been a long time since your last trip here, how does an Anthrax live show shape up these days?
I think in my opinion from what I've been told *laughs* you have a bunch of lunatics on stage I think you have the energy from the music drives the band, and the crowd let's face it when you go to a show I don't think it's about the band, I think the energy that happens from the crowd with the band together, that one energy that you make together that's what the vibe of the show is, so that's what I look forward to. Coming to you guys in Australia, number one we love it there you know that but coming there after all this time with a new record that you haven't heard yet plus a catalogue that we haven't played for you in a long time it just leads to pandemonium I'm just really looking forward to just giving it all we have because we love the place and that's not a kiss up it's just the truth, we truly love it there, we have a good time there.
It's a crazy festival already with more to be announced but is there anyone on the bill you're going to make sure you catch?
Oh man, I keep reading there's so many, you know what's funny about these shows? You know what happens when you actually get to the show? You can't see anybody, you get bombarded with everything and the bands you actually want to see you're doing something else. I guarantee there's gonna be a list right? *laughs* and I'm not complaining, I'm happy we're able to do press and all that stuff but there's certain bands that you would want to see I'll probably just watch the video on YouTube and that's where it's gonna go.
You've been out on the Slayer farewell tour, what's it like watching one of the Big 4 bowing out?
Well here's what I think and I've been thinking a lot about this lately, I don't feel they're bowing out, this has been coming for a long time, I've been talking to Tom for a long time about this and this could've happened years ago. They need a break, it is their farewell because I talk to them all the time I'm very close to these guys , it is their farewell tour, they're having a great time doing it, I can't believe the amount of people that are coming to the shows in America. The bigger places in America and if they're not sold out every night they're packed to the gills, so metal is alive and well and I'm proud to say that. They have a great big fire ridden show that everybody should see, plus the package we're doing is also Lamb of God, us, I think Behemoth was on one of the legs, we had Testament, it's been a lot of fun.
I'm hoping the two of you can do a couple of sideshows here that would be amazing…
Let me tell you something, that's one of the things I really hope. That way we can play a little longer because you know festivals you have a certain time allotment, I'm really hoping we get to play some sideshows I don't care who it's with we'll play with anybody I'd just like to do some sideshows so we can have a bit of a different sort of set.
After doing this now for over thirty years, what do you still enjoy about being a part of Anthrax?
I never know what's gonna happen next. Here's what I love about being in Anthrax, now we've been together as you said over thirty years, I love that we're gonna start writing a record in January and we're on this high right now and I can say this for all of us right now, the fire in our belly just because of what's happened lately specifically with the last two records and the high that's created and we feel like we're in a good writing vein we've tapped into a really good writing vein and we know what we like and we feel if it's meeting that fire in our gut, because we're die hard metal fans and we don't let go of a song until it's ready that's why it takes so long to write Anthrax records, I can't wait to see what's next of this been because we just went into the second part of it and my god, it's getting really exciting is not the word but man, it's a page turner and I just like the fact that I'm in the band and I can't wait to see what we come out with just because I know the anticipation is there for other people to hear and they're curious as to what we're gonna come out with, as I am. So I'm a fan of writing the music and being in the band with the guys, it's so much fun and it's exciting, I look forward to it.
So you've been writing but do you have an idea when can we expect new music from Anthrax?
When it's right, it's not gonna take forever but it's gotta be right, nobody's gonna let out anything. The great thing about where we're at right now is nobody's pressuring us, so you don't want to put out something that's not ready, it's just not in us to do that to tell you the truth that can't happen we're too stubborn, we're way too stubborn, maybe that's a New York mentality thing but we're way too stubborn to release anything before its time, it has to be right, we all have to agree to it, it's gotta meet that fire in your belly as a fan and hopefully it will project and make other people feel the same way that they get that fire in their belly. That's what's been happening with the last two records, and I can tell ya you can feel the nucleus of the band it's going to be a heavier record, you just feel where we're at right now, there's a lot of angst inside the band which is awesome and I don't know where it's from to tell you the truth but I feel that lends itself to a great record so I'm pretty excited about the future.
Over time it's easy to say what's changed but what would you say is the one thing that's stayed the same in your time in Anthrax?
The intensity, the intensity has not been touched with this band. It's all or nothing, from the record you've got to give 110% to the record, 110% all in, leave nothing on the table you've gotta be exhausted and it's the same with the stage, you have to perform, those people pay their hard earned money and that's the truth, it's not a kiss up or anything like that, the truth of the matter is I'm a fan and I want to see entertainment, I want to see the songs, I want to see the band have a good time and I want to enjoy this experience, so I believe when you see a live show you should leave it all on the stage, it should be 110%, I want to be exhausted when I come off that stage, otherwise I feel like I've cheated, I don't want to cheat anybody, I have to be exhausted and I think that's what the band does and I'm very proud to say that too.
I truly love that you love what you do and it's not just a job
No, fuck that man, when it's that then you've really gotta start questioning what you're doing. I love music, I've been very blessed, I've been very fortunate and I know how lucky I am to make a living from music, all I want to do is pass the torch and make people feel this vibe.
Outside of Anthrax what's been keeping you busy?
I actually have this thing called a family *laughs* you know it's great because we've been off for almost a month now from the Slayer tour we did two legs of that in America and it's pretty consistent they just ran into each other so we actually have seven full weeks off. So I get to do homework with my son who's twelve and grew another inch while I was gone, I get to be a husband again, just to be a little family thing going. Then we leave our first show is November first we leave for another six weeks with Slayer in Europe. So aside from that you know Dave Ellefson from Megadeth right?
Of course!
So we have a side group that we're putting out a record called Altitudes and Attitude, we're putting out a full record in January that we'll be doing some shows for in January starting off, it's just a hard rock record with melody and a lot of people are pretty excited about that stuff. Like you say what do I do with my downtime, that's what I do in my downtime, it's me singing and playing guitar and Dave playing bass and we write songs together and we have a good time with it. If you want we have a three song EP if you have iTunes it's called 'Altitude and Attitude' we did it just to test the waters  and this is the continuation of that, the full record coming out in January we're signed to Megaforce records and everyone's pretty excited about it, so that's the next stage. When our day jobs Megadeth and Anthrax are off that's what we're gonna be doing.
I love talking to you guys because you're big nerds like me and a lot has happened over the years, finally seeing The Avengers and The Justice League on the big screen, it's a great time to love this sort of stuff, what has been your highlight and what are you most looking forward to?
You know there's so much coming out. You know what I saw the other day, the new Jack Black movie, 'The House with the clock in the walls' and that was a fun movie, again I go outside the boundaries, because Jack Black has that vibe and number one I think he's one of the most talented guys around he's just awesome. It's one of those fun movies, it's mysterious, it's kind of fun. As far as Marvel they just keep coming out, that's the shit, they know what they're doing, it's time right?
How do you think Avengers is going to end?
Dude, I have no idea where it's going, but you know what, don't you want to be surprised? Like I don't read any of what goes on, I don't want to see anybody's tweets or the cheat notes or what they heard, I'm one of the guys that goes into the theatre and experience it, right and be floored. That's the kid in me, I want that energy, I think man I don't wanna know so done tell me and just be surprised, I think that's a great to do things I think. I'm excited, it's a good time, it's a good creative time with that stuff.
Lastly let's look ahead to the future, finish this sentence for me, in 2019 Anthrax will…
Be writing a record and touring, Anthrax will be touring Australia which I'm totally stoked at, Download festival one of the biggest shows around so I'm so psyched about that, we'll be creating a new record which I'm so psyched about just to have that going, have that start of that special. You know what I do love and I have to tell you this, while we're writing a record we're also going to be doing one off shows like different shows and going around to Australia, we might be doing Japan, there's other things on the table that help the writing believe it or not because it's good to get out of the studio for a while and just get it all out on a stage. So in 2019 Anthrax will be working *laughs* believe me, not home and working. I'm not complaining, I know how lucky and fortunate we are, so nobody looks a gift horse in the mouth here, we're very lucky I know that. We just want to do what we do, you know.
DOWNLOAD 2019 
OZZY OSBOURNE
Slayer | Judas Priest | Alice In Chains
 Ghost | Rise Against | The Amity Affliction | Anthrax 
Halestorm | Behemoth | Me First And The Gimme Gimmes 
I Prevail | Converge | Frenzal Rhomb | Luca Brasi 
Code Orange | Andy Black | The Fever 333 
War On Women | High Tension | Outright 
Ruins | Alien Weaponry 
Plus Loads More To Be Announced!
Saturday March 9 || Parramatta Park
Melbourne Monday March 11 || Flemington Racecourse
Tickets through www.downloadfestival.com.au 
Download is an 18+ fully licensed event
Essential Information
From New York, NY, USA
Band Members Joey Belladonna – Vocals, Frank Bello – Bass, Charlie Benante – Drums, Scott Ian – Guitar, Jon Donais – Guitar
Website http://www.anthrax.com
Latest Release: Kings Among Scotland – Live (Out Now – Nuclear Blast)